WEST VALLEY CITY — Every year, St. Patrick's Day shenanigans ensue as 33 million people around the world raise pints to celebrate the holiday, according to WalletHub.
Ahead of this weekend's activities, local safety officials are encouraging people to find a safe ride home and not test their "luck of the Irish" by driving under the influence.
"On St. Patrick's Day, our DUI arrests are higher than most of the holidays out there," said Utah Highway Patrol Lt. Todd Royce as UHP officials and West Valley police gathered Thursday to display some of the safe transportation options available to the community.
---
We're not telling people 'don't drink,' we're just telling them 'don't drink and drive.'
–UHP Lt. Todd Royce
---
The law enforcement agencies are encouraging people to use services such as Uber, Lyft, taxis or ride shares and not put themselves — and others — at risk by taking the wheel while intoxicated.
Last year, UHP arrested 55 people for driving under the influence on St. Patrick's Day, according to UHP Maj. Jess Anderson.
"St. Patrick's Day has always been known to be a holiday where people like to go out and have a good time. We encourage that. But you must plan appropriately," Anderson said.
Because the holiday falls on a weekend this year, Anderson says the law enforcement agencies expect a high number of people drinking. In addition, a Bon Jovi concert and March Madness basketball games will also take place over the weekend.
As a result, UHP is increasing the number of officers who will patrol the roads.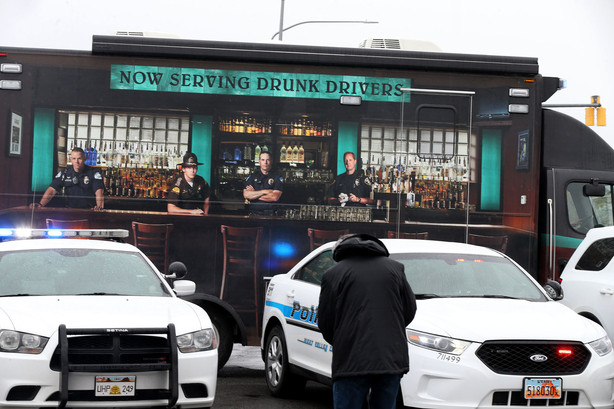 "Law enforcement officers statewide will be working more than 100 overtime shifts to deter, detect and remove drunk drivers from Utah's roads. The extra enforcement will include a DUI blitz held by the Utah Highway Patrol in Salt Lake County on Friday night," according to a statement from the Utah Department of Public Safety.
The officers hope promoting safe transportation options will save people from the high cost of a DUI arrest — and help save lives.
"We're not telling people 'don't drink,' we're just telling them 'don't drink and drive,'" Royce added.
×
Photos