SALT LAKE CITY — A crash that sent a woman and her daughter to the hospital prompted the Utah Highway Patrol to issue yet another warning Tuesday about the importance of securing loads.
"We always tell people that if you think it's secured, it's not secured. You have to know that it's secured," said UHP Lt. Todd Royce.
The crash that happened Monday night could have easily caused more problems because of a big piece of road debris, Royce said.
The lieutenant said the woman was driving on the I-15 collector near the state Route 201 ramp when she lost control of the pickup truck and slammed into the median. A treadmill in the bed of the truck came out and flew over the 1700 South divider wall, landing in I-15 traffic. Eight cars hit it and sustained substantial damage.
Investigators on Tuesday were still trying to determine why the woman lost control of the truck and whether the treadmill was properly secured.
"A lot of people think, 'I'm going to load it and strap it down so the wind doesn't blow it out.' That's not always the case," Royce said.
He said the load needs to be secured for a potential crash, not just blowing wind. Drivers should think: "What if I rear-end a car? Is that going to shift? Is that going to shift up to the cab?" Royce said.
UHP handled 26,000 calls for debris on the road last year; it was the primary cause in 45 crashes. The Utah Department of Transportation clears 8,000 tons of debris from the roads each year, enough to fill Rice-Eccles Stadium.
When you load a pickup truck, Royce suggests the following:
Put light items on the bottom
Place heavier, bigger items on top to help secure the lighter items.
Secure the whole load with ratchet straps that tighten and lock.
Then ask yourself: What will happen to the load if I crash or roll the vehicle?
"If it's above the bed and it's unsecured, (UHP troopers) will actually stop you and issue you a citation for it," Royce said.When motorists drive with an unsecured load, he said, they run the risk of losing their possessions and endangering the lives of others.
"Every week, I dodge or see at least one ladder on the road," said motorist Patrick Neville, describing his daily commute.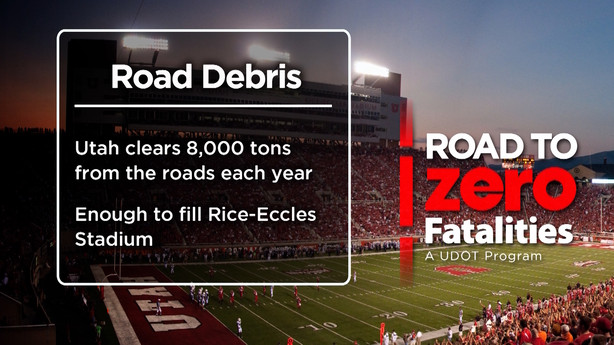 A few months ago, Neville was driving northbound on I-15 on a Sunday night.
"I was driving behind a (semitruck). It ran over a big wooden pallet, which pinballed and hit underneath the tires and shot it like a bullet — boom — into the front of my car," Neville said.
The impact broke the pallet. Half went under Neville's car, causing around $4,000 in damage. Another piece sailed over — instead of through — his car's windshield. Neville said he had no time to think or swerve.
"I would rather just grit my teeth and take it," Neville said. "Who knows, I could have knocked an entire family into a wall, and I don't want to be responsible for that."
With his car still in the shop, Neville was riding to work with his mother, when a pallet fell off a truck in front of them.
Neville offered his own suggestion for people carrying oversized loads: Strap down the load and take a surface street instead of the interstate. You could save yourself, and others, a lot of trouble.
×
Photos