Estimated read time: 6-7 minutes
This archived news story is available only for your personal, non-commercial use. Information in the story may be outdated or superseded by additional information. Reading or replaying the story in its archived form does not constitute a republication of the story.
SALT LAKE CITY — "What my parents don't know about social media is that I'm on it till like 2 a.m. every day."
That was what one ninth-grade student at Pleasant Grove Jr. High wrote anonymously about their online habits as part of a recent school assignment.
Skipper Coates, a science teacher at the middle school, wrote on Facebook that lately, she has "been really concerned about their (her students) mental health, bullying and social media use. Because of her worry, Coates asked 120 ninth-graders to finish the sentence: "What my parents don't know about social media is ___." She got 85 responses.
"That I actually have one," one student wrote. "How to find my pictures," wrote another.
"It's the only thing to go on when we're bored," one ninth-grader admitted. "And that's why we create a spam account to post weird pictures of us."
Some students commented on how using social media made them feel. "Theirs (sic) a lot of ciber (sic) bullying, sexting, porn, and people that don't care about you and try to make you feel like crap," a student said.
"Kids really get bullied and there is alot of inapropate (sic) things and nudity," said another nine grade student. "Alot (sic) of kids have secret accounts or send inapropreate (sic) things."
The reaction was strong when Coates posted the responses on Facebook. As of Monday afternoon, the post had been shared more than 16,000 times.
K

Coates told KSL TV that the student experiment "kind of showed me the gravity" of social media use, bullying and mental health, and "how prevalent it is for so many of them. I got a lot of candid responses."

In her Facebook post, Coates gave a warning to parents: "WAKE. UP." Coates wrote. "Your kids are living in a world that you are not invited to be part of. And they know how to keep you out. Your teenager DOES NOT NEED a smart phone."

As access to smartphones increases, along with the popularity of social media, psychologists and psychiatrists are discovering new links between technology and mental health.

According to the Pew Research Center, as of 2015, 73 percent of teenagers in the United States have access to smartphones. Of those age 13-14, 68 percent had smartphone access.

Brigham Young University psychology graduate student Lee Essig-Thunell has looked into the negative effects of addiction on teens, according to The Daily Universe. In April 2017, the Universe reported that Essig-Thunell blames the desire for "instant gratification" for the addictive behavior among teenagers. This desire becomes a coping mechanism for some people, Essig-Thunell said.

"When we're stressed, upset or feeling down, we're more likely to turn to any of these behaviors in order to not feel those negative emotions," Essig-Thunell told The Daily Universe. "This is what leads to compulsive or addictive behaviors. It's not so much about gratification, as it is an escape from pain."

Essig-Thunell's research focuses on human development, according to his LinkedIn page. He has also looked into the relationship between superhero programming and aggression in children. Essig-Thunell could not be reached by KSL.com to contribute to this story.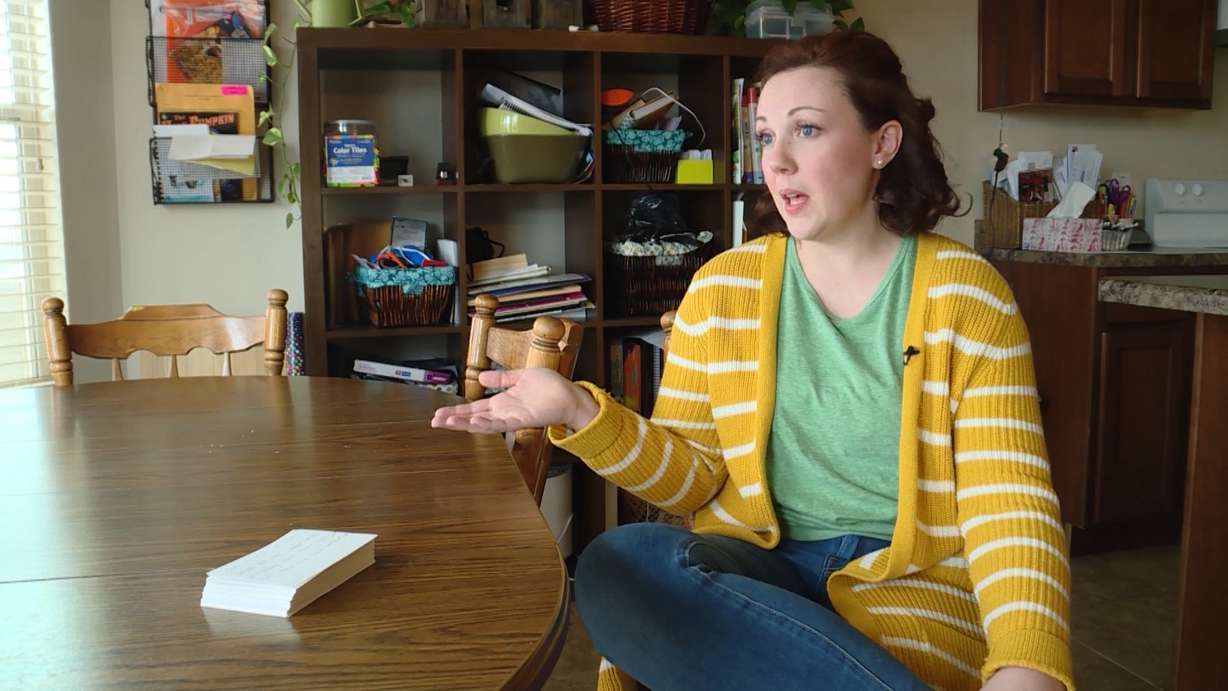 Local parents Clinton and Sarah Weaver noticed their 16-year-old daughter being "on her device late into the evening," Clinton Weaver told KSL.com. "We noticed she was staying up late and it was delaying homework."
When they took her phone one night, they were surprised by the number of messages she had received.
"She received a couple hundred texts," Clinton Weaver said. "The latest message came in around 1:30-ish (a.m.)"
As a parent, Clinton Weaver said his biggest concern is not the number of messages, many of which were received through group chatting applications like GroupMe, but how late the messages were coming in.
"So we had a conversation and family council," he said, "and we talked about strategies to help her."
An academic study published earlier this year in the journal Emotion found a correlation between youth unhappiness and time spent online. Researchers looked at yearly surveys of eighth-, 10th- and 12th-graders between 1991 and 2016, measuring their psychological well-being using self-esteem, life satisfaction and happiness as factors, as noted in the study.
Researchers found a notable decrease in reported happiness among youth after 2012, the study said, and that adolescents who spent more time behind screens and less time being physically active reported lower levels of happiness.
"Psychological well-being was lower in years when adolescents spent more time on screens and high in years where they spent more time on non-screen activities, with changes in activities generally preceding declines in well-being," the study said.
Related:
Addiction psychology specialist Dr. Sean O'Hara has said technology addiction is similar to other forms of behavioral addiction, such as gambling, according to The San Diego Union-Tribune. O'Hara said at a conference that teens who spend too much time online may experience "Fear of Missing Out," a feeling of anxiety prompted by a fear of being left out of some activity, party or social interaction.
Along the same lines, O'Hara said teenagers who post on social media risk their posts not receiving any likes or attention and, as a result, develop a "Fear of Being Ignored."
Caglar Yildirim, a human/computer interaction professor at State University of New York at Oswego, New York, developed a 20-question quiz for self-assessing addiction to technology, CNN reported.
Using a 7-point rating scale ranging from "Strongly Agree" to "Strongly Disagree," the quiz asks users to rank their emotional reaction to various scenarios, like "running out of battery in my smartphone would scare me," "If I were to run out of credits or hit my monthly data limit, I would panic" and "If I did not have my smartphone with me, I would be uncomfortable because I could not stay up-to-date with social media and online networks."
A final quiz score of less than 20 indicates an absence of nomophobia, the irrational fear of not having your phone, while a score between 100 and 140 indicates "severe" nomophobia.
Yildirim told CNN that "if any of this (quiz) applies to you, then it's time to start looking at your behavior and level of anxiety."
Contributing: Nicole Vowell
___
Note: Sarah Jane Weaver is the LDS Church News editor for Deseret News, a partner of KSL.com.
×
Photos