Estimated read time: 4-5 minutes
This archived news story is available only for your personal, non-commercial use. Information in the story may be outdated or superseded by additional information. Reading or replaying the story in its archived form does not constitute a republication of the story.
SALT LAKE CITY — Lin-Manuel Miranda had written just 16 bars of the first song from "Hamilton" when the White House asked him to come perform. The only ones who had heard them before were his wife and his shower.
"But what I learned from writing 'Hamilton' is meeting the moment and being ready for it when it arrives," Miranda told hundreds of conference-goers who filled the Salt Palace Convention Center Thursday for Qualtrics' annual user conference.
"Hamilton" has since gone on to become hugely successful and incredibly popular, winning a Grammy Award, a Pulitzer Prize and a number of Tony Awards. Tickets for "Hamilton" in Utah sold out within three hours the day they went on sale.
Miranda regaled the audience with stories of the "Hamilton" creation process and how he decided to upend the Broadway world by creating one of the first hip-hop musicals, complete with an unprecedented and racially diverse cast.
"Hip-hop was the only way to write that musical because 'Hamilton' had too many words per capita for any other genre. If it were opera it would have been 12 hours," Miranda said.
When Miranda was young, his mother taught him that every experience was an opportunity to learn something about how others saw the world, he said. During the hardest moments of his life, she instructed the young playwright to remember what he felt like and learn how to articulate it.
"Now, the only way I know how to write is to do lots of research, … put myself in the shoes of that character and act. And when it feels honest, when it feels true, I write it down," Miranda said. "The biggest tools in your toolbox are research and empathy."
Though "Hamilton" tells the story of politics in America centuries ago, Miranda also believes those politics haven't changed much since then.
"Every character in my show, besides George Washington, dies as a result of gun violence. … The past isn't even the past," Miranda said.
His comments come on the heels of a massive school shooting where 17 people were killed by a gunman at Marjory Stoneman Douglas High School in Florida.
Miranda urged attendees to become involved, like Alexander Hamilton, in the intricacies of democracy.
Magic Johnson
Joining Miranda on the Qualtrics stage was Earvin "Magic" Johnson, former NBA player and current president of the Los Angeles Lakers.
Johnson, who grew up as one of 10 children, told conference-goers about lessons learned from his mother and father, who he said taught him the importance of hard work and following through, which eventually carried over to his time as an NBA player.
While working a job picking up trash, Johnson said he left some debris behind that had frozen in the ice around the trashcan. When his father picked him up, he noticed the forgotten trash and brought Johnson back over to the can with an ice pick.
"My dad said, 'Son, if you do this job halfway, that's going to be how you practice basketball. That's how you'll do your homework. You'll be a person who does a job halfway," Johnson told the audience.
The experience changed his life, he said, and taught him to be the type of NBA rookie who would, several years later, show up for practice three hours early.
Johnson also told conference-goers about his experience being diagnosed with HIV via a phone call he answered as he was preparing to play the Utah Jazz.
"I thought the hardest thing I'd have to do is play John Stockton and Larry Bird, but the hardest thing I had to do was drive home and tell my wife I had HIV," he said.
Johnson credited his wife and God for saving his life, among the many medical professionals who have worked to find treatments for the virus.
Tony Hawk
Tony Hawk, arguably the most well-known professional skateboarder, preceded Johnson and spoke of the journey he took finding his way through the complicated world of business brands.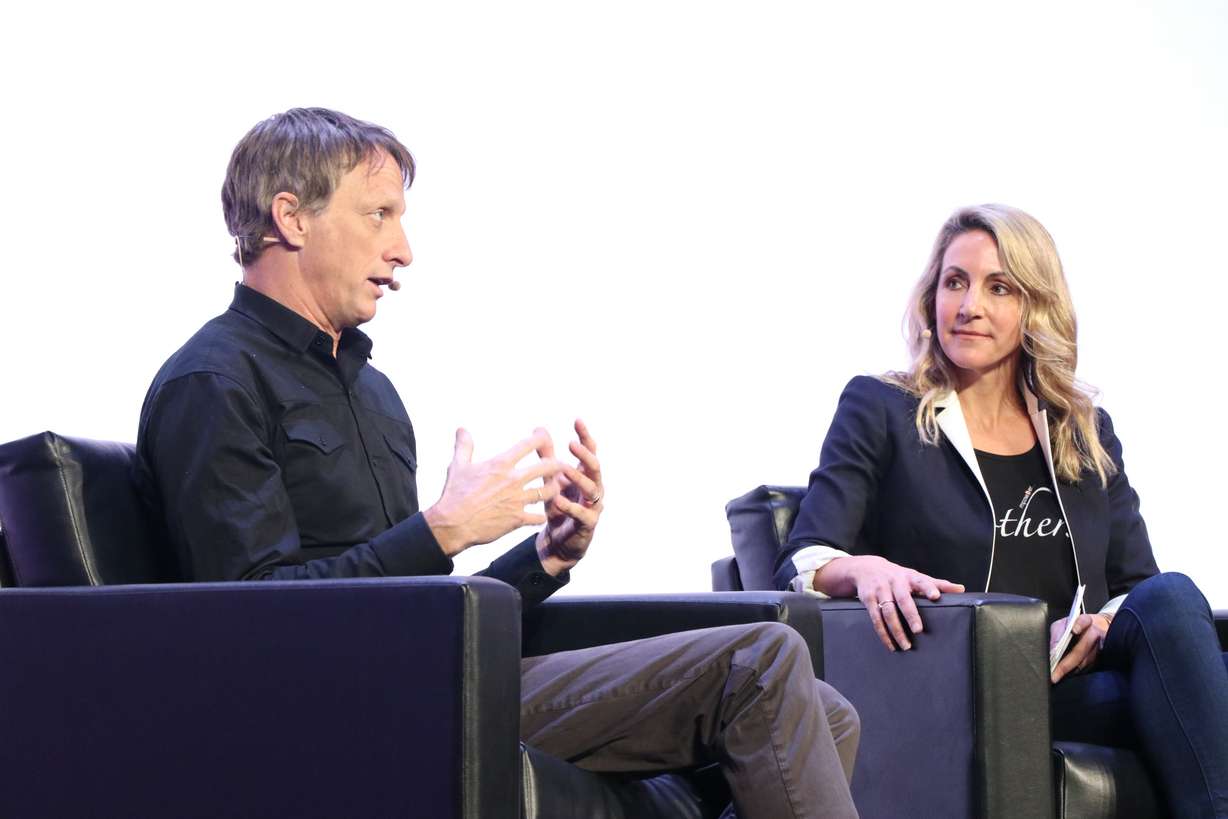 Hawk, who was just a teenager when he became a professional skateboarder, spoke of his early days and being labeled a "sell-out" for linking himself with a variety of different brands. At 18 years old, Hawk found his name brand on a roll of toilet paper and decided to take a step back and quit several of the contracts into which he had entered.
From there, the skateboarder said he's worked to build a brand he can be proud of and help women and racial minorities be included in the often male-dominated world of skateboarding.
The Qualtrics summit, which has drawn hundreds of users and welcomed other big names, including Huffington Post founder, Arianna Huffington, began Tuesday and will continue until Friday.
×
Most recent Utah stories