CALGARY, Alberta — Officials said what they believe to be the largest methamphetamine bust in Utah history, which happened during a traffic stop in Springville in 2016, led to a discovery of a drug cartel responsible for at least two homicides in Canada.
Five Canadians accused of running an organized crime ring were arrested Thursday, officials from Alberta Law Enforcement Response Teams said. The arrests are in addition to three men previously arrested after Utah Highway Patrol troopers discovered 230 pounds of meth during a traffic stop in October 2016.
Those men arrested in Utah, Brennan Carter Tutt, of Airdrie, Alberta, Canada; Kyle Carlson Taylor, of Calgary; and Caicedo Ramirez Santiago, of Calgary, were each charged in U.S. District Court after the bust. Troopers also uncovered steroids and $66,000 in cash during the 2016 stop.
The bust led to a yearlong investigation between the U.S. Drug Enforcement Administration, Alberta Law Enforcement Response Teams and Calgary police. Alberta Law Enforcement Response Teams officials said they believe the three men arrested in Utah were working under the direction of Allistair Chapman, 25, one of the five men arrested Thursday.
The Calgary Sun reports many of the men inside the crime ring were "school buddies."
Alberta Law Enforcement Response Teams officials said the group Chapman ran was involved in importing and exporting drugs from two Canadian provinces and the U.S. The agency conducted a raid of a garage located in a Calgary neighborhood.
A pill press capable of producing an estimated 18,000 fentanyl and steroid pills per hour was recovered in the raid, Alberta Law Enforcement Response Teams officials said. A little more than 37 pounds of various chemical powders was also seized during the raid.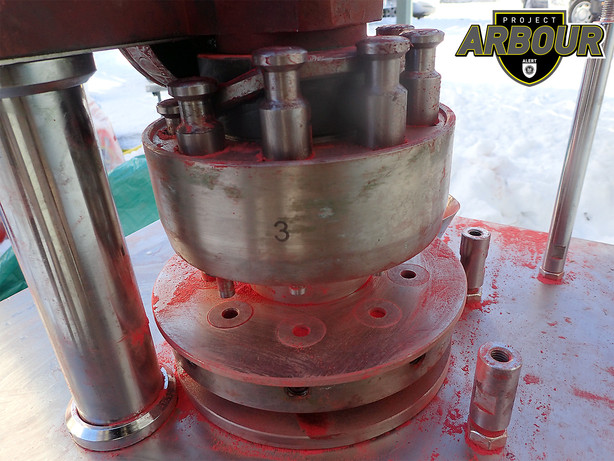 In addition, nearly 40 pounds of fentanyl powder, five firearms, more than 17 pounds of cannabis products, 15 pounds of methamphetamine, 4 pounds of cocaine, 1 1/2 pounds of heroin and two vehicles were seized throughout the investigation.
The investigation also may have solved a 2017 double-homicide in Canada. Authorities said Colin Reitberger was apparently killed because of his ties to the drug trade and Anees Amr was an unintended target. Christian Ouellette was arrested in connection with those deaths and is suspected of working for Chapman, Alberta Law Enforcement Response Teams officials said.
"Thanks to the hard work of ALERT, CPS and their partner agencies, this yearlong investigation has taken deadly drugs off our streets," said Kathleen Ganley, Alberta Minister of Justice and Solicitor General, in a statement.
×
Photos
Related Stories