This archived news story is available only for your personal, non-commercial use. Information in the story may be outdated or superseded by additional information. Reading or replaying the story in its archived form does not constitute a republication of the story.
SALT LAKE CITY — Growing 3-D technology has helped all sorts of industries, from surveying to helping historians give artifacts a second life.
The technology has also helped state investigators quickly and more accurately collect evidence from crime scenes, saving time and giving prosecutors a better eye in various cases.
Jennifer Faumuina, an agent for the Utah Department of Public Safety's State Bureau of Investigations, said she's been certified in using the bureau's 3-D scanner, which has been in operation for about two years now. The scanner is used in all sorts of cases, she said.
For example, in a recent homicide case, Faumuina said the scanner was used to give officers and deputies from other departments a better view of the crime scene.
It's also been used to collect data from serious traffic crashes, such as a fatal crash at the Bonneville Salt Flats in August 2017. On a national level, the same scanner has also been used to collect evidence at mass shootings, like 2015 shooting in San Bernardino, California.
The scanner uses a laser to pick up millions of data points, as compared to the possible hundred or so that could be collected by hand, said Bureau of Investigation Sgt. J.T. Jensen, in a video released by the Department of Public Safety.
In addition to the new data points visible from a laser, the data points are collected at a fraction of the time.
"It could take up hours — a whole day, even a whole week," Faumuina said, of the length it could take investigators to collect evidence from a scene. "Now with this scanner, we're able to reduce that time to basically only spend about two or three hours at the most to do a trajectory, or even to do a blood spatter analysis."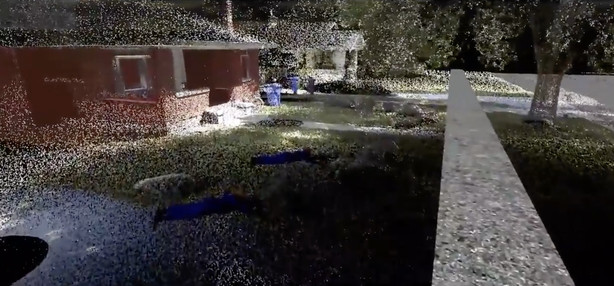 Those data points are then uploaded to a computer that virtually recreates a 3-D model of the scene, which Jensen likened to a video game.
The model hasn't just helped investigators see things they may have missed, but it helps in the justice side of a case, showing judges and juries a virtual picture of the scene at the time the data was collected.
"We're able to present a scene to a judge, as well as to a jury, and it's almost like we're actually able to put them in there so they can actually see the scene themselves," Faumuina said. "Because it's 3-D, they're able to almost be like in that scan or at that scene with us."
The newer technology has vastly improved criminal investigations in Utah, Faumuina added.
"I think it has helped us, and I think it has also helped us process crime scenes a lot more efficiently, as well as effectively," she said. "A lot of the evidence gathering is open to human error. But with the scanner, it's able to pick up the thousands and thousands of points, to where ... say we miss something on scene, but when we review the scan we're able to actually pick it up."
×