This archived news story is available only for your personal, non-commercial use. Information in the story may be outdated or superseded by additional information. Reading or replaying the story in its archived form does not constitute a republication of the story.
SALT LAKE CITY — The Legislature's nonpartisan Clean Air Caucus on Tuesday unveiled a spate of clean air proposals and a sizeable funding request of more than $3 million to fuel the state's pollution battle.
In a packed room at the state Capitol, Rep. Patrice Arent, D-Millcreek, caucus co-chairwoman and founder, said the collaborative group has passed more clean air-related legislation in the past four years than in the history of the state.
"That being said, there is still more to do," Arent said, noting there are already 10 bills on the docket representing more than $3 million in funding measures for this session.
Much of the attention is devoted to helping the Utah Division of Air Quality continue with locally driven research aimed at getting a handle on pollution-busting measures against the backdrop of unique chemistry and topographical challenges.
Senate Minority Assistant Whip Luiz Escamilla, D-Salt Lake City, and House Minority Assistant Whip Angela Romero, D-Salt Lake City, want $100,000 in ongoing funding to continue collecting data from a mobile pollution system mounted on TRAX trains in a partnership with the University of Utah.
Escamilla said it is important for the research to continue.
"I believe this is a good tool to measure outcomes," she said.
Another funding request of $500,000 would support continuing local research related to unique ozone problems in the Uintah Basin, the contributory impacts of wood smoke to fine particulate pollution, and the role ammonia plays in the complex chemistry associated with harmful emissions.
Related:
The Utah Division of Air Quality, under legislative proposals, would also get a boost with staffing through additional money for a stack test auditor and an environmental scientist whose concentration would be to help the state develop comprehensive plans to meet federal clean air requirements.
Arent wants to institute a three-year pilot program for emissions testing of diesel vehicles in counties that are out of attainment for fine particulate pollution, and Rep. Steve Eliason, R-Sandy, is pushing a proposal to get more electric vehicles on the lots of local automobile dealerships.
A measure by Rep. Steve Handy, R-Layton, HB211, is already creating some buzz at the Legislature.
Handy's bill would tap into $2 million in state money to rebuild freight switchers in local rail yards, money that would be leveraged with additional funding and some money from the railroad.
Handy worked with the Division of Air Quality in an analysis that found 60 freight switchers operate in the state, the majority in two rail yards in Salt Lake County and one in Weber County.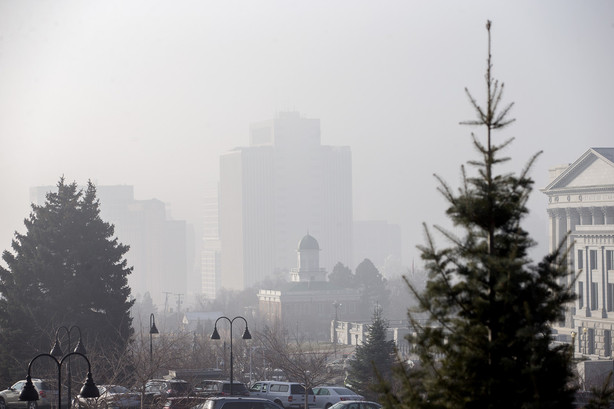 In 2014, the switchers emitted 407.9 tons of nitrogen oxides, a precursor to Utah's fine particulate pollution, and 8.8 tons of direct particulate pollution.
Tearing down and rebuilding one switcher with more pollution-reducing components would result in an 89 percent reduction in NOX and an 88.5 percent reduction in PM2.5, according to the division's analysis.
Handy's bill would direct $2 million in one-time funding for the division to leverage against federal funds in a special pilot program to reduce emissions from freight switchers, which load the locomotives in the yard.
The Union Pacific Railroad is interested in testing the pollution-reduction equipment in Utah, and Handy says his bill is a financial incentive to cut another source of pollution. The state, he added, can't force the railroad to make pollution reductions because it has no authority over rail via the federal Clean Air Act.
Handy said the pilot project would help repower three or four locomotives, which is about $2 million per unit.
But some lawmakers voiced objections earlier Tuesday to helping out the rail industry, when the trucking association and other industries have to make reductions on their own.
"I am not sure why we ought to be paying for it," said Sen. Jim Dabakis, D-Salt Lake City, noting the "huge" profits Union Pacific Railroad makes.
Handy challenged his colleagues to come up with some other way to encourage pollution reductions at rail yards.
"If you have a better creative idea you can come up with over the last nine months, I'd love to hear it," he said. "We don't have the leverage to force them to do this."
×
Photos
Related Stories