This archived news story is available only for your personal, non-commercial use. Information in the story may be outdated or superseded by additional information. Reading or replaying the story in its archived form does not constitute a republication of the story.
SALT LAKE CITY — Jon M. Huntsman Sr. was known throughout his life for his business savvy, his philanthropic generosity, and his compassion for others.
The Utah billionaire businessman died Friday in Salt Lake City at age 80, according to his assistant Pam Bailey.
His desire to succeed in business and to give generously later in life started after he grew up in a poor household.
"I never forget those times, and they leave certain scars in your memory bank and in your heart that you don't want others to replicate," he told the Deseret News in 2013.
Huntsman Sr. left his mark on the business world with the global company Huntsman Corporation, which is now headed by his son Peter Huntsman.
Huntsman Sr. was involved with the invention of the first plastic foam egg carton and also founded Huntsman Container Corporation that was made famous by creating the McDonald's clamshell containers.
Early in his career, Huntsman Sr. purchased businesses with money borrowed through Huntsman Chemical, founded in 1982, according to Forbes. He eventually purchased 34 companies, including the $1.06 billion purchase of Texaco's petrochemicals operation in 1994.
His real-time net worth was $1.21 billion, Forbes said.
The billionaire philanthropist battled a painful inflammatory disorder called polymyalgia rheumatica. He also survived four bouts of cancer. Huntsman Sr.'s mother, father and stepmother each died from cancer.
Those ordeals led him to found the Huntsman Cancer Institute and secure lucrative donation funds to that center through the Huntsman Cancer Foundation. His goal was to completely eradicate the disease.
Huntsman Sr., along with his family members, was very charitable. In 2016, Huntsman Sr. and his wife Karen gave away $137 million, landing them the No. 21 spot on Forbes' top givers list that year.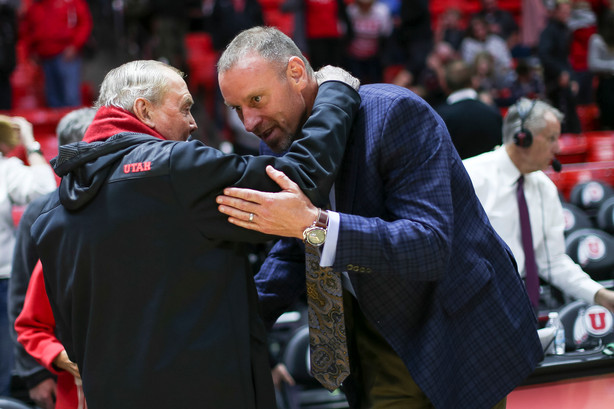 During Huntsman Sr.'s lifetime, the Huntsman family has given away at least $1.4 billion, according to the Deseret News.
In December 1988, a 6.9-magnitude earthquake killed 25,000 people in northwestern Armenia. Huntsman Sr. stepped in to help the damaged nation after the quake flattened buildings in a large part of the country. His assistance continued in Armenia over the years. He already had a company in Moscow before the earthquake hit, so it was easy for him to help the Armenians.
"From the ruins of devastation, they began to rebuild. It captured my heart … to where I said, 'I have to help these people. I have to be part of it,'" Huntsman told the Deseret News in 2013.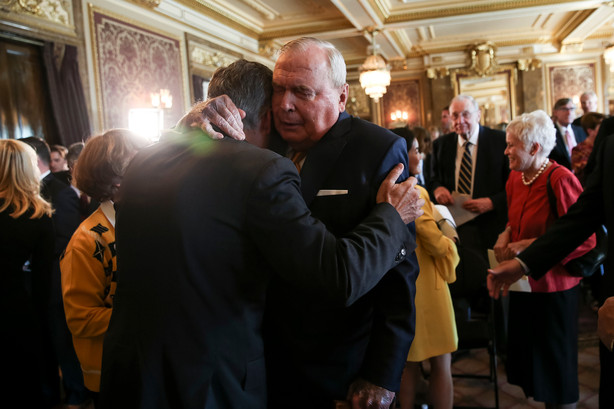 Since the earthquake, the Huntsman family has visited the country more than 46 times. They have also given more than $53 million to the country through their humanitarian service. The family's money went toward repairing buildings that were leveled after the quake.
Armenians awarded Huntsman with two medals of honor and granted him citizenship.
Huntsman Sr. cared for those around him in ways big and small, and took time for things that mattered most.
Once, a local elementary school class wrote letters to Huntsman Sr., requesting that he meet with them. The business mogul invited the class up for what was supposed to be a 10-minute conversation. Instead, he spoke to the 5th graders at length, while his next appointment, then-Salt Lake City Mayor Deedee Corradini, waited.
Huntsman Sr. was the father of Jon Huntsman, Jr., former governor of Utah, 2012 Republican Party presidential hopeful and current U.S. Ambassador to Russia. Huntsman Sr. and his wife Karen had nine children.
In a 2014 autobiography, Huntsman Sr. opened up about two traumatic events during his life: The 1987 kidnapping of his son and the 2010 death of his daughter, Kathleen Ann Huntsman.
In December 1987, then-teenager James Huntsman, along with a Highland High School student, was grabbed by a fellow student, handcuffed, blindfolded and then placed in a vehicle, according to the Deseret News.
A $1 million ransom demand was placed to the family, and the call eventually traced to a grocery store, where federal agents converged.
When his daughter, Kathleen Ann Huntsman, died in 2010, Huntsman Sr. wrote in the autobiography that he was responsible for shutting off the resuscitator to take his daughter off a life-support system. She had had a cardiac arrest and was in a coma.
"My children say I have not been the same since her passing," he wrote in the book. "The grief over her loss continues to paralyze me when I dwell on it."
Huntsman Sr. also served as an Area Seventy for The Church of Jesus Christ of Latter-day Saints from 1996 to 2011.
In an emailed statement, the First Presidency of the Church said they grieved with the Huntsman family.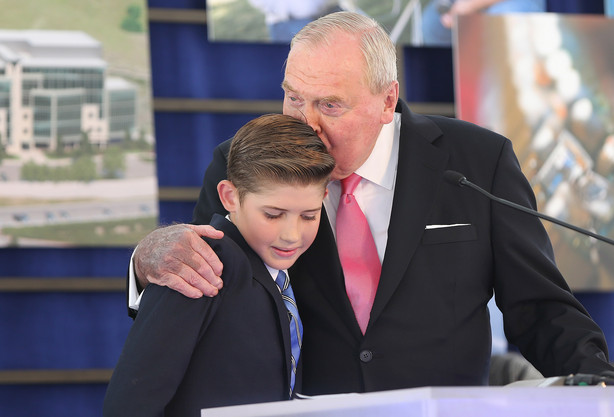 "We honor Jon as a cherished husband, father and friend, esteemed as a leader for his exceptional capacity, commitment, philanthropy and service throughout the world," the First Presidency said in a statement. "We express our love to Karen, to their children and family. Jon's legacy of faithful leadership, generosity and goodness stands as a beacon for the entire Huntsman family and many others throughout the world."
In a statement, Utah Sen. Orrin Hatch called Huntsman Sr. "a committed public servant, a visionary businessman, and perhaps the greatest philanthropist our state has ever known."
"Utah has lost a lion today," Hatch said.
Funeral plans for Huntsman Sr. have not yet been announced.
×
Photos