This archived news story is available only for your personal, non-commercial use. Information in the story may be outdated or superseded by additional information. Reading or replaying the story in its archived form does not constitute a republication of the story.
Editor's note: This is part of a series at KSL.com featuring some of Utah's coolest cars. If you own a customized vehicle — from sports cars to semitrucks — email fjolley@ksl.com with a photo of the vehicle and a brief description for consideration.TAYLORSVILLE — After owning a piece of automotive history for 35 years, Dan McCoy put a lot of money and countless hours into restoring his dream car.
He then drove it into a lake — intentionally.
"I was thinking that I had to be nuts to put $35,000 into an old, rusted-out vehicle and then drive it straight into the water," McCoy said. "I thought 'I've got to be stupid.'"
The Taylorsville resident's 1962 770 model Amphicar was designed for just that purpose, however. McCoy worked hard to get his car to its maiden voyage, which occurred at Willard Bay in 2016.
"I had the realization as the waves were coming around, and I thought 'You know, this is kind of neat. I may have to keep it,'" McCoy said when asked about his thought process during the Amphicar's first launch.
McCoy and his wife, Diane, restored the quirky little German vehicle together. The '62 Amphi is about as unique as a car can get. The Amphicar derives its name from its amphibious nature — it can handle the road and the water, transitioning from a car to a boat and back into a car again. The Amphi is something straight out of a James Bond movie script, an invention that never made it to the big screen but would feel right at home with Agent 007 himself behind the wheel.
The McCoys' clean looking, creamy-white and red-accentuated '62 Amphi is a sight to behold on its own. It has two twin 11-inch nylon propellers mounted beneath its high-set rear bumper. The Amphi can reach speeds of up to 70 mph on land and 7 mph in the water.
The wheels serve as rudders in the water, and it is equipped with navigation lights and wave-breaking rear fins. McCoy's 1962 Amphi still runs on its original Triumph straight-four 1147 cc engine. The engine is mounted in the rear of the vehicle, similar to a VW Bug. The Amphi's transmission is altered with a transfer case on the back end near the propeller drives. The four-speed is equipped with a separate gear shift for the water.
The McCoys' '62 Amphi is the 131st out of only 3,878 produced by the Quandt Group in West Germany between 1961 and 1968. The Amphicar was marketed primarily in America. Dan McCoy said according to a group in California, there are only 600 licensed and registered Amphicars left in the states today.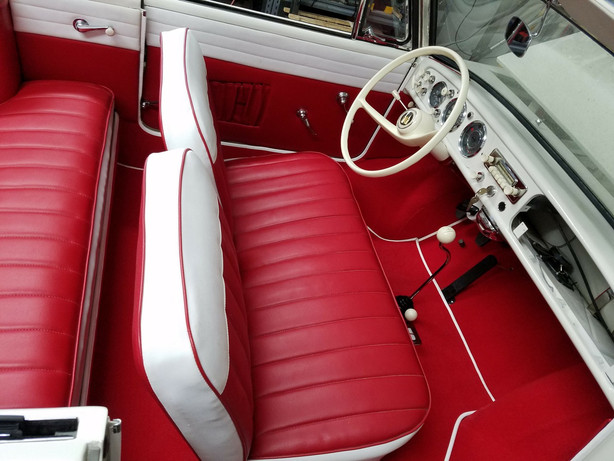 McCoy and his father purchased the Amphi in 1980 from an elderly farmer near their hometown of Alamosa, Colorado, for $500. It wasn't much to look at back then — the Amphi was rusted and rotting. Nevertheless, McCoy had a vision for it.
He worked to get it running again. Upon driving his car for the first time, McCoy made an unfortunate discovery — he couldn't put it in reverse. He ran into some serious roadblocks trying to fix this problem. Extra Amphi gears were next to impossible to come by due to its rarity. The car's restoration was placed on hold for another 20 years. McCoy raised a family with his first wife in Alamosa before divorcing and moving to Utah.
Upon his arrival in Utah, Dan met Diane. The two bonded over many things, their love for classic cars included. They married and set about the work on the '62 Amphi. Dan took care of bodywork and under-the-hood repairs, and Diane completely restored the Amphi's interior.
The McCoys enjoy attending car shows and events. The Amphi won Best in Show at the Magna Senior Center, as well as Best in Class in a show in Sandy. The McCoys' '62 Amphi has won a total of nine awards, but that's not what they enjoy the most.
"My favorite part about it is that it just looks like a happy little car," Dan McCoy said. "It's a little nerdy. Sure, it's not a big hot-rod that burns the tires off, but I walk up to it and it looks like it's smiling at me."
---
Wes Mangum is an Aggie and a citizen of Logan. He can change his own oil and always keeps his blinker fluid reservoir full. Wes can be reached on Twitter @hjmangum or by email at mangum953@gmail.com.
×
Photos