Estimated read time: 3-4 minutes
This archived news story is available only for your personal, non-commercial use. Information in the story may be outdated or superseded by additional information. Reading or replaying the story in its archived form does not constitute a republication of the story.
IVINS, Washington County— An Ivins woman remained in intensive care Tuesday after family members say she heroically tried to pull her bedridden mother out of her burning house.
Evon Hunt, 57, eventually had to be pulled out of the house herself as she refused to leave her mother behind, even though neighbors say it was already too late. If not for a neighbor who went into the home to get her, family members say the fire may have claimed two lives.
Now, friends and family members are rallying around Hunt, a person who they say has spent the past several years giving all she had to helping her ailing parents, and has now lost everything.
The fire was reported about 7 p.m. on Christmas Eve near 100 West and 100 North in Ivins.
Zenetta Winsor Hunt, 86, died as a result of the fire, according to a prepared statement from Hunt's daughter, Sara Hunt Boatright. Evon Hunt, another daughter, unsuccessfully attempted to carry, then drag her mother out of the house, but the fire spread too quickly, said Boatright.
"She nearly lost her life trying to get my mom out. She is our hero," she said.
Hunt was in intensive care Tuesday night. According to friends and family members, her throat is burned from breathing the smoke and she remained intubated Tuesday.
The family says there is a second hero, a neighbor who also ran into the burning house after hearing Evon Hunt yell for help, and pulled her out of the house.
"She said Evon had dragged my mom to the hall doorway and my mom was no longer moving or talking. Evon wanted her to help drag her out of the house, but she could see it was pointless. She already couldn't breath or see well. She made my sister leave to save her life. We are forever in her debt," Boatright said.
Even after being brought outside the burning house, Boatright said Hunt attempted to go back in the house but was restrained by police officers who were now at the scene.
"The back of the house was engulfed by then," she said.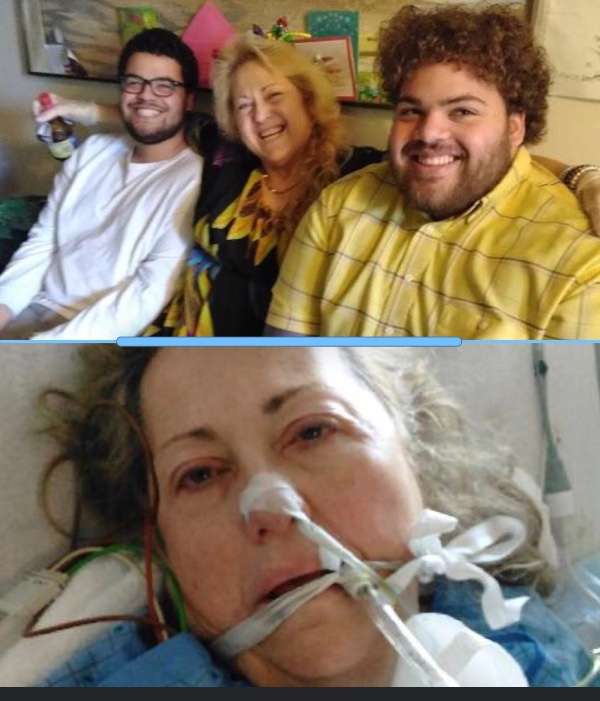 According to Boatright, "the fire started with the wiring in the wall behind my mom's bed. It burned through the wall and spread so fast that she couldn't do much."
The house is a total loss. Now, as Evon Hunt recovers from her injuries, her family is trying to help her get back on her feet.
"My sister lost everything, including our mom, in the fire," said Boatright.
Zenetta Winsor Hunt was married to Andrew Hunt for 66 years before his death in 2014.
"As a young couple they set a goal to have 12 children and were blessed with six boys and six girls," according to Andrew Hunt's obituary. The couple also adopted a foster child.
"My mom was an angel on Earth," Boatright said. "She was a magnet for children in need."
Evon Hunt took care of her mother and father for several years.
---
She nearly lost her life trying to get my mom out. She is our hero.
–Sara Hunt Boatright
---
"She has put her whole life on hold and selflessly and wonderfully taken care of them both for years. She is devastated with this fire. It is going to be a very difficult recovery, probably more emotionally than physically even though that is bad enough," Boatright said.
A GoFundMe account* has been set up to help Hunt.
"They lost everything! With heavy hearts, we all are mourning with them this holiday season," according to the account.
---
*KSL.com does not assure that the money deposited to the account will be applied for the benefit of the persons named as beneficiaries. If you are considering a deposit to the account, you should consult your own advisors and otherwise proceed at your own risk.
×
Photos
Related stories
Most recent Utah stories