Estimated read time: 4-5 minutes
This archived news story is available only for your personal, non-commercial use. Information in the story may be outdated or superseded by additional information. Reading or replaying the story in its archived form does not constitute a republication of the story.
SALT LAKE CITY — As frosty weather dipped below freezing Thursday evening, a pilot from Boise was spotted zipping off his fleece and handing it to a man sleeping on the sidewalk in Pioneer Park.
A fitting gesture.
Not 20 yards away, elected leaders and advocates declared a state holiday honoring the homeless and urged everyday people to do what they can to help those living on the streets. The announcement came during a somber annual vigil in the park on the longest night of the year.
The pilot who agreed only to give his first name, Barry, shivered and said he was moved to donate the coat "because he needs it." Similar scenes have dismayed him as he has passed by the park over a 13-year period of traveling to Salt Lake City for work. On Thursday, he and two colleagues stopped by the vigil after eating at Caputo's Market & Deli.
The jacket's recipient replied when asked for an interview, but his response was indecipherable. He later identified himself as Abraham.
"That person has a story as to how they got there," Barry said. "That's what so sad. People lump homeless people into one collective, and it's wrong."
Utah Lt. Gov. Spencer Cox, Salt Lake City Mayor Jackie Biskupski, advocates and clergy sought to make the same point at the vigil that drew more than 100 people. The group lit candles with names of the 116 people who died over the past year, either after or during bouts of homelessness.
"We must never, ever forget that these were daughters, these were sons," as well as parents and friends, said longtime homeless advocate Pamela Atkinson. "For many, this will be the only commemoration of their lives."
Forty-six people died on the streets over the past year, and 70 formerly homeless Utahns passed away after moving into a home or hospice setting, Atkinson said.
Eight were veterans, and the youngest to perish was 11 years old. And several succumbed to preventable or treatable diseases, including heart disease, cancer and substance abuse, she said.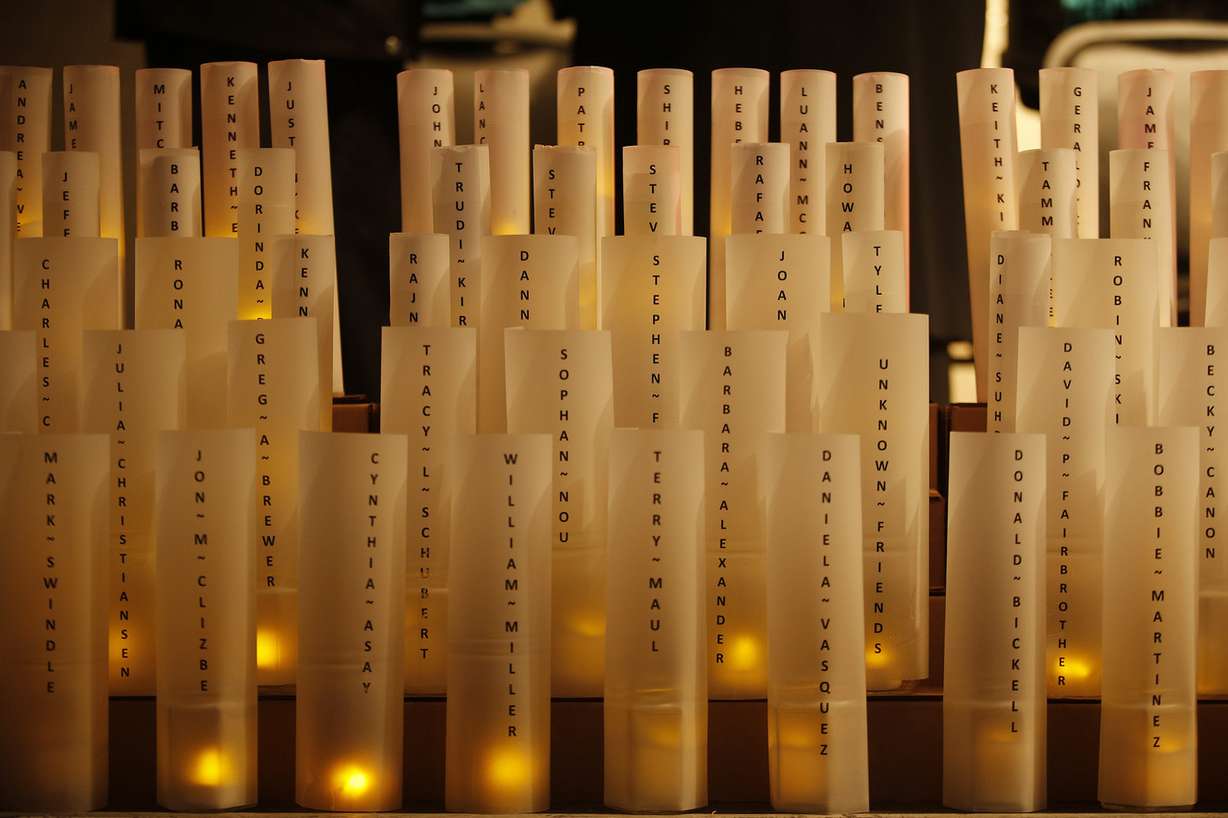 "Homelessness is, in fact, deadly," Atkinson added, pointing out that those with no permanent address get sick more easily and die younger. "With increased access to affordable health care and housing services, these types of deaths can be prevented."
She said rapid-rehousing programs and other, more permanent housing operations are helping to address the issue, alongside service groups supplying health care, job training and education resources.
A woman shouted toward the podium as Atkinson spoke, urging her to get off the stage, at times using expletives.
The critic, Tiffani Culbertson, said the fanfare would not help Utah's most vulnerable in any practical way.
"I just think it's a bunch of hype," she said. "This isn't going to change anything."
---
I ask myself this question every time. Why them and not me?
–Dan Powell
---
A state push to curb crime and homeless camps in the Rio Grande neighborhood surrounding the park this year has shown Utah's leaders that everyone in the state has a role in addressing the issue, and that every homeless person has their own story, Cox said.
"It's through love and compassion that we will help them find the success they need in their lives," he said.
Cox read a declaration from Gov. Gary Herbert making Dec. 21 Homeless Person's Memorial Day. The directive encourages Utahns to consider the struggles of those sleeping in the bitter cold.
But some didn't need encouragement.
Cynda Nygaard, a nurse, along with her partner John Ause, and friend Terri Louder, attempted to help Abraham, the same sleeping man who had received the jacket earlier. They couldn't be sure he was conscious, so they called an ambulance.
"We just came to help," Ause said.
A nine-person crew of EMTs and police responded. The team found in the course of a medical evaluation that Abraham didn't need transport to a hospital, but feared he would freeze in the cold.
"You're being arrested for intoxication. Do you understand?" Salt Lake police officer Clinton Fox asked Abraham, whose last name wasn't known.
Fox handcuffed him, helped him into the back of a patrol car parked on the sidewalk, told him he'd have a warm place to sleep and took him to the Salt Lake County Jail, along with a yellow plastic bag filled with his belongings.
Down the way, people blew out their candles at the vigil hosted by the Fourth Street Clinic Consumer Advisory Board and other service providers.
Dan Powell, a social worker and recovering addict, said the names written on the candles, along with more than 40 funerals of his friends and former colleagues, show him that he is "the most fortunate person on the planet."
"I ask myself this question every time," Powell said. "Why them and not me?"
×
Photos
Related stories
Most recent Utah stories