Estimated read time: 3-4 minutes
This archived news story is available only for your personal, non-commercial use. Information in the story may be outdated or superseded by additional information. Reading or replaying the story in its archived form does not constitute a republication of the story.
SALT LAKE CITY — As donations flood to downtown homeless services in the days leading up to Christmas, service providers for the homeless are thanking donors for their generosity — and urging them not to stop.
"This is a critical time for us," said Matt Minkevitch, executive of the Road Home shelter. "This will determine whether or not we have enough private funding to help us provide the services we're currently providing well into next year."
The morning after a snowstorm chilled the Wasatch Front, dozens of cars loaded with coats, blankets and other donations lined up Thursday outside the Road Home's downtown shelter and the St. Vincent de Paul Dining Hall — the same time local radio stations teamed up to collect cash donations for the shelter.
---
It's a blessing for us to get donations like this.
–Matthew Melville, Catholic Community Services
---
As of Thursday afternoon, the stations had collectively raised nearly $1.2 million.
Minkevitch said he hopes the fundraiser — which runs through the holidays — can get to $2 million, but he estimated it's on pace to raise around $1.6 million.
It's been slightly more difficult to collect donations this year, he said, likely because Operation Rio Grande has dispersed the crowds outside the shelter and made the problem seem a little less visible to the public.
Minkevitch said the operation has cleared out drug dealers and other criminals "preying" on the homeless population, but the Road Home's client numbers have seen a slight uptick, particularly as cold weather rolls in.
"The need is definitely still there," he said. "We had 1,320 people with us (Wednesday) night in our shelters, with over 300 children."
Public officials including Salt Lake City Mayor Jackie Biskupski and House Speaker Greg Hughes, R-Draper, participated in the Road Home's fundraiser Thursday, hoping to help drive more holiday donations.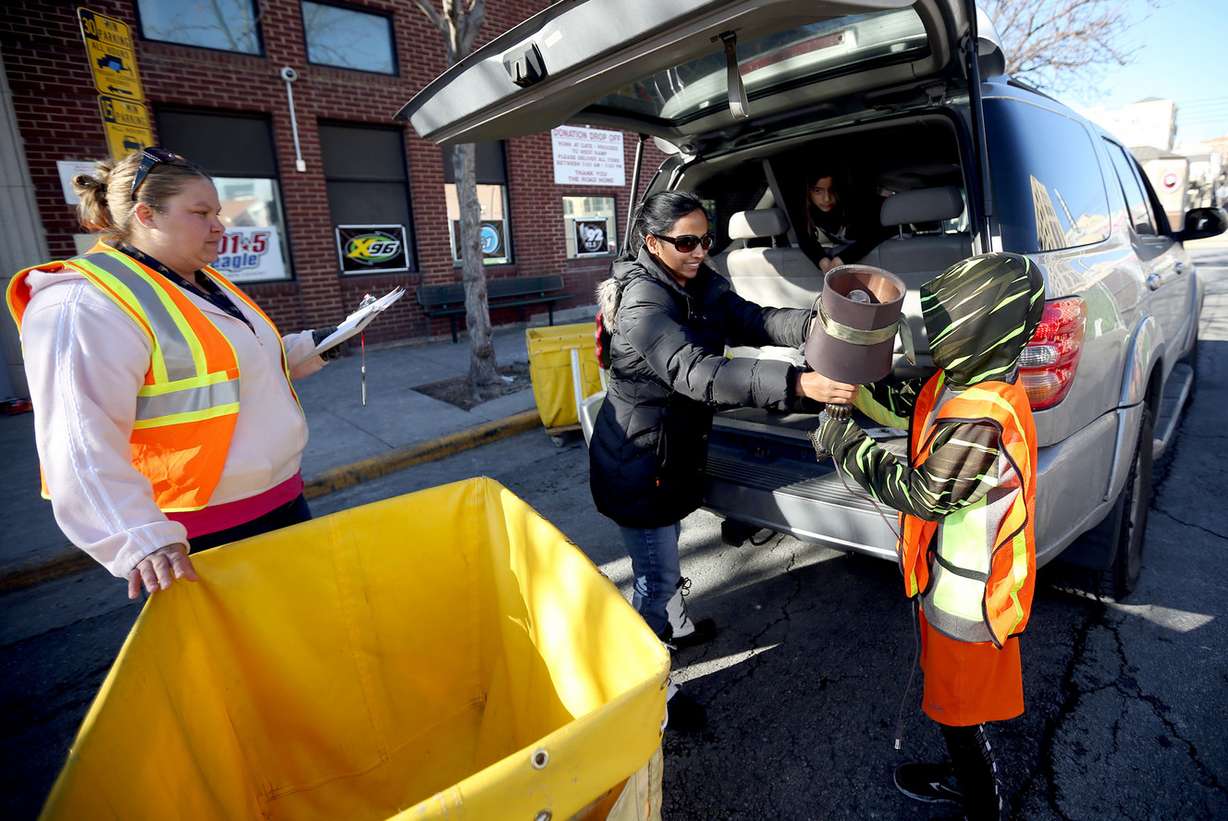 "Your year-end gifts matter," Biskupski said. "I want people to understand there are real needs still happening right here in the Rio Grande neighborhood. People are still needing food, and they're still needing shelter, and they are still needing clothing. So please, donate to the Road Home and help us make sure that we're meeting those needs."
Biskupski delivered a van full of clothing donations to Catholic Community Services' Weigand Homeless Resource Center on Thursday as part of her office's clothing drive.
City officials have set up donation collection boxes in an effort to prevent donations from being left on the streets outside shelter facilities. Biskupski urged residents to continue donating through Jan. 5 at the collection boxes:
• The mayor's office in the Salt Lake City-County Building, 451 S. State
• Public Safety Building, 475 S. 300 East
• Salt Lake City International Airport, Terminal 1 reception area, 776 N. Terminal Drive
• Plaza 349, 349 S. 200 East
• Public Utilities Building, 1530 S. West Temple
• Parks and Public Lands Building, 1965 W. 500 South
Matthew Melville, director of homeless services for Catholic Community Services, said, like the Road Home, the Weigand Center and St. Vincent de Paul Dining Hall rely on donations that come in through the holidays through a significant portion of the year.
"It's a blessing for us to get donations like this," Melville said.
Service providers for the homeless have been hearing reports of people experiencing frostbite, he said, so "we're handing out socks and gloves like crazy" to keep fingers and toes warm.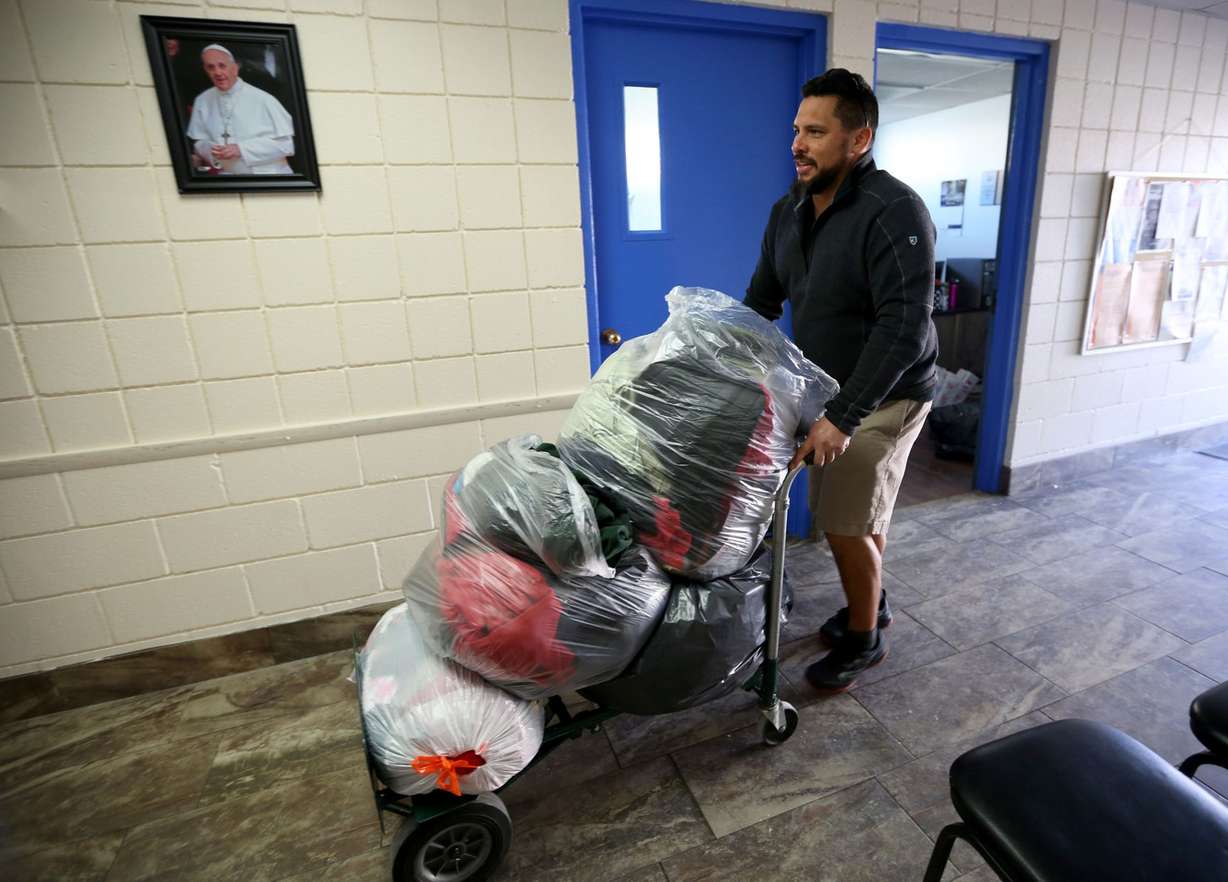 Melville said the holiday season has brought an influx of clothing donations — so much so that every corner of free space has been filled with donations at the Weigand Center. But, he said, "we can always use more."
"As fast as people go through socks and gloves, there's always a need," Melville said.
Those interested in donating can visit TheRoadHome.org and CCSUtah.org.
×
Photos
Related stories
Most recent Utah stories