Estimated read time: 3-4 minutes
This archived news story is available only for your personal, non-commercial use. Information in the story may be outdated or superseded by additional information. Reading or replaying the story in its archived form does not constitute a republication of the story.
SOUTH JORDAN — Halle Tahi has six kids and experiences some trouble making ends meet, especially at this time of the year.
The children — four girls and two young boys — are most in need of warm clothing and shoes. And all six of them got to stock up on Saturday, as they were among 250 kids selected from the area to shop during Gordmans Christmas for Kids program.
"I have no words to express how much I appreciate this," Tahi said. The family rents a home in Herriman and was humbled to be given such an opportunity at Christmastime.
Tahi said it would've been a meager Christmas without the help.
Gordmans department store partners with the South Jordan Chamber of Commerce and the Jordan Education Foundation to give each kid $115 to spend. Most of them, said volunteer chaperone Ben Casper, had trouble spending it on themselves.
"They all had lists of things for their family members," he said, adding that it was "an amazing and humbling" thing to witness.
Shylee Rose, an eighth-grader at South Jordan Middle School, carefully picked out some new clothes for herself, and bought picture frames to give her sisters and other family members. The aspiring photographer plans to print out photos she's taken with her cellphone, as she doesn't yet own a "real camera."
"I don't know what I would do for them without this," she said. "I think it is really cool they would do this for us."
West Jordan Middle School Assistant Principal Eric Price said faculty at Jordan District schools keep an eye out for deserving kids all year. Sadly, they end up leaving some students out, but the Christmas for Kids program has grown in the last several years from helping 40 kids to 250 this year.
"There's always people in need," he said, adding that its easy to think all Utahns are taken care of. "You think we live in this nice, safe area, but we get in this bubble and just across the street, there's poverty and need."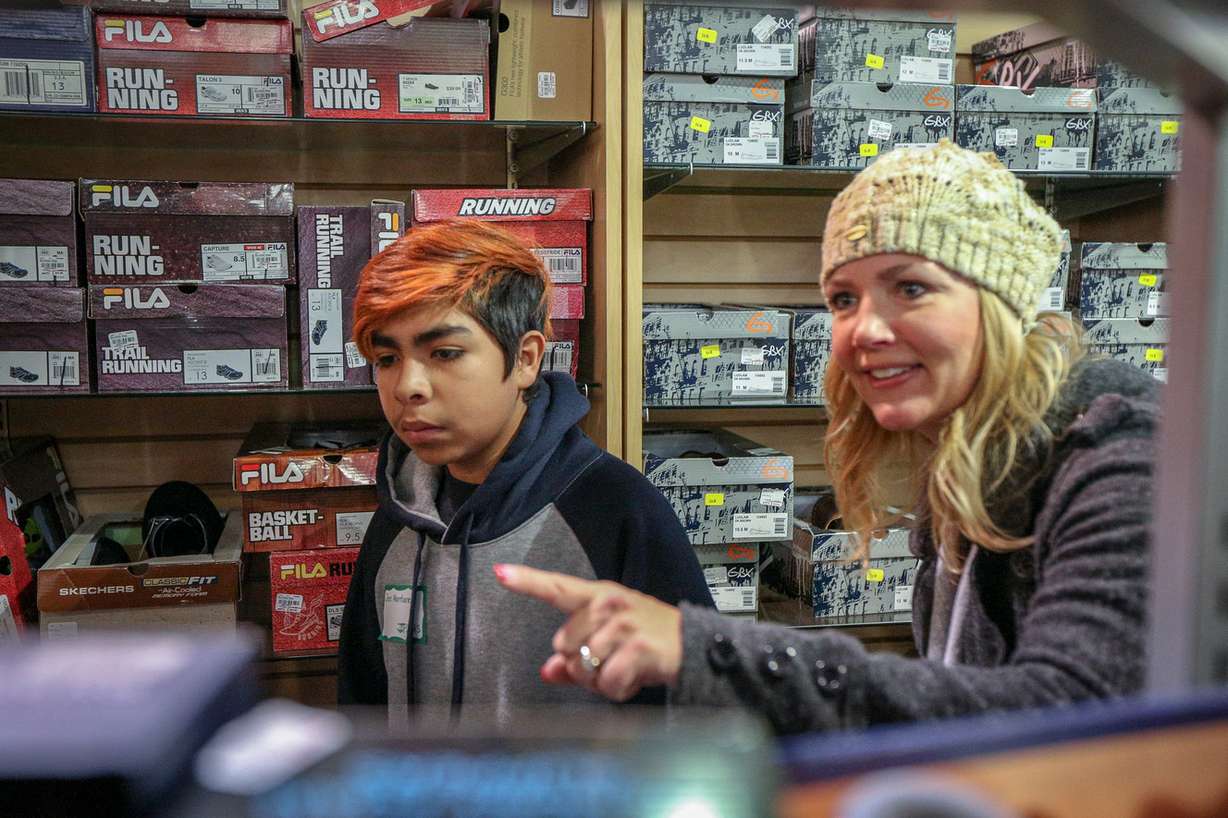 When he informed each of the kids, ages 12 to 18, of the upcoming opportunity, Price said, "They were so excited and so grateful."
"It's a great day for these kids," he said. "You can see it on their faces."
The program helps faculty and staff at the schools build better relationships with some of the kids who end up being selected for the holiday shopping spree. It also leads to better behavior in the classroom, as those selected feel a great responsibility.
In addition to Gordmans and the partnering organizations, community and business donors step up to help fund the middle- and high-school kids' experience.
"There's so much need we don't know about," said Simone Black, an employee at Jenkins-Soffe Funeral Home and volunteer member of the South Jordan Chamber of Commerce. She said she was shocked to learn that of the 13,000 economically disadvantaged kids in the Jordan district, there is roughly 2,000 who qualify as homeless.
"They're living in tents behind strip malls and sleeping in cars," Black said. "We just don't realize how much need there is. There are teenagers who need help and a lot of them are going without food and basic necessities."
The Christmas for Kids program is relatively unique in that it assists teens, whereas, most Christmas programs focus on younger kids and families.
---
"You think we live in this nice, safe area, but we get in this bubble and just across the street, there's poverty and need."
---
Price said 53 percent of kids at his school qualify for free or reduced-price lunch, which indicates federal aid. And 41 percent of the student body is of ethnic minority in the state.
West Jordan Middle School sent 27 kids to Gordmans on Saturday, but Price said he could have easily selected dozens more.
"We want to find the right kids, the kids who need it most," he said.
Organizing the event and seeing the kids busily shopping, Black said, "helps to put all my priorities in order."
"What I thought was important earlier today is no longer important," she said. "What matters most is people, and helping these deserving kids."
×
Photos
Most recent Utah stories