Estimated read time: 2-3 minutes
This archived news story is available only for your personal, non-commercial use. Information in the story may be outdated or superseded by additional information. Reading or replaying the story in its archived form does not constitute a republication of the story.
SALT LAKE CITY — Historically, December is the second deadliest month for pedestrian deaths in Utah, according to a Utah Department of Transportation news release. That's why the Zero Fatalities campaign is taking steps aimed at reversing that trend.
Zero Fatalities installed 20 sidewalk clings intended to remind pedestrians to stay alert when walking this holiday season. The signs are part of the "Heads Up" safety campaign.
A sidewalk sign at 300 West and South Temple Street—one of the busiest intersections on the Wasatch Front for both pedestrians and motorists—reads, "Your life is in danger. Watch for cars, they might not see you."
"The goal here is to take people off guard," said UDOT spokesman John Gleason. "It's not something that you're expecting to see."
UDOT placed 20 sidewalk clings at select intersections with high pedestrian traffic and crashes from Provo to Ogden, Gleason said. Retro-reflective advertisements were also placed at 50 bus shelters throughout Salt Lake City.
Rich Forbes works in South Jordan near one of the crosswalks with a sidewalk installment. He said streets lights at the crosswalk have made a difference.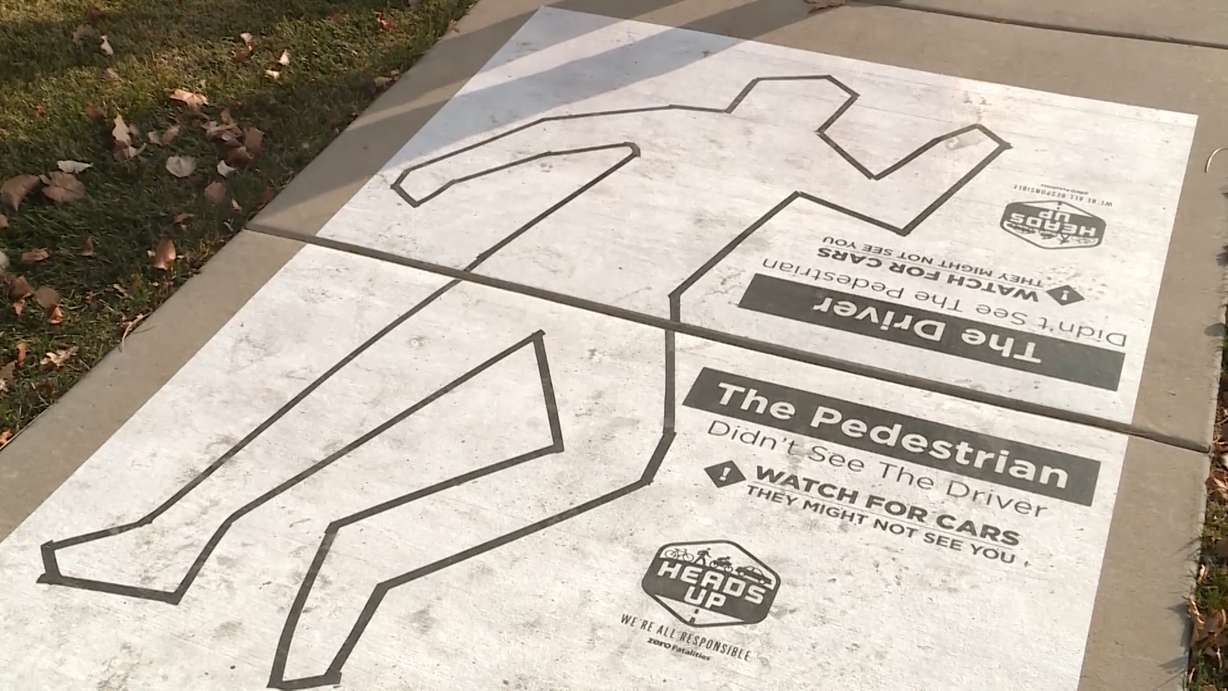 "Before that, it was kind of just dash … run across as fast as you could," he said.
Forbes also said the sidewalk message caught his attention.
"Even with the lights, you still have to be very careful when you cross over," he said. "(The sidewalk installment) is good to make people look both ways."
So far this year, 40 pedestrians have been killed on Utah roads, surpassing 2016's pedestrian death toll of 39, UDOT reported.
"This number is going to continue to increase if we don't see a culture change here," Gleason said.
UDOT offers the following reminders to help prevent auto-pedestrian crashes.
Drivers:
Always be on the lookout for pedestrians
Always yield right of way to pedestrians
Never speed or drive distracted, drowsy or impaired
Pedestrians:
Never assume the right of way and stay alert
Cross at designated crosswalks and adhere to traffic signs and signals
Be as visible as possible, wear reflective materials when possible
Always assume drivers can't see you
Contributing: Yvette Cruz

×
Photos
Related stories
Most recent Utah stories