Estimated read time: 4-5 minutes
This archived news story is available only for your personal, non-commercial use. Information in the story may be outdated or superseded by additional information. Reading or replaying the story in its archived form does not constitute a republication of the story.
KAYSVILLE — Declaring 2018 the "Year of Technical Education," Gov. Gary Herbert on Wednesday unveiled his $16.7 billion budget proposal at the Davis Technical College, emphasizing a fiscal package that dedicates 72 percent of new revenue to education.
Herbert's budget plan comes with no tax increase, new money to help the homeless, a funding plan to stave off tuition increases for college students, and a push to put more transportation dollars into mass transit options. It does not add any new debt and includes a rainy-day fund of $575 million.
The proposed budget is built on $382 million in new ongoing revenue, the lion's share of which will go to Utah's education system, including enrollment growth, teacher salaries, technology development and counseling. That new money — while a boost — represents less than 3 percent of the overall budget, Herbert said.
"(This budget) is rational, reasonable, responsible and reflective of the needs of the state now and into future," the governor said, speaking over the hum of massive computer-controlled cutting machines in a brightly lit classroom at the technology center.
New this year is an additional dedication of $34 million in the weighted pupil unit for children at risk of "academic failure," $8 million to remove the need for tuition increases, and $7 million for technical college priorities.
Herbert noted that education spending includes $33.4 million for a new allied health building at the Davis campus, a facility college officials said they've sought for 13 years.
"This was an over-the-top experience to have the governor here," said Davis Technical College President Michael Bowhuis.
The continued emphasis on education spending comes as Utah continues to grow its population at a frenetic pace, ranking first in the nation in 2015 for its fertility rate and household size, according to November numbers released by the Kem C. Gardner Policy Institute at the University of Utah.
To handle the additional 7,700 students anticipated to enter the education system in fiscal year 2019, Herbert's budget calls for $36 million.
House Minority Leader Brian King, D-Salt Lake City, said he is heartened by the percentage of money Herbert proposes to spend on education.
"It is the single biggest thing that we fund," King said. "It is not an easy thing to do."
Herbert's proposed education funding brought praise from advocates and others in the education community.
"The governor's proposed increase for public education is a significant and worthwhile investment in Utah's schoolchildren and the state's economy," said Utah Education President Heidi Matthews. "His recommendation to increase the WPU combined with an additional investments in at-risk student programs and property tax equalization gets us very close to the 5.5 percent WPU increase the UEA and other education stakeholders are seeking."
The sentiment was echoed in higher education circles.
"The governor's budget recommendations demonstrate that education is a top priority for him," said Utah Commissioner for Higher Education Dave Buhler. "We especially appreciate his inclusion of merit-based compensation increases for higher ed, funded at 100 percent, which would do away with a mandatory tuition increase and help keep college affordable for all Utahns."
With this latest fiscal proposal, Herbert is continuing to hammer on the need for tax reform, noting that the percentage of the budget's revenue from sales tax continues to shrink due to exemptions or earmarks, which have seen a 2,900 percent increase over 17 years. As an example, Herbert said 39 percent of new sales tax revenue is dedicated to transportation and water needs.
"We need to broaden the base and lower the rate," he said.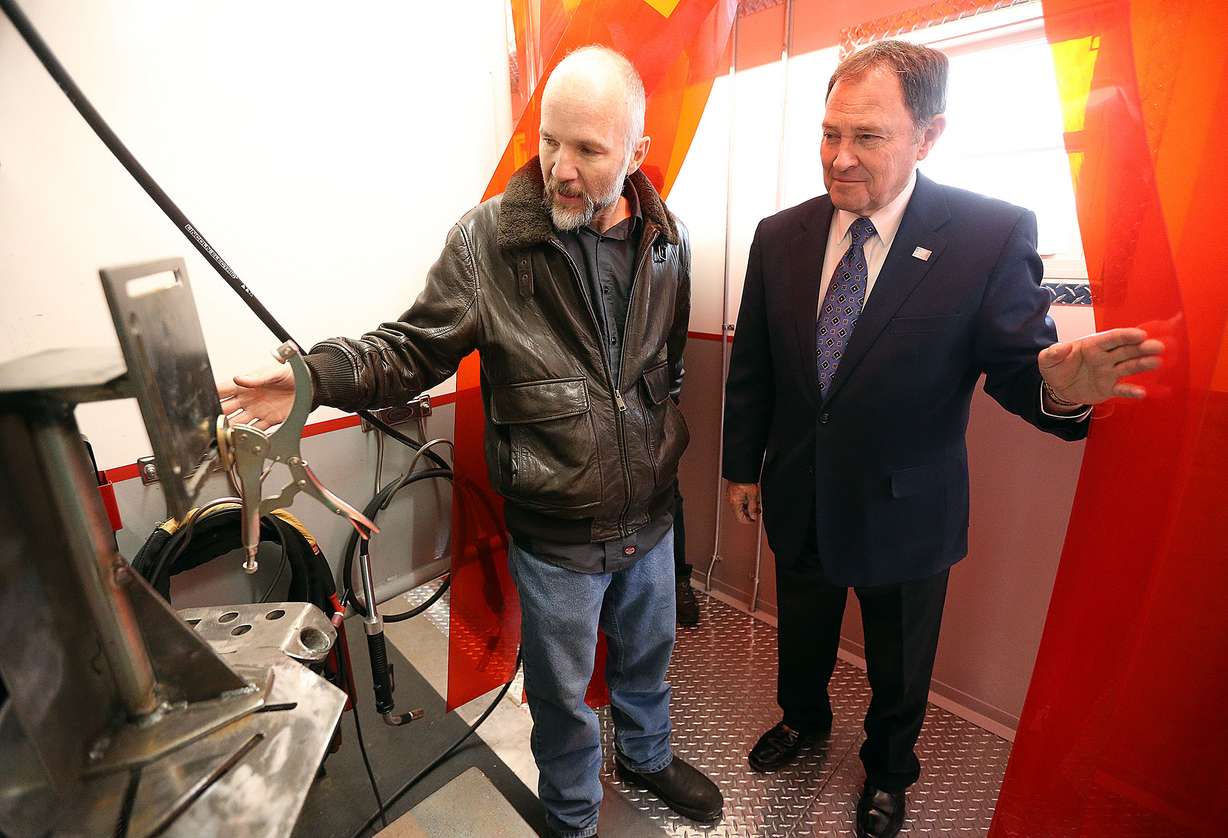 King said he hopes Herbert's GOP colleagues in the Legislature follow the governor's lead and take a stab at eliminating some of the bigger "giveaways" to corporate players.
"We agree this is very, very important," he said. "The devil is in the details."
King, while noting the overall progress made on societal issues such as Operation Rio Grande, said he is disappointed the governor doesn't continue to push for greater Medicaid expansion, instead of resting on the "Band-Aid" approach adopted earlier this year.
Rather than opening up medical services to 6,000 to 10,000 additional people, a more robust expansion would help more than 100,000 Utahns, King said.
"I am a little disappointed, quite honestly," he said.
Herbert's spending plan also calls for opening up a nearly $600 million transportation fund — now dedicated solely to road building — and providing flexibility to put some of that money into mass transit options.
The governor's budget officials stressed earlier this week that no "extra" money will flow to the embattled Utah Transit Authority without an additional layer of oversight and accountability due to the entity's protracted scandals.
Other budget highlights include:
• $10 million for Operation Rio Grande, the massive, collaborative push to clear the neighborhood near the downtown Road Home shelter of drugs and crime.
• $1 million to study agricultural water use.
• $5.9 million to improve Olympic venues.
• $1.25 million to help with the state medical examiner office's backlog.
Herbert's proposed budget also calls for an unprecedented infusion of new money — $10.3 million — into state parks, including dollars for a new park at Echo Reservoir and $8.4 million in dam safety repairs.
Another $850,700 is proposed for air quality research and to help counter backlogs within the regulatory division.
Contributing: Marjorie Cortez
×
Photos
Related stories
Most recent Utah stories