Estimated read time: 3-4 minutes
This archived news story is available only for your personal, non-commercial use. Information in the story may be outdated or superseded by additional information. Reading or replaying the story in its archived form does not constitute a republication of the story.
SALT LAKE CITY — Utah voters would elect Republicans Mitt Romney or Sen. Orrin Hatch over Democrat Jenny Wilson in next year's U.S. Senate race if the election were held today, a new poll shows.
The UtahPolicy.com poll released Thursday found Romney, the former GOP presidential nominee, would defeat Wilson with 72 percent of the vote to Wilson's 21 percent. And Hatch, who's represented Utah in the U.S. Senate since January 1977, would win with 50 percent of the vote to Wilson's 35 percent.
If Hatch retires and opts not to seek an eighth term, 72 percent of Utahns would support Romney, should he decide to run for the seat, according to the poll.
Voters from all across the board supported Romney, the survey reported, with nearly 95 percent of Republicans and 22 percent of Democrats selecting him over Wilson. More than half of the independent voters polled also preferred Romney over Wilson, according to the poll.
About half of those polled said they would support Hatch if he runs for re-election and faces Wilson, though previous polls have indicated most Utahns would prefer the 83-year-old senator step down when his current term ends in 2019. By then he'll have served 42 years in the Senate.
The poll of 600 voters was conducted Nov. 16-21 by Dan Jones & Associates. It has a margin of error of plus or minus 4 percent.
UtahPolicy.com publisher LaVarr Webb, who writes a column for the Deseret News, said the results are not a surprise in a highly Republican state.
"It's been very, very difficult for Democrats to win statewide for many years," Webb said.
One interesting note, he said, is that voters in the survey only chose Hatch over Wilson if they knew she's a Democrat. In a poll released in September, Wilson fared better after a pollster forgot to include party affiliation on the survey. She received 45 percent of that hypothetical vote, and Hatch got 34 percent, leaving 21 percent undecided.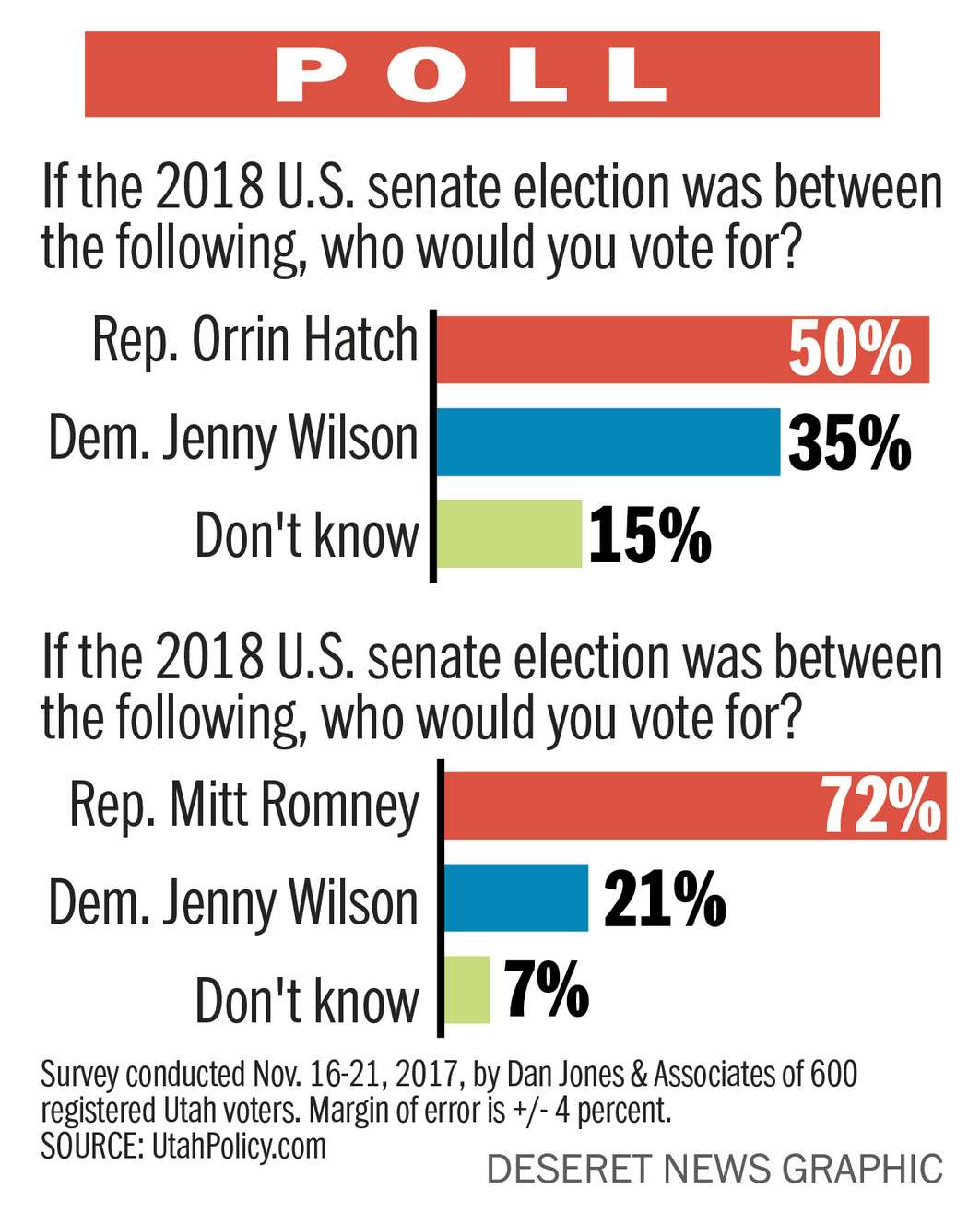 "It does provide an interesting data point that when a party affiliation is not indicated, that can make a difference," Webb said.
The difference in poll results could be attributed to party loyalty or the public perception of the national parties, he said.
Even though Utah voters have said in previous polls they'd rather Hatch retire than run again, they still might vote for him if the only other option is a Democrat, said Damon Cann, associate professor of political science at Utah State University.
"A person who doesn't want Hatch to run may turn out to be quite supportive of Hatch if they like the other options even less," Cann said. "In recent elections, we've seen a lot of people dissatisfied with all of the candidates who were forced to choose the candidate they considered the least bad."
Hatch has said he intends to run for another term, though he has not made an official announcement. In 2012, Hatch vowed his seventh term would be his last.
×
Photos
Related stories
Most recent Utah stories