SALT LAKE CITY — Fentanyl-related overdose deaths rose 78 percent from 2015 to 2016, according to a report from the Utah Department of Health.
"It's at the highest level since it started being tracked, which hasn't been that long," said Nathan LaCross, an epidemiology manager for the health department.
Department of Health numbers show fentanyl-related deaths went from 23 in 2015 to 41 in 2016. The previous high was 33 in 2005.
As police and first responders work more fentanyl-related scenes, the state health department is trying to help keep them safe. While experts say fentanyl is relatively difficult to absorb through healthy skin, there are other risks.
"If it's suspended (in the air) and you're inhaling it, and it's getting onto those mucosal surfaces — your mouth, and your throat, and your lungs — that's a different story," LaCross said. "It's much more easily absorbed through those surfaces, and it's much easier to get that high-enough dose to get an adverse effect."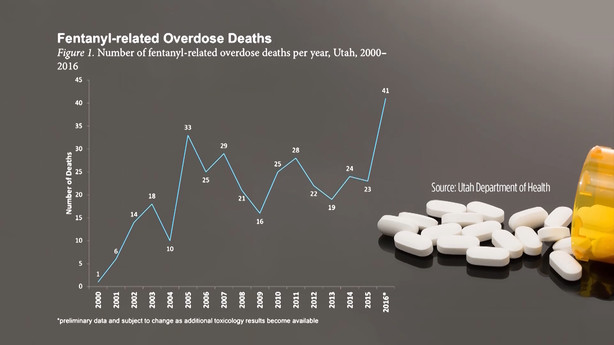 Angela Ito, prescription drug overdose prevention coordinator for the Department of Health, said when people buy illicit drugs they often have no idea what's in them.
"They don't know what they're getting into," she said. "(The drugs are) being made to look like whatever it is people are buying."
Since fentanyl can lead to overdoses in much smaller quantities, Ito said everyone who knows someone who could be at risk for an overdose should have naloxone handy. First responders might be too late.
"(It's) definitely going to be hard for a first responder, like an ambulance or police officer, to get on scene in time," Ito said.
As health workers continue to study the numbers, they hope to figure out where things will go from here.
"We do expect some variability in the data, and it's hard to say right now whether this is going to be something temporary, and it drops back down a little bit, or if this is indicative of a continuing trend," LaCross said.
To find a pharmacy that dispenses naloxone rescue cits, visit Naloxone.Utah.gov.
×
Photos
Related Links
Related Stories