Estimated read time: 4-5 minutes
This archived news story is available only for your personal, non-commercial use. Information in the story may be outdated or superseded by additional information. Reading or replaying the story in its archived form does not constitute a republication of the story.
SALT LAKE CITY — The swelling strains of a familiar church hymn echoed through the Temple Square Tabernacle as friends and family, members and missionaries sat in reverent silence.
Funeral proceedings for Elder Robert D. Hales, formerly of the Quorum of the Twelve Apostles of The Church of Jesus Christ of Latter-day Saints, had come to a close.
"God be with you till we meet again," the Mormon Tabernacle Choir sang.
And those who spoke of Elder Hales were sure that God would be with the late apostle.
Elder Hales died Sunday afternoon at the age of 85, after 23 years of apostolic ministry in the LDS Church. His funeral procession began at 11 a.m., and was attended in person by members of the First Presidency of the church and the Quorum of the Twelve Apostles, except for president of the church Thomas S. Monson and Elder Jeffrey R. Holland.
Elder Hales' most prominent spiritual gift was his ability to be "a perfectly loyal friend," said President Henry B. Eyring, first counselor in the First Presidency of the church. The apostle had business colleagues from all over the world from his time as an executive, and they would come help him with his church responsibilities as if they were his most recent friends.
"You may judge that to be a minor strength, but the Lord himself paid tribute to his apostles with words of friendship," President Eyring said.
Elder Hales' loyalty guided the apostle throughout his life and ministry in the LDS Church, and his fidelity extended not only to friends and family, but to God as well.
Elder Eyring was attending Harvard Business School at the same time Elder Hales' was a graduate student at the prestigious university. During his time there, Elder Hales was asked to serve as the leader of the men in his ward, or local church congregation. Elder Hales was worried because he had been warned by his professors not to take on too many extra activities during his rigorous schooling.
It was Elder Hales' wife, Mary Crandall Hales, however, who told him she would rather have a husband who actively served in the church than one who held a master's degree from Harvard. She put her arms around her husband and told him they would work things out together.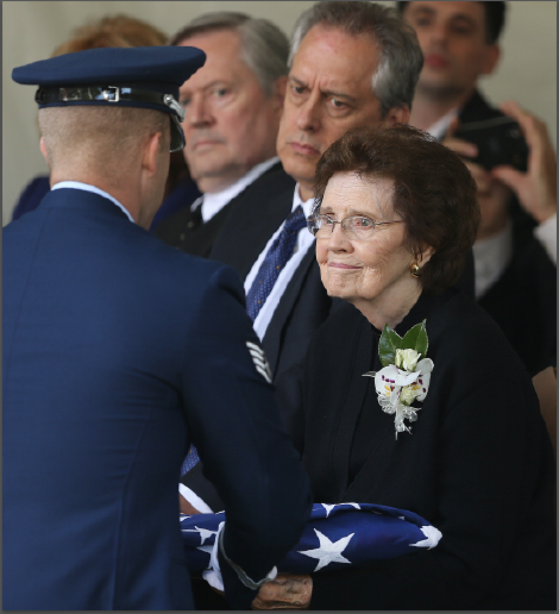 Elder Hales' fellow apostles, Elder M. Russell Ballard and President Russell M. Nelson, also emphasized Elder Hales' undying love for and devotion to his wife.
"His deepest desire has been to serve Mary," President Nelson said. "He had the constant love and support of his indefatigable wife … with devotion similar to that of her biblical namesake."
Her love and support were what carried Elder Hales through his ministry and his many health trials, he said. President Nelson, also a world-renowned heart surgeon, operated on the apostle when Elder Hales' health first began plaguing him.
"I know Bob's heart. Literally," the apostle said to laughter from the congregation in a moment of levity. "His associates in the Quorum of the Twelve Apostles will miss his New York-bred candor."
Elder Ballard, who has known Elder Hales since their days as undergraduates at the University of Utah, praised the apostle for his work ethic, his wit and his "sometimes very funny comments."
"My dear friend has always been a hero to me," he said. "He gives others the responsibility for solving their own problems and the power to do what needs to be done ... and then gives them the credit."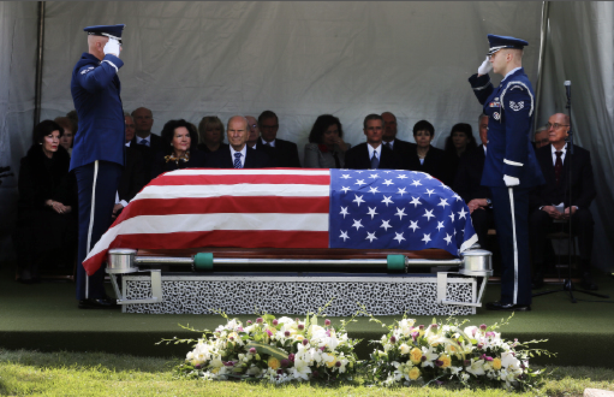 It was Elder Hales' love for God and witness of Jesus Christ, however, that marked the man's legacy, his fellow apostles said.
"Each day as I watched Bob struggle and suffer through his final illness, words of a sacred hymn filled my mind," President Nelson said. "'Softly and tenderly, Jesus is calling, calling for you and for me. Come home, come home. You who are weary, come home.' … Dear Robert, come home.
"That he has done. With the courage of a jet pilot, the tenacity of a champion athlete, the humility and devotion of a disciple of the Lord, Elder Hales has completed his life mission in a most exemplary way. He has passed the tests of mortality and returned home with highest honors."
https://t.co/B8oVNK7Iyv is at Temple Square as the tabernacle quickly fills a half hour before Elder Hale's funeral pic.twitter.com/IKxWB2mTcL — Liesl Nielsen (@liesl_nielsen) October 6, 2017
View the entire service below, or by [following this link](http://live.ksl.com/#/entity/178?_k=uotse3). ![](https://beacon.deseretconnect.com/beacon.gif?cid=552577&pid=4)
×
Photos
Related Stories