Estimated read time: 2-3 minutes
This archived news story is available only for your personal, non-commercial use. Information in the story may be outdated or superseded by additional information. Reading or replaying the story in its archived form does not constitute a republication of the story.
SALT LAKE CITY — The University of Utah will give students a $1,000 annual scholarship to play video games if they qualify for the college's new varsity esports team, according to a news release from the U.
Two-hundred players from across the country tried out for the U.'s team during August and early September, and 33 made the cut.
The roster for the team, made up of players and student coaches, was announced Wednesday during a news conference at the university's Entertainment Arts and Engineering studio, one of the nation's top-ranked video game development programs according to the Princeton Review.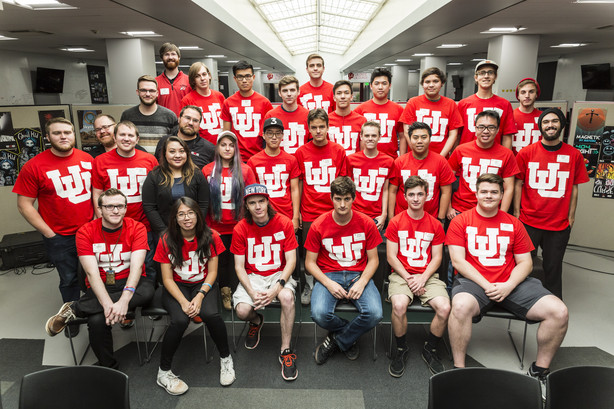 Players will compete against club teams from all over North America and 50 other scholarship esports programs. This year the players and student coaches will compete in four online video games throughout the school year:
— First-person-shooting game "Overwatch" at the "Overwatch Tespa Collegiate Series."
— Fantasy game "League of Legends" at the "AVGL Collegiate League of Legends Championship League."
— Vehicle soccer game "Rocket League" at the Collegiate Rocket League Series."
— Fantasy card game "Hearthstone" at the "Tespa Hearthstone Training Grounds."
— DMG Entertainment's "International Collegiate Esports Tournaments."
"I'm so proud of these players for making this happen and being willing to represent the University of Utah on our first varsity esports team," A.J. Dimick, director of operations for the university's program, Utah Esports, said in an emailed statement.
"They are great players and will compete on a high level from day one, but they are also great students and great ambassadors for the U. as we open a new chapter of college sports."
The U. is one of about 20 other schools across the country, including Boise State University, to introduce a collegiate esports team.
"It feels really awesome to receive the validation from the rest of the community and the school while building this program," student team member and U. senior Michael Swisher said in a statement. "It's cool to be a part of the first team and to build a foundation from the ground up so future players can enjoy it too."
Utah Esports is the first college-sponsored varsity esports program from any school in a Power Five athletics conference.
Editor's note:The content of this article was taken from a press release sent out by the University of Utah. This is not information gathered by KSL.com reporters.
×