This archived news story is available only for your personal, non-commercial use. Information in the story may be outdated or superseded by additional information. Reading or replaying the story in its archived form does not constitute a republication of the story.
SALT LAKE CITY — Karen Larsen was excited for the Route 91 Music Festival in Las Vegas over the weekend.
On her Facebook page, the Clinton woman posted a selfie Thursday from the airplane on her way to Nevada. On Saturday night, she posted several pictures from the three-day festival with the caption, "What a fun night!"
Sunday night she again posted from the festival that she was "so excited" to see that night's acts, including country star Jason Aldean who was closing out the festival.
When Aldean began to perform, Larsen, her sister and a friend moved to the front, just 20 yards away from the stage. She was on the right side of the stage, the side closet to Mandalay Bay across the street.
About 20 minutes into the concert, the unimaginable happened.
"We just heard all this pop, pop, pop, pop, pop. It sounded like a string of fireworks going off. And everybody kind of just looked around and said, 'It's just fireworks,'" she said. "And it hit everybody at the same time — it isn't fireworks. And everybody just hit the ground."
For the next several hours, Larsen said she could barely hold herself together as she switched between hitting the ground for cover, running away from the scene to the next point of cover, and finally locking herself in her hotel bathroom with her friends until a SWAT team knocked on their door.
"I was just screaming hysterically, and strangers kept coming up to me and grabbing my shoulder and saying, 'It will be OK,'" she said.
Utah leaders joined the voices of many across the country Monday in reacting to the deadly mass shooting in Las Vegas late Sunday that killed 59 people and injured more than 500, making it the deadliest mass shooting in U.S. history.
---
I was just screaming hysterically, and strangers kept coming up to me and grabbing my shoulder and saying, 'It will be OK.'
–Karen Larsen, concert-goer
---
Gov. Gary Herbert on Monday echoed a directive from President Donald Trump for all flags in Utah be lowered to half-staff until sunset on Friday.
Utah Lt. Gov. Spencer Cox said he was "heartbroken" by the news and planned on donating blood Monday to help the victims.
"(This one was) very close to home. That was our first thought, was we know there are Utahns there for sure. We have heard from some of them. We haven't heard of any casualties of Utahns that were there, but we know that there were many right there on the ground, literally on the ground, lying down, trying to get out of there, crawling out," he said.
"The stories that you hear from them are just horrific. We all think we'll never be in a situation like that. But so many people we know were."
The Church of Jesus Christ of Latter-Day Saints offered prayers to the victims and their families.
"To all of those affected by the horrific events in Las Vegas, we offer our deepest condolences and heartfelt prayers. We pray for those who are mourning the loss of loved ones, and for those who are seeking to recover from the physical and emotional wounds they are suffering. May God bless them with the peace and comfort only he can provide in such tragic and heartbreaking moments," said church spokesman Eric Hawkins.
The Catholic Diocese of Salt Lake also offered its condolences to those involved in Vegas incident.
"We join our nation as we mourn the tragic loss of lives in Las Vegas and pray for solace for victims, their families and the first responders who care for the multitudes harmed by this senseless act of violence."
Utah Attorney General Sean Reyes also issued a prepared statement, offering his sympathies.
"As has been the case with other mass shootings that have occurred worldwide in the recent past, perhaps out of the horror and shock of such senseless violence, we can unite in love and unity as a nation and as a global community to demonstrate support for those suffering and to condemn all such acts of unmitigated evil."
'Can't stop shaking'
Larsen said as everyone dropped to the ground at the concert, they could see the dust kick up from the bullets hitting the ground around them. And then, the shooting momentarily stopped.
"They kept telling us to stay down. But it was too scary. You just wanted to run away, so we got up and ran," she said. "No one knew where the shots were coming from. But they just kept coming and coming and coming. It was never-ending."
As would be the shooter's pattern, Larsen said the shooting would start up again, stop, and then resume. She became separated from her friends as she ran. At one point, she lost her cellphone, and when her family in Utah called to see if she was OK, a stranger answered it and told them he thought she was dead.
Larsen, who said she was "hysterical," was able to run behind a police car at one point, where she temporarily took shelter with others, and then continued running to her hotel room where she reunited with her friends. Together, all of them locked themselves in the bathroom and turned the lights out.
They were there until a SWAT team came to their door to clear the hotel.
"We can't stop shaking. It's just awful," she said. "You see it on TV and you never think it's going to happen (to you). You keep thinking, 'It's not real, it's not real.' But it is.
"We go to these (festival shows) all the time," she continued. "But now we're not. We're scared."
'Like an eternity'
Kristi Arnett Schreiber, a registered nurse from Coalville, was at the concert and near the front of the stage with her daughter when "all we heard was the gun going off for it seemed like an eternity."
In a long Facebook post, Schreiber describes how she assisted other concertgoers who had been shot around her, including "the guy 10 feet behind us (who) was shot in the chest three times. I told Brooke I have to help him and the last thing I heard her say was, 'No mom!' I went to the guy and was applying pressure and talking to him. The three of us carried him over the gate, even though there were still shots being fired," she wrote.
Schreiber said she then helped a man who was shot in the abdomen get to a car, along with his wife, who was shot in the head, so they could drive to a hospital. It wasn't until 6 a.m. that she was reunited with her daughter.
"There are police everywhere. It's a ghost town here. There are very few people out walking or driving. We hope to leave soon. The whole city is a wreck," she wrote Monday afternoon. She noted that others who were with her saw "people running, laying on the streets, bloody shoes, phones, purses everywhere. I am fortunate that I only lost my phone and not my life or my kids. I pray for everyone who lost their lives and for everyone that was there … and has to re-live this in their mind. It has been absolute hell. Every noise and siren is personally sending me in to a panic!"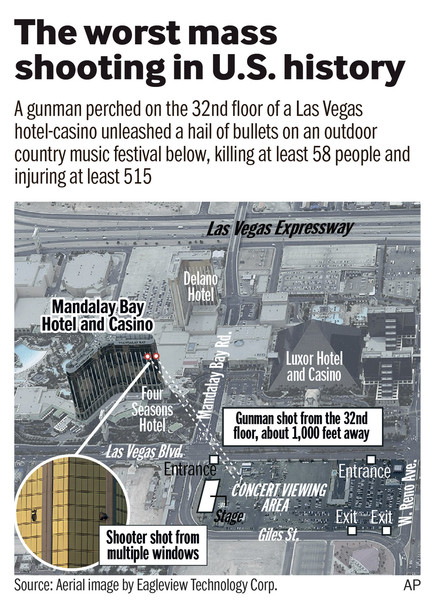 On the Facebook page for Salt Lake country music radio station Z104, several Utahns who were at the concert posted statements, including a woman who said she won a contest from the station to attend the festival.
"I'm here right now! I'm OK, but I just want to go home to my babies," Corina Rodriguez posted. "We are OK! We can't get back to our room on the Strip but we're OK at a place off the Strip. I haven't stopped crying for hours. Please pray for those directly affected. My heart is broken."
Earlier, Rodridguez posted that she was excited because it was going to be her first trip to Las Vegas.
Another person posted on Facebook: "A family member of mine was in the middle of this, but we are thankful he is OK. A girl right in front of him got shot in the back. He picked her up and carried her away. He's having a hard time right now."
One of the victims who died was a former Utah resident and graduate of Brighton High School. Neysa Tonks lived in Nevada and worked for a computer software company at the time of her death. But she spent most of her life in Utah. A GoFundMe page* was established by her co-workers to help with funeral expenses. Tonks is survived by three boys.
"Because of some selfish GARBAGE human being, our family won't be able to see our beautiful cousin, Neysa Tonks gain. I'm still at a loss for words. She was a wonderful mom, daughter, sister, cousin, and all around, a good person. My heart aches for all who lost a loved one to this senseless crime," Michelle Hodges posted on Facebook.
"Last night we lost a great person and even better mother. How can someone be so evil to kill a mother of three young kids? Neysa Tonks was always such a positive and powerful woman!" posted Cold Amidan.
Another Utahn killed in the Sunday attack was Cameron Robinson of St. George. The 28-year-old was attending the festival with his boyfriend when he was shot in the neck, his sister Meghan Ervin told the Las Vegas Review-Journal.
'No red flags'
Chris Michel, the owner of the Dixie GunWorx in St. George, says he remembers selling a shotgun to Las Vegas shooting suspect Stephen Paddock in February.
Paddock, 64, had recently moved to Mesquite, Nevada, just a short drive south of St. George.
Michel said Paddock visited his gun store three times, looking at the same shotgun each time, before finally buying the gun on the third visit. Michel recalled that Paddock told him that he was looking to pick up some hobbies now that he was retired.
"There were no red flags. We have more checks and balances in our shop before the actual federal paperwork comes into play. And then, of course, you've got that stuff also. We didn't have anything that made us nervous about. And the same thing with the background check. There was no problem with it whatsoever," Michel said.
In fact, he said his store will take the time to try and get to know the people who walk in.
"We have kind of a rapport with our customers. We want to get to know them on the first name basis if we can. Little do they know that we're doing that because we want to know, 'Is this somebody that we need to watch out? Is this someone who is going to be sketchy? Is this someone we don't want to sell a firearm to?' We do it for everybody," he said.
So when Michel heard what happened in Vegas, he recognized Paddock's name and face.
"I couldn't believe what happened. It's still in my mind going, 'How could this be?' Again, what I dealt with and the person I dealt with, never in a million years would I thought he would have done something like this," he said.
Michel said the type of gun Paddock bought from him was not powerful enough to have shot people from the 32nd floor of a hotel, nor could it be manipulated to be that powerful. Still, it's little consolation in light of the tragedy that occurred.
"How do you minimize responsibility? Because that's the question that's been going through my head. In what way, shape or form am I responsible for this one? Did I do something? Could I have prevented it? That's kind of where I'm falling into this, could I have prevented this in someway, shape or form?
"And the answer is no. There's no way I could have prevented this. I believe the firearm I sold this individual, I don't believe it was used in there," he said.
"There were no red flags. I went through every step of the process and then some additional ones to try and weed out this kind of a situation, and it still happened."
Utah assistance
Utah Department of Public Safety Commission Keith Squires said he heard about the shooting about 1:30 a.m. Monday and immediately reached out to authorities in Las Vegas to offer assistance and resources. As of Monday, Squires said one person — a computer forensic examiner — will be headed down to assist federal authorities with going through the piles surveillance and cellphone videos.
Utah crime scene investigators are also on standby, ready to be deployed as needed. Cox concurred it's possible the state will be sending resources to Vegas when it comes time for police to begin processing the evidence they've collected.
The FBI in Las Vegas on Monday asked the public with videos or photos from the shooting to call 1-800-CALLFBI (800-225-5324).
Dixie Regional Medical Center in St. George confirmed Monday that one patient from Desert Springs Hospital Medical Center in Las Vegas was transferred to its facility because the Las Vegas hospital was at capacity. The patient that was sent to Utah was involved in an "unrelated trauma incident" and was not a victim of the mass shooting, said Dixie spokeswoman Terri Draper.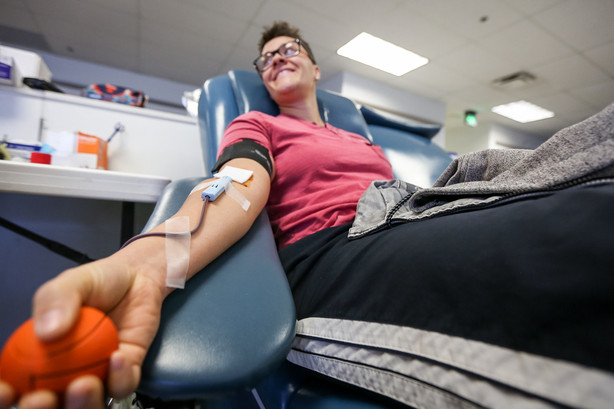 #blood_don_pic
The Utah Chapter of the American Red Cross was also sending representatives to Las Vegas to find out how it could assist. Until then, the Red Cross was encouraging residents to go to their local blood banks and donate so blood could be sent to Las Vegas to help the hundreds of victims.
"Our hearts and thoughts go out to the families affected by the tragic mass shooting in Las Vegas. The Red Cross has mobilized. More to come," it stated in a tweet.
At Southern Utah University, where many students have ties to the Las Vegas area, a vigil was planned for Wednesday night. In addition, the school wanted all students to know that the Counseling and Psychological Services Office was open for anyone who needed to talk.
Gun control
Cox said the tragedy will likely once again raise the issue of gun control legislation. He said he hopes it will lead to real discussions and unite people in finding real solutions to prevent future tragedies.
"These things are a reflection on all of us as who we are as a society and what we value and what we care about. And there's no question that we're divided in lots of different ways, and our hope is we can put aside the difference and come together," he said.
Cox said he is a gun owner, grew up with guns, and is a believer of the Second Amendment. "But I also know people shouldn't be up on the 32nd floor of hotels gunning people down. There has to be somewhere in all of this we come together and protect one another."
In its statement, the Catholic Diocese of Salt Lake also addressed the issue of gun control, and called lawmakers in Washington to action.
"Life is a gift from God. We are obligated to respect and protect life. The sad reality is that people are being killed by guns in our country at an alarming and consistent rate. We can no longer pretend that guns are not involved in some way or another. We need to address the prevalence of guns in our neighborhoods and the disturbing trend of viewing the proliferation of these dangerous weapons as not only acceptable, but desirable.
"We call on Congress to not only mourn the victims of gun violence in Las Vegas, Sandy Hook, Orlando, and elsewhere, but to take concrete action to limit access to the weapons that make these tragedies increasingly more likely and more devastating."
Contributing: Katie McKellar, Linda Williams
____
*KSL.com has not verified the accuracy of the information provided with respect to the account nor does KSL.com assure that the money deposited will be applied for the benefit of the persons named as beneficiaries. If you are considering a deposit or donation you should consult your own advisors and otherwise proceed at your own risk.
×
Photos
Related Stories