Estimated read time: 3-4 minutes
This archived news story is available only for your personal, non-commercial use. Information in the story may be outdated or superseded by additional information. Reading or replaying the story in its archived form does not constitute a republication of the story.
SUGAR HOUSE — Every Tuesday, Brian Parker takes out the trash for his parents. And for the rest of the neighborhood.
"He'll leave generally around 10 o'clock (in the morning) and sometimes it's not until 10 o'clock at night that he gets back," said Edward Parker, Brian's dad.
As capable as he is, something's always been missing.
"I've never had a job where I'd have to be there, check in, stay there until the end of my shift," Brian Parker said.
Then, he met Heidi Nielson.
"People with special needs are committed people and they want to work, and they want to contribute to society," Nielson said.
She and her husband, Chris, heard about an ice cream store in Dallas called Howdy Homemade Ice Cream.
David and Susan Koelliker, friends of the Nielsons, encouraged them to open a franchise.
"We all have special needs, don't we? I mean we are all walking around with special needs," David Koelliker said.
Koelliker has been fighting a brain tumor for eight long years. Once a popular dentist, he sees the world differently now.
And it sealed the deal.
"All of the sudden he called his wife over and he said, 'Sue, Chris and I are going to start an ice cream store and it's going to be employed by angels," Nielson said.
Angels like Brian, who came into the world at over 10 pounds. "I thought, 'Oh my goodness, he's going to be able to follow his Dad and play some football,'" Edward Parker said.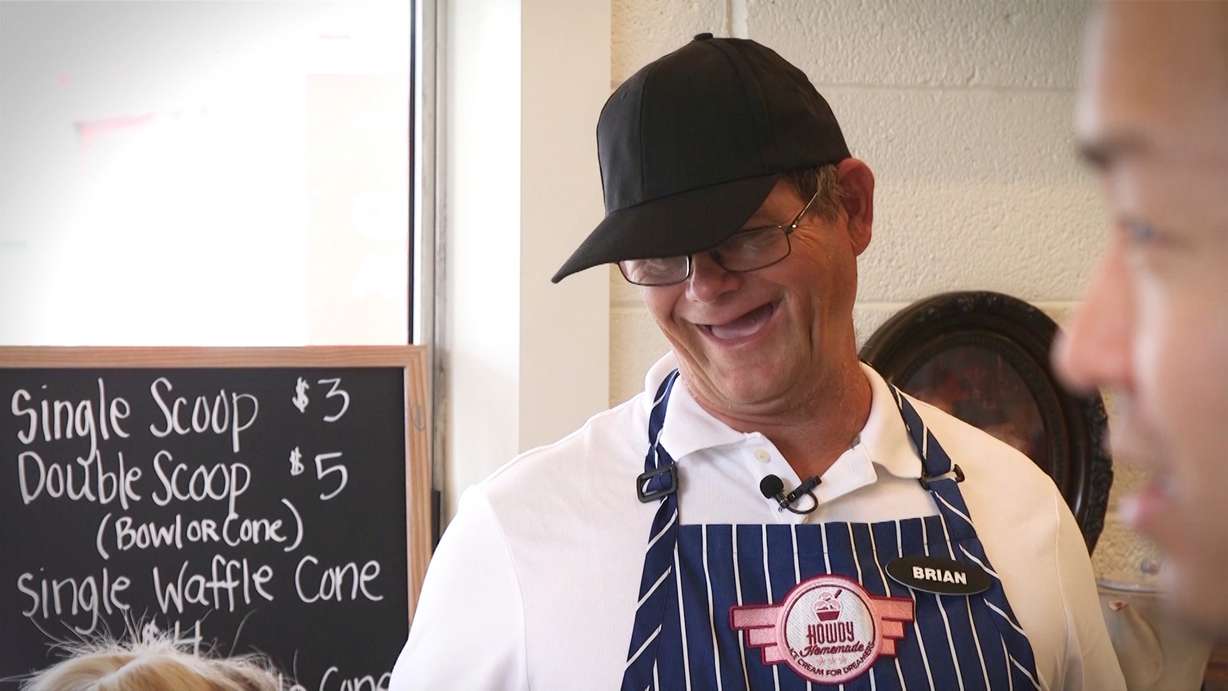 "When he was born, it was not obvious that he was any different from any other child," Janice Parker, Brian's mom, said.
Life has not been easy for Brian. He has significant developmental delays. Not everyone sees how much he has to offer.
"Brian has taught a lot of people what it's like to be different," Janice Parker said.
Howdy Homemade is staffed mostly by people like Brian. Nielson's grandfather owned Dufin's ice cream store, which closed 50 years ago, and he had a daughter with special needs. "Call it divine intervention or whatever you want to call it. Someone's working on our behalf making a new ice cream store two generations later," she said.
As Brian learned the job, it took some practice, and trial and error. "Oops, I dropped it on the floor," he said.
With some patience, he got it. "We all need a purpose, even a person with special needs," Nielson said.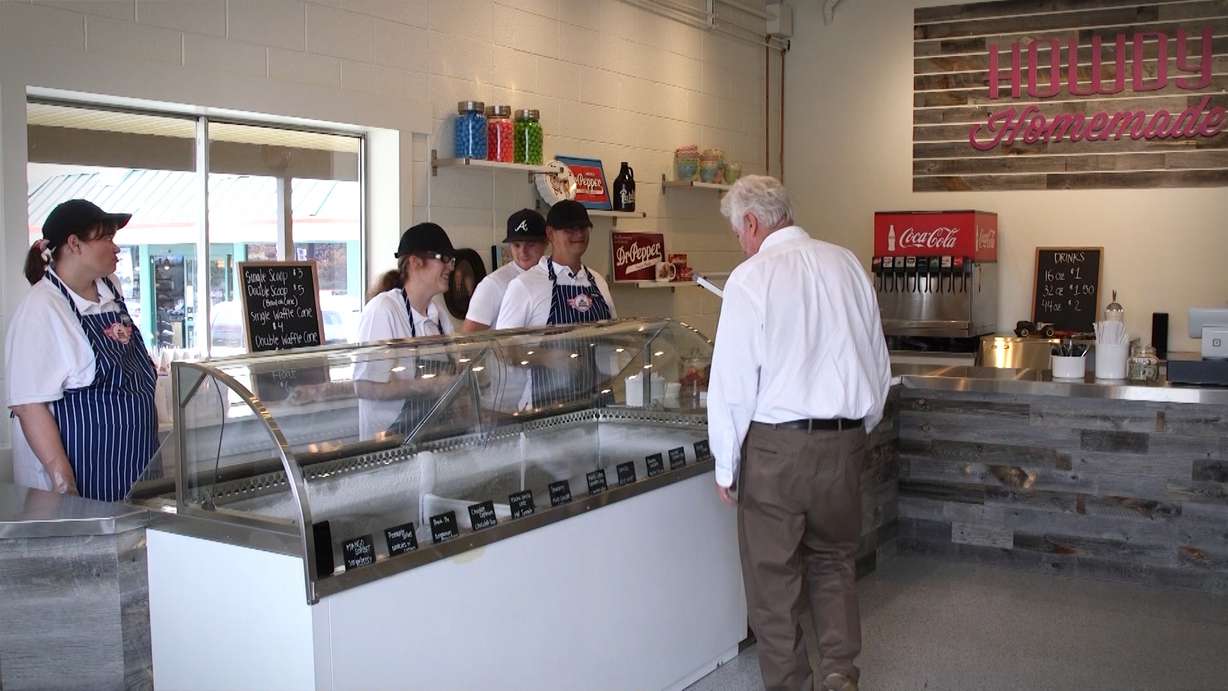 Nielson knows first hand. Her son, Jack, had a traumatic birth. "He is diagnosed with multiple disabilities. He seems like he has autism but he has his own look, so we kind of say, 'Jack is Jack.'"
At 21, Jack is finished with school. "You kind of get this pit in your stomach and it's like, 'What are your dreams for a child that you don't see a future for," Nielson said. Rather than just find a job for Jack, Heidi decided to change her little corner of the world.
On opening day, Brian had fun laughing and talking with customers. He said he's now doing what he was destined to do. "I've fulfilled what I'm supposed to be doing on earth," he said. "It's a big step up for me."
At the grand opening, a line stretched out the door all day and all night, with many special visitors.
And even at his new workplace, Brian can still do the job he loves most: taking out the trash, working hard, and warming hearts.
Howdy Homemade Ice Cream is in Sugar House, at 2670 South 2000 East. They make their ice cream fresh, in small batches, every day.
×
Photos