Estimated read time: 5-6 minutes
This archived news story is available only for your personal, non-commercial use. Information in the story may be outdated or superseded by additional information. Reading or replaying the story in its archived form does not constitute a republication of the story.
UINTAH, Weber County — At least six structures, including multiple homes, have been destroyed and mandatory evacuations have been ordered after a brush fire erupted in Weber Canyon Tuesday morning, authorities said.
A helicopter crew with GPS surveyed the fire perimeter late Tuesday and found the fire has burned 619 acres. Earlier officials believed it had burned 1,200 acres. The cause of the fire was still under investigation but it was human-caused, fire officials said.
In addition to the homes, many other structures were being threatened, Layton Fire Marshal Douglas Bitton said. Video captured by KSL's Chopper 5 showed three homes heavily damaged or destroyed.
Weber Fire District Fire Marshal Brandon Thueson said authorities have told residents east of U.S. 89 in Uintah to leave their homes. He estimated about 900 residents were evacuated.
Streets in the evacuation zone include Bonneville Terrace Drive, Borg Circle, Bybee Drive, Combe Road and Karen Drive.
"We anticipate the current evacuation orders for the Uintah Highlands area through the evening, possibly through the evening and into tomorrow," Thueson said.
The fire also skipped I-84 and began threatening structures in South Weber, Bitton said. However, evacuations were lifted in South Weber and residents were allowed to return to their homes early Tuesday afternoon.
Those impacted by the fire were told to report to the Dee Events Center, 4400 Harrison Blvd., in Ogden. The center was set to close at 8 p.m. Tuesday and reopen at 9:30 a.m. Wednesday, according to Weber State Police.
Washington Heights Church, located at 1770 E. 6200 South in Ogden, said it also opened its doors to those affected by the fire.
Volunteers
The Red Cross was inundated with food donations and volunteers at the Dee Events Center, where more than 100 volunteers checked in to help Wednesday, the organization said in a news release.
Red Cross officials thanked the community and said, "We are currently not taking any more donations. We would ask members of the community who want to help to donate to the Red Cross at www.redcross.org.utah. Those that have signed up as volunteers will be called as the need arises."
Closures and delays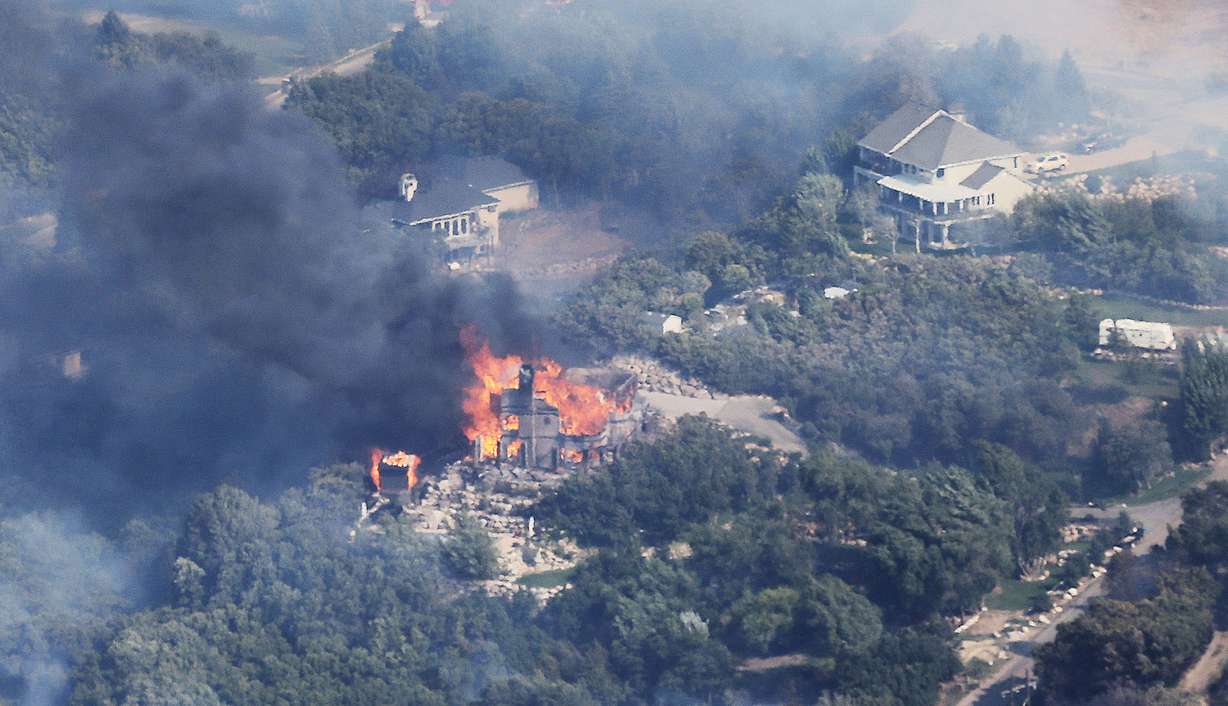 Utah Department of Transportation officials said U.S. 89 was closed early in both directions at the I-84 junction. That closure was later extended to Harrison Boulevard in Ogden to 3000 North in Layton and is expected to remain closed for several hours.
The fire also closed down I-84 from the Riverdale to Peterson in Morgan County for several hours. However, Thueson said I-84 westbound to U.S. 89 had been reopened at 1 p.m. Drivers were being forced to travel south on U.S. 89.
UDOT officials said I-80 and I-15 can be used as an alternative route.
School evacuation
Davis School District officials said South Weber Elementary School was evacuated Tuesday morning. Students who hadn't been picked up by their parents were being bused to Clearfield High School. The district said late Tuesday that, barring any change in the wildfire near South Weber, school would be held as normal on Wednesday.
Uintah Elementary School was also evacuated as a precaution, according to Weber County officials. Parents were told to pick up their children at the Dee Events Center.
Lane Findlay, spokesman for Weber School District, said about 700 students were transported to the Dee Events Center. He said the school had experienced a power outage and the fire was noticed shortly after.
Smoke from the fire has also created problems for those in the area. Hill Aerospace Museum at Hill Air Force Base closed early because of smoke. At Hill Air Force Base, all gates will resume normal hours of operation Wednesday.
Fighting through the night
The Federal Emergency Management Agency has authorized the use of federal money to help with firefighting costs. The agency reports at least 300 homes are immediately threatened by the blaze.
Multiple agencies are helping battle the fire, Bitton said. Fightfighters from Weber, Davis, Box Elder and Cache counties, as well as crews from the U.S. Forest Service and various cities have been dispatched to fight the fire.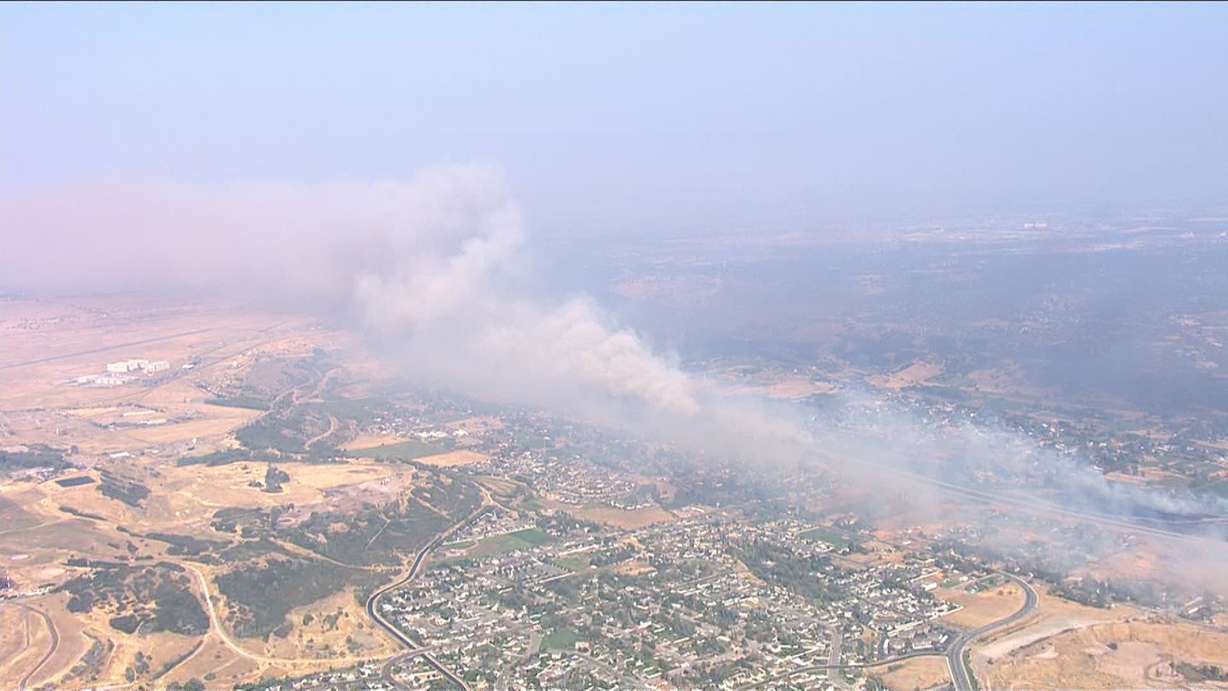 Bitton said the fire was zero percent contained. It originated sometime around 7:15 a.m.
With the wind, Bitton said embers originally were blowing close to 30 to 40 feet, causing other fires to spark in the area.
"Firefighters are working feverishly with these downslope winds that are approximately 40 mph," he said.
The wind prevented officials from using helicopters to fight the flames early, but five fixed-winged planes and two helicopters were helping later, Utah Fire Info officials said.
Thueson added Utah's Type 1 Incident Management Team was expected to help battle the fire Wednesday.
Related
More evacuations are possible overnight depending on fire activity, Bitton said. He recommended people living near the fire be ready to evacuate in case the need arises.
Officials have asked residents in the area to not use their sprinklers to keep the fire away. The fire departments need the water to fight the fire.
Mark Sheffield, whose mother-in-law lives in the area near where the fire was burned, said he witnessed the fire spread toward the backyard of multiple homes, though he did not see a home destroyed.
"(Fire crews) are doing a pretty good job keeping it in control by the homes, but the fire itself is definitely out of control as it's going up toward nonstructured areas," Sheffield said.
Other residents said flames jumped roads.
"We went outside," said resident Bill Evenhuis. "I could feel the heat on my skin. I go, 'This is getting close. This is getting close.'"
Early Tuesday Bitton said officials had not determined the cause of the fire but received reports from witnesses that power lines were sparking near the area the fire broke out.
Contributing: Caitlin Burchill, Amanda Dickson, Brian Martin
×
Photos
Related links
Most recent Utah stories