Estimated read time: 4-5 minutes
This archived news story is available only for your personal, non-commercial use. Information in the story may be outdated or superseded by additional information. Reading or replaying the story in its archived form does not constitute a republication of the story.
PARK CITY — While most ocean research organizations are based in coastal areas, Utah-based OCEARCH is making a huge impact in the scientific community and beyond.
The brainchild of Park City resident Chris Fischer, OCEARCH is a world leader in generating scientific data on marine species such as great white and tiger sharks, courtesy of their biological studies and subsequent tracking efforts.
Central to Fischer's approach is the idea of inclusion and breaking down institutional barriers.
"It's going to take a lot of people to build up an ocean movement that's actually effective," he said. "We all need to take ownership in creating the abundant future. Most people don't even stop to think about how they'd like to leave the planet for their great-grandchildren."
The OCEARCH team practices what they preach, making all their data open source. Millions of people worldwide use the Global Shark Tracker to follow the movements of OCEARCH-tagged sharks that have names like Finn, Cisco, Harvey, Vader, Bruin, Oscar, Gurney and Manhattan.
OCEARCH has also partnered with 157 researchers from 83 different institutions. And they helped create a free curriculum that enables students in grades K-8 learn STEM skills while they follow real-time data updates on their favorite sharks.
"You need to be data-driven and chase the science," Fischer said. "If we don't have the data, we can't manage to abundance."
Fischer and his team work aboard the M/V OCEARCH, which serves as a floating laboratory. The ship is currently off Montauk, in New York, tagging juvenile great whites. Once a shark is captured, it is carefully maneuvered onto the ship's custom platform, which is then raised out of the water.
In a matter of minutes, the team of scientists conducts 12 separate studies. The platform is then lowered and the shark is guided by hand back into the water.
While some outside observers have raised questions about how this approach affects shark health, the OCEARCH team says that blood data taken from sharks on the platform reveals that they are only minimally stressed when compared to sharks caught by other methods. And the tracking data appears to back that up, as the sharks consistently recover and begin swimming strongly soon after release.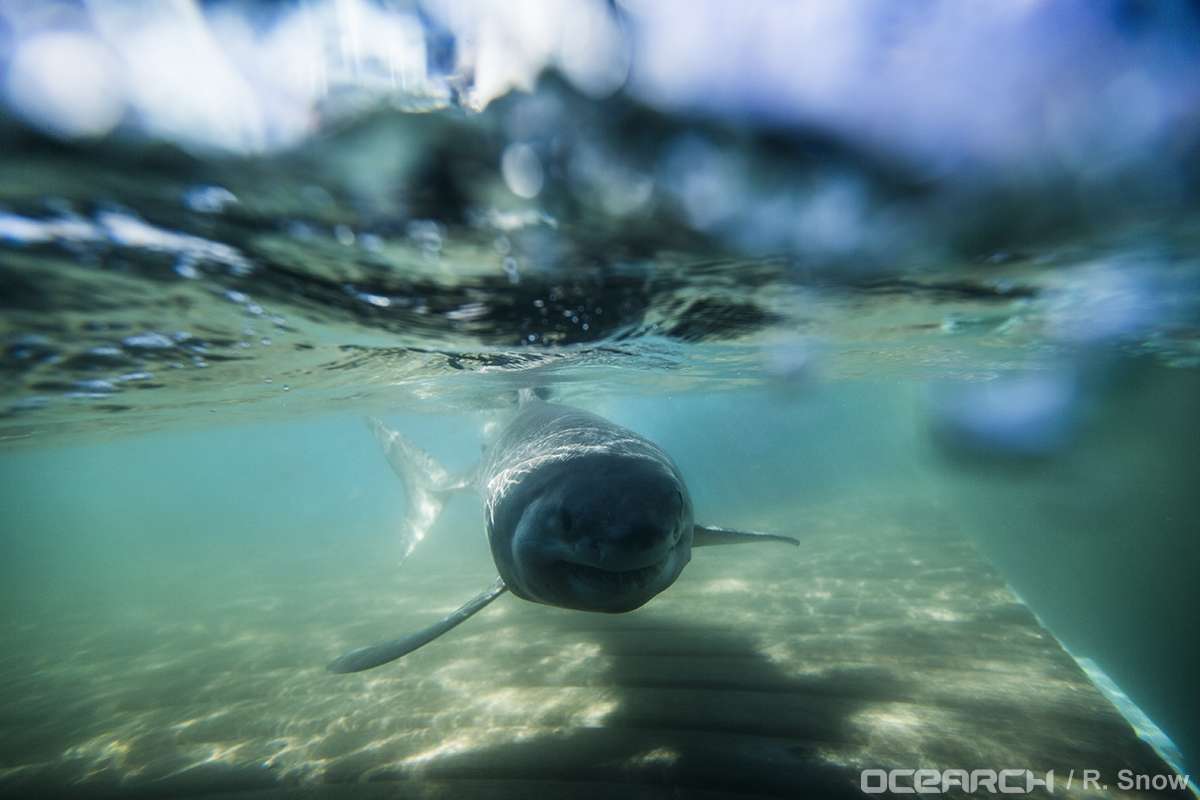 Nonetheless, Fischer and his team take their stewardship seriously, and all their shark procedures follow the standards of the Institutional Animal Care and Use Committees of each institution, which are created by scientists and veterinarians.
And the work OCEARCH is doing near Montauk could have a distinctly positive impact on the shark population. Fischer said now that they've found white shark pups in the area, they know they're born there. Last year, the team tracked these shark pups for the first time ever.
"They went from here down to South Carolina and back," Fischer explained. "We now know where they live in their first year, the most vulnerable year of their life, so that we can manage them and help them survive those phases of their life so that more make it out of the nursery."
When not traversing the globe on shark expeditions, Fischer stays involved in the Utah community by speaking in schools, presenting to organizations and meeting with local companies.
Jeremy Johnson, of Salt Lake City, recalls when Fischer came to his workplace and gave an inspiring presentation. The focus was on inclusion, naturally, and Fischer talked about the strategies OCEARCH uses to bring so many different researchers together for a common goal.
"I loved meeting someone that lives by the idea if you give it away, you will get it back tenfold," Johnson said. "One thing Fischer said that has really stuck with me is that 'inclusion equals innovation.'"
Though some people may find it odd that a research team is freely sharing every scrap of data they collect, Fischer views it as the one true path to success.
"If you're not inclusive and you can't get everyone on that common vision and then harness the scale of all these people who want to help and aggregate it and give it away, you've got no shot," he said.
---
×
Photos