Estimated read time: 4-5 minutes
This archived news story is available only for your personal, non-commercial use. Information in the story may be outdated or superseded by additional information. Reading or replaying the story in its archived form does not constitute a republication of the story.
SALT LAKE CITY — With her eyes glued to her eclipse glasses, 5-year-old Riley Bratt stared at the sun and called to her mom.
"Mommy, it's getting smaller," she squealed. "It's getting smaller and smaller!"
"The sun is a banana," her cousin said, pressing his own pair of glasses to his face.
"No, it's a smile," Riley replied.
She and her parents were among hundreds of families gathered at The Gateway in Salt Lake City to view the solar eclipse Monday morning. Millions more across the nation also stepped outside to watch the eclipse. It was the first solar eclipse to cross the United States, coast to coast, in nearly 100 years.
Rusty and River Healey traveled from Ogden, not to take photos of the eclipse, but to capture the reactions of the people staring up.
"All the geeks are going to be photographing the sun, but I'm a people photographer," Rusty Healey said. "It doesn't matter what color we are, what nationality, what religious or spiritual beliefs. We all come together as a tribe. We're the humans, and this is our global community."
The Clark Planetarium provided several ways to view the eclipse, from telescopes with filters to cardboard boxes with welding lenses.
Amelia Margetts, an education presenter at the planetarium, supervised a telescope that projected the eclipse onto a vellum covering.
"This lets you look at it without having to worry about hurting your eyes," she explained.
One eclipse viewer brought a metal colander to cast the shadow of the eclipse onto the sidewalk. Others simply curled their fingers to a pinpoint to see the shape of the sun without looking up.
"It's incredible what the sun is to the planet Earth," said 88-year-old Sperry Rueckert. "Here the moon goes by, and we're going to be seeing it dark. And that is absolutely a scientific amazement."
Related:
He and his wife, Anna Rae, 86, don't usually leave their home in Salt Lake City, but they considered the solar eclipse a once-in-a-lifetime chance.
"We've never seen one," Sperry Rueckert said. "So we made it down here, and boy, we're sure glad we did."
A few blocks away at the Triad Center, 95 N. 300 West, crowds of people attended the KSL solar eclipse viewing party. Many tried covering their phone cameras with eclipse glasses to take photos of the sun.
David and Lisa Judd, from Sandy, said their five kids considered staying home and watching the eclipse on television.
"I wanted them to actually experience nature outside in nature, instead of on a screen," Lisa Judd said. "People are sharing and giving glasses to help each other out. It's great to see the community come together like that."
Twelve states were in the path of totality — Oregon, Idaho, Wyoming, Nebraska, Kansas, Missouri, Illinois, Kentucky, Tennessee, Georgia, North Carolina and South Carolina.
As the eclipse reached maximum coverage — 91 percent in Salt Lake City — viewers on the lawn outside of the Triad Center felt the slight but noticeable drop in temperature and alternated looks between the sun above and their own hazy shadows below.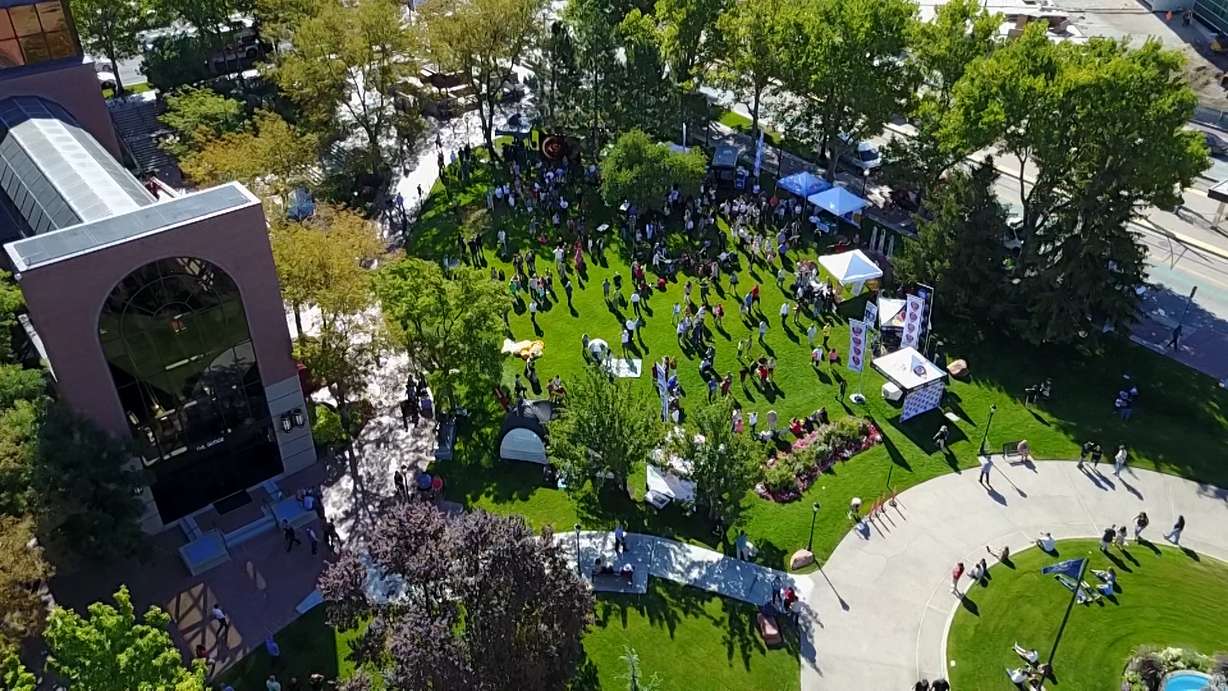 Street lights flickered on at the Triad Center, and crowds cheered when the eclipse peaked around 11:33 a.m.
"There's a higher power out there than we know," Dan Waters said as the eclipse passed. "It changes everything here on the ground: the light, the weather, it cooled off."
Waters, 56, said he would be excited to see the eclipse pass more directly over Utah in 28 years, joking that he would come out for it "if I can see."
"It was amazing to see this," Berlis Rosario said.
He said he could've chosen to view the eclipse from his home, but decided to come out to the KSL viewing party to be with people who were also marveling at the astronomical phenomenon.
Across the lawn, Trish Alderman watched the eclipse with her daughter Kate, 13, and son Will, 11.
Kate and Will both said the experience was a cool one, while Trish admitted her one regret: "We should've driven to Idaho."
"It's really unique, just standing out here and feeling everything get darker and colder," said Jarom Norris, from Salt Lake City. "Seeing the sun changing, it's once in a lifetime."
---
Ashley Stilson is a graduate of Utah State University working as an intern for the Deseret News. Contact her at astilson@deseretnews.com.
Ryan Morgan is a news media student and a senior at BYU. He currently works as an intern for the Deseret News. Contact Ryan at rmorgan@deseretnews.com.
×
Photos