Estimated read time: 2-3 minutes
This archived news story is available only for your personal, non-commercial use. Information in the story may be outdated or superseded by additional information. Reading or replaying the story in its archived form does not constitute a republication of the story.
PAROWAN — Heavy summer rainstorms and sooty runoff from the Brian Head Fire burn scar sent sludge over the highway overnight Monday in Parowan Canyon, wiping out one lane.
The flooding also inundated a handful of homes nearby.
"We just had more water than what our creek was able to handle," Parowan Police Chief Cam Carpenter said.
State Route 143, which runs from Parowan to Brian Head, likely will remain closed through Tuesday, said John Higley, Iron County emergency management coordinator.
The rest of the road could erode under possible rain late Monday, Higley said.
"If that storm comes through with the intensity that is currently predicted, that may cause the total erosion of (state Route) 143 in Parowan Canyon," he said.
Higley advises drivers to use state Route 14, from Cedar City, to get up to Brian Head.
Early Monday, flood waters also crossed northbound I-15 just south of the Parowan freeway exit, Higley said, leaving a debris field 8 miles wide. Drivers were diverted off the freeway to get around the area. The closure lasted about six hours.
Three or four homes in Parowan were impacted directly by the flooding, Carpenter said, while other homes had rainwater leak into their basements because of problems with their drainage spouts.
Vickie Lambertsen, of Parowan, said about 4 inches of mud seeped into her basement. She put sandbags in front of her home after an initial round of flooding Sunday evening, but they gave way about midnight and water poured in.
"It was scary," Lambertsen said as she took a break from hauling furniture, CDs and keepsakes out of her basement Monday, with help from neighbors. "It was just a life-changing experience that happened within about 15 minutes. Totally unexpected."
Floodwaters in Iron County also got into about five homes in Paragonah, Higley said.
Flooded roadways pose a serious threat to drivers, he said, urging anyone in the area to heed signs or roadblocks warning them to stay away.
"It doesn't take a lot of water across a roadway to lose control of your vehicle and be washed downstream," Higley said. "They may look like they're passable, but just believe me, they're not."
Crews from the Utah Department of Transportation, local law enforcement, city utilities teams and others responded to flooding problems during the night, Carpenter said.
As the area prepares for upcoming storms, filled sandbags are ready for residents at the Parowan Fire Department, he said, and those with basements in their homes are being warned to stay upstairs.
Anyone who lives in a basement is urged to find somewhere else to stay.
The Brian Head fire in July torched roughly 110 square miles.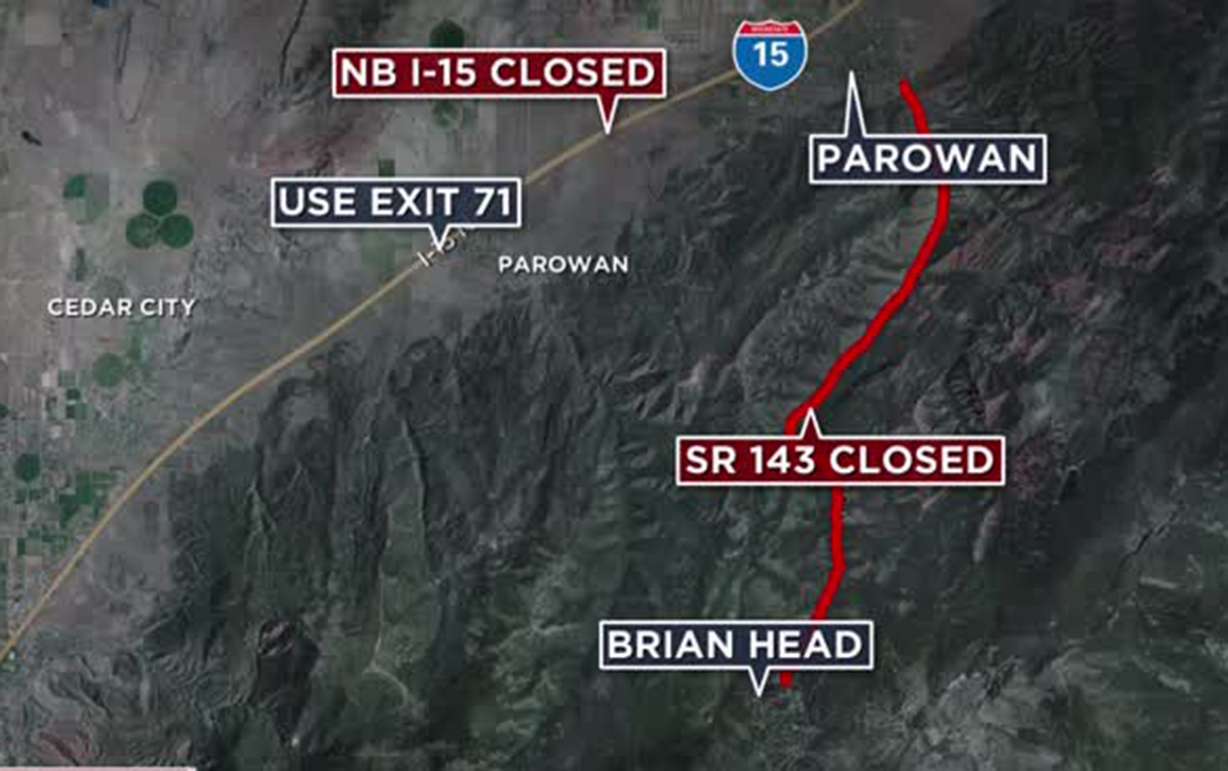 Contributing: Annie Knox
×
Photos
Related links
Most recent Utah stories