Estimated read time: 3-4 minutes
This archived news story is available only for your personal, non-commercial use. Information in the story may be outdated or superseded by additional information. Reading or replaying the story in its archived form does not constitute a republication of the story.
SALT LAKE CITY — Douglas Jeffery Julian, who died Saturday of apparent altitude sickness while on a Boy Scout outing in the High Uintas, would have turned 18 on Sunday.
"An amazing son! Wonderful friend! A great man! We are truly blest to be able to have Doug for 18 wonderful years. A 'huge' body to hold such a 'huge' heart! 'Huge' loss! Thank you to all who have reached out to us … we feel the love and prayers. Doug is acutely missed and will be for all our earthly lives," Doug's mother, Tracy Julian posted on Facebook on Sunday.
Doug Julian's Scout troop was camping in the Chain Lakes area in Krebs Basin on Thursday when he began to complain about a headache and nausea, according to the Duchesne County Sheriff's Office. On Friday, he was still sick, prompting Scout leaders to pack up camp early Saturday and hike back to the trailhead in Uinta Canyon north of Neola, Duchesne County.
But Doug Julian lost consciousness and collapsed as the troop began hiking out, just 50 yards from their campsite, according to the sheriff's office.
On social media Sunday, many tributes were offered to the Scout and prayers to the Julian family.
"I will always remember his big smile with an even bigger heart. What an amazing young man. He will be missed by all who knew him," one man wrote.
"I don't have the right words to express how my heart feels broken for you. Doug was such an impressive young man. We could feel his spiritual power and strength whenever we saw him but especially when he came into our home to bring the sacrament to Peggy," wrote another.
One woman posted, "I have a special place in my heart for Doug. He will always be my little piano student who kept growing up on my piano bench. His voice would get a little deeper each year as well. Great memories."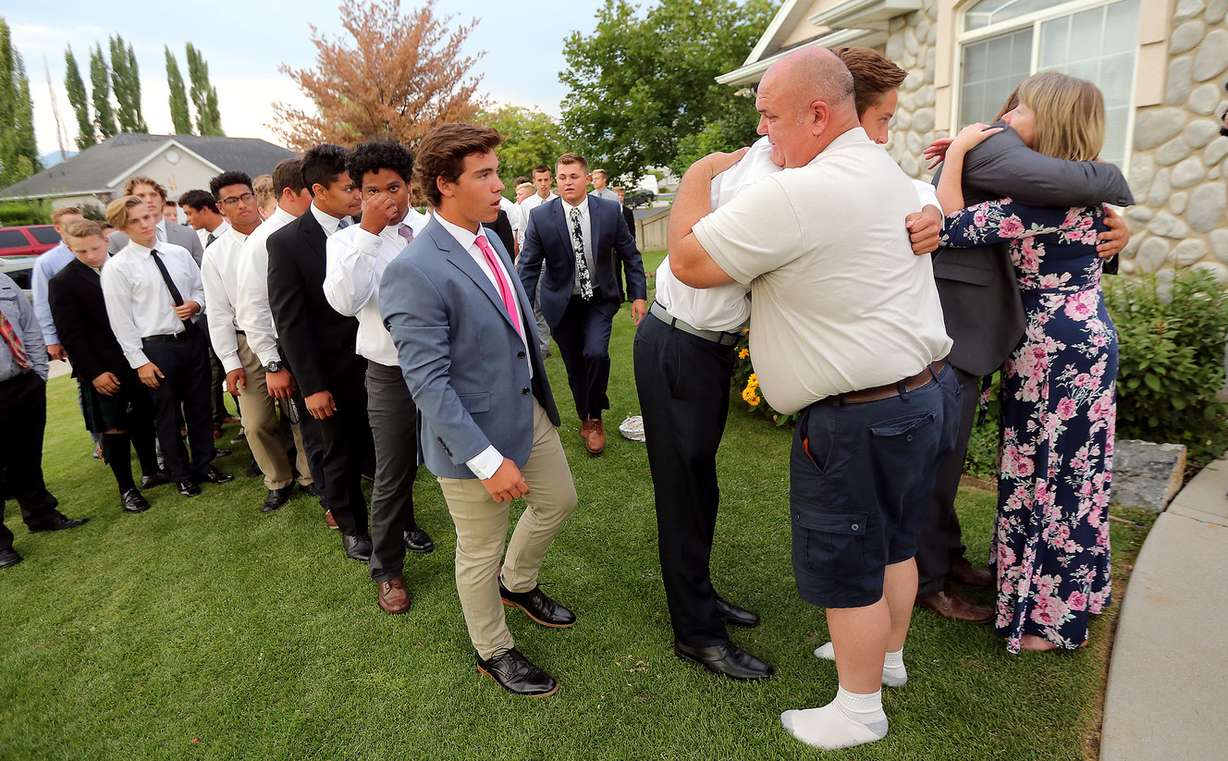 "May we never forget this young giant. Doug was a great young man. Raised right, understood who he was. Just a solid young man. Glad to have had the opportunity to share some of this life on earth with him. Until we meet again," wrote Matt Marziale, Salem's Public Works director.
Doug Julian would have been a senior this year at Salem Hills High School. He was a guard and tackle on the football team, listed on their roster as 6 feet tall and 260 pounds. The team's blue-and-white scrimmage to start the season was scheduled for Friday.
Saturday night, the football team and its coaches held a memorial for their fallen teammate. The Spanish Fork-based Especially for Athletes business posted a tribute on its Facebook page, calling Julian a "great young man."
"Please pray for his friends & family, and please remember to cherish every day with your eyes up," the group posted.
Sunday night, 30 to 40 players and coaches, all dressed in their Sunday best, delivered a signed football to Julain's parents and sang a hymn — "Nearer, My God to Thee" — to them. Julian's parents then shared Doug's favorite dessert, which they had made, with the team.
Julian had no prior history of illness, according to the sheriff's office, and was described as a "healthy teen." They did not immediately know Sunday if he had been to the High Uintas prior to the outing with the Boy Scouts.
Investigators are hoping an autopsy with the Utah State Medical Examiner's Office will reveal more clues as to his cause of death.
×
Photos
Related stories
Most recent Utah stories