Estimated read time: 3-4 minutes
This archived news story is available only for your personal, non-commercial use. Information in the story may be outdated or superseded by additional information. Reading or replaying the story in its archived form does not constitute a republication of the story.
OGDEN — Wendell Ashcroft floated gracefully to the ground after falling from 12,000 feet.
As Ashcroft completed his first jump, the casual observer might have thought the 87-year-old man had been skydiving his whole life. He was filled with excitement and did not once hesitate at the idea of jumping out a perfectly good airplane.
While Ashcroft jumped with two of his granddaughters, a grandson, a daughter-in-law and a niece, many of his other family members gathered to snap photos and cheer from the ground as he sailed in under a fluttering red, white and blue parachute.
The decision to go skydiving started when Ashcroft decided to go on a zip line trip. His grandson, Jason Ashcroft, said that when he saw his grandfather arrive at the bottom of the zip line, he had the idea to ask if Ashcroft would be interested in skydiving.
"I was just making a joke out of it," Jason Ashcroft said, but his grandfather liked the idea and a plan quickly formed to go skydiving.
Ashcroft's granddaughter, Danielle Garrick, said she wasn't sure if Wendell Ashcroft was actually expecting to go skydiving, but she liked the idea and began searching for a time and a place to take the idea forward and was surprised by how ready he was to skydive
Though Wendell Ashcroft is a man of few words, his family sees him for his actions and his willingness to do anything with his children and grandchildren. Even when he is not seeking thrills, he leads an active life and can often be seen mowing his lawn, as well as his neighbor's lawn.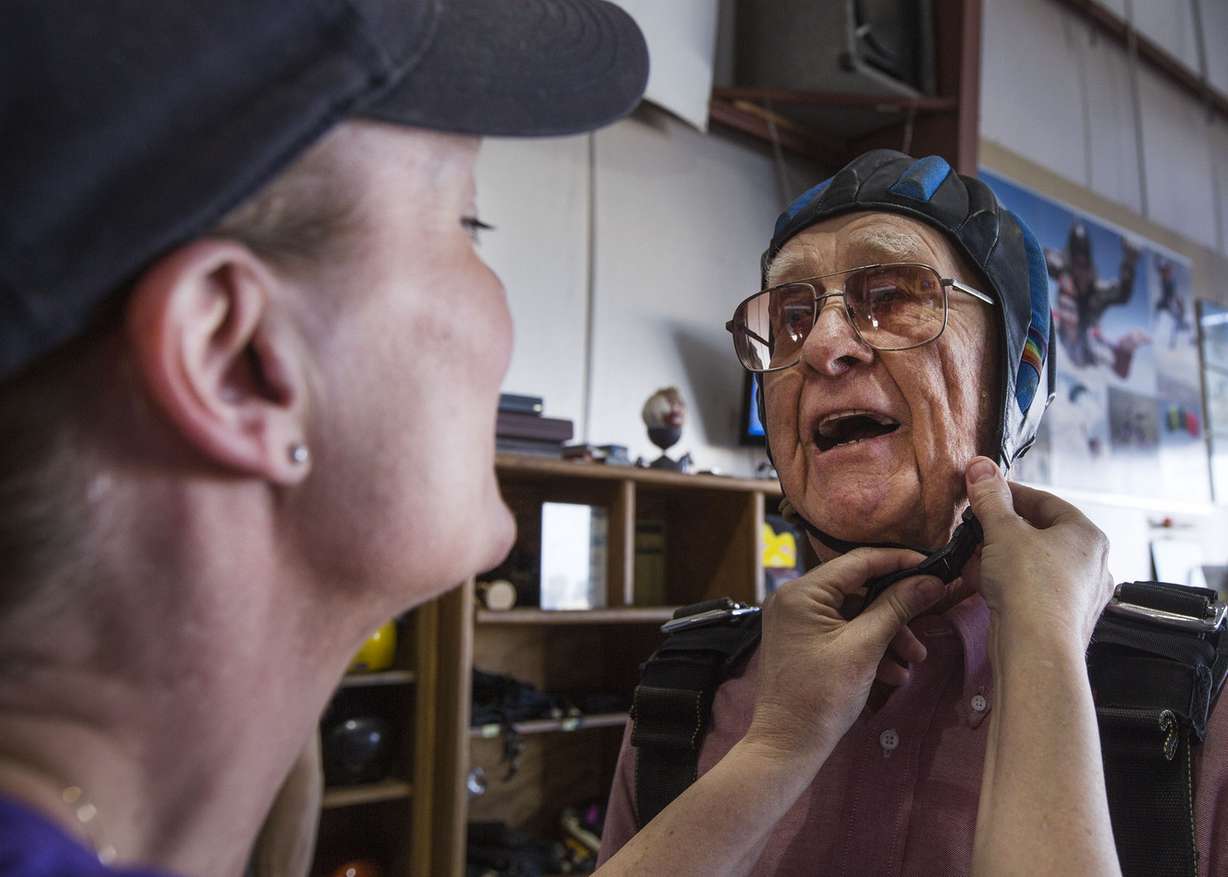 His son, Dale, said that upon telling Aschroft that he is doing too much, Ashcroft said, "What do you want me to do, sit in my chair and die?"
When Ashcroft, who was born and raised in Cache County's Hyde Park, was a young man, he worked as a carpenter until he received his draft notice on Thanksgiving 1951. As the United States was fighting in the Korean War, Ashcroft enlisted in the Air Force and began teaching jet mechanics.
"The Air Force was the best thing that ever happened to me," Ashcroft said. "I was a little dumb kid, and I didn't know that I could do anything until I got into the Air Force."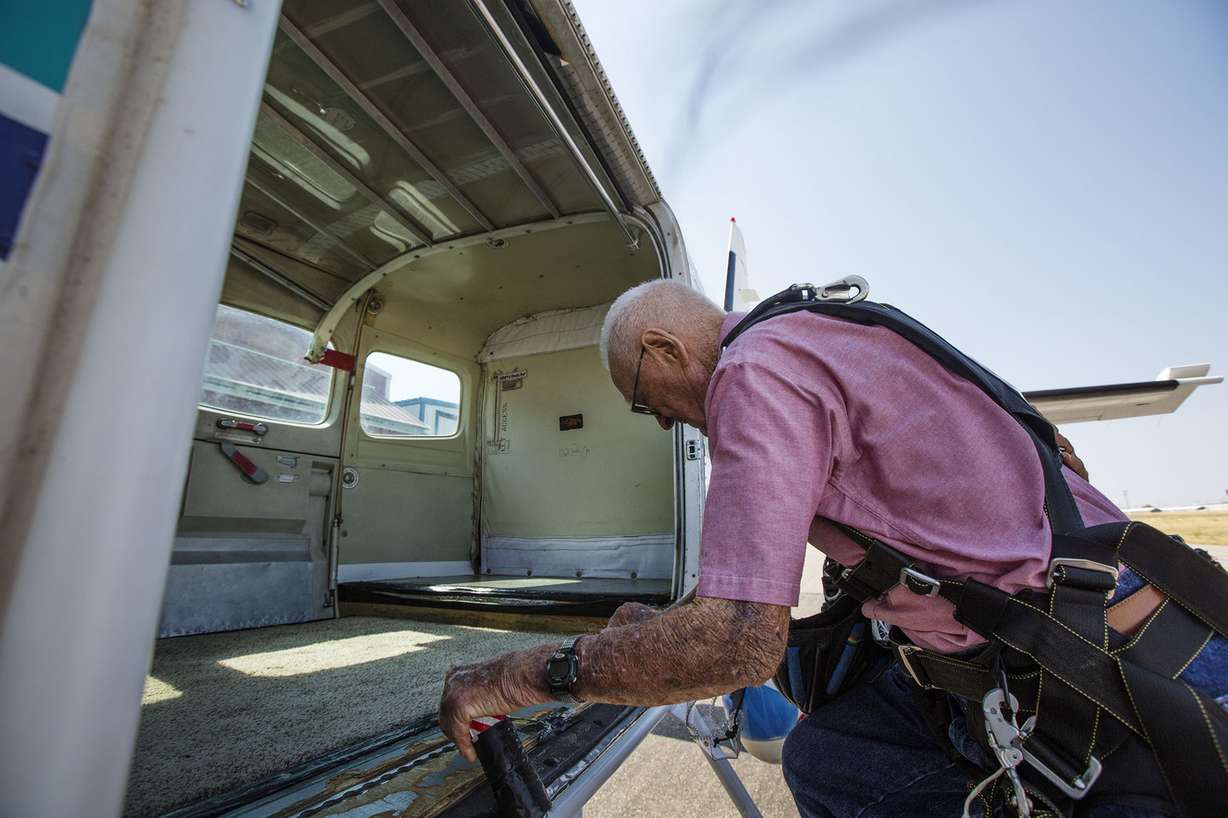 Ashcroft said he gained a sense of confidence from working with other airmen from across the United States.
"You learn a lot about them and you learn a lot about yourself," Ashcroft said.
Though Ashcroft was supposed to be sent to Korea, a last-minute change in policy allowed Air Force servicemen to stay home if their wives were within two months of giving birth. The change in policy allowed Ashcroft to stay in the United States as his wife gave birth to their second child, Richard.
A year later Ashcroft found out that three of the servicemen he was supposed to go to Korea with had been killed in a plane accident upon their return home.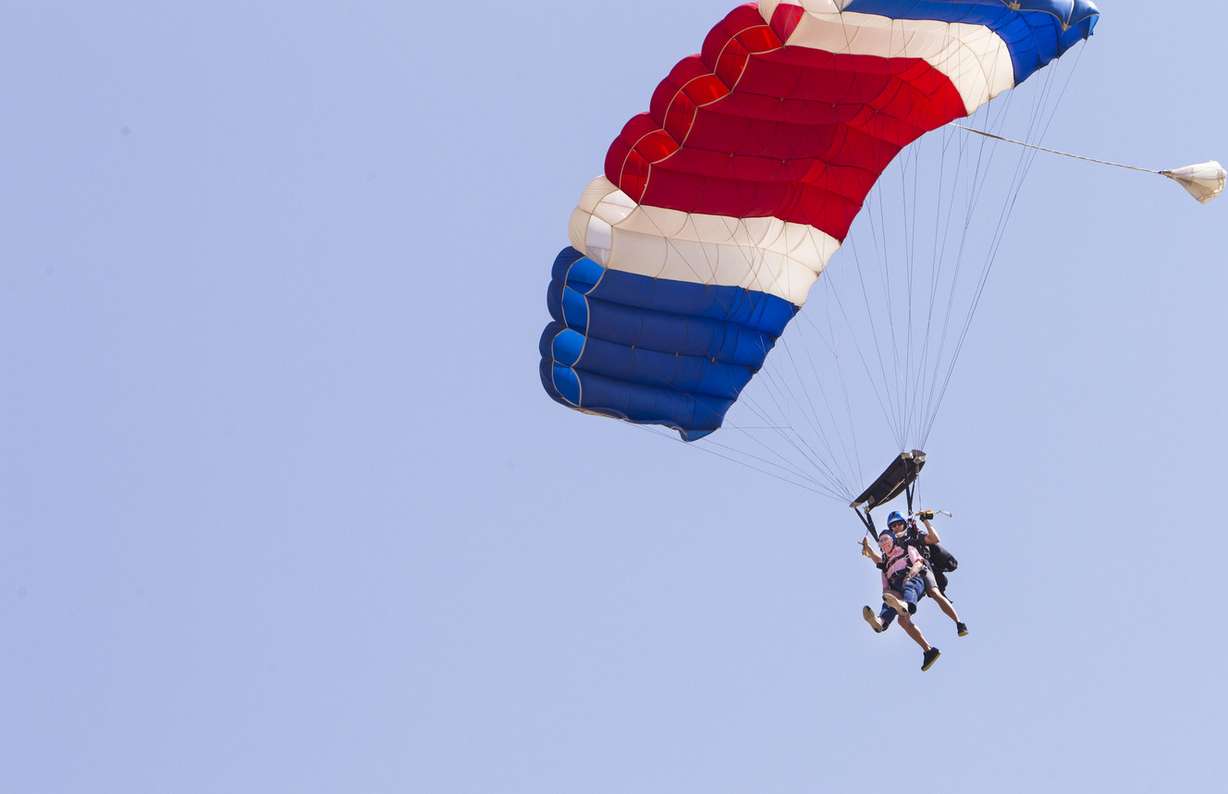 "I got out of going because of (Richard). Instead he saved my life," Ashcroft said. "I would have been on that plane, just as sure as anybody."
After getting out of the Air Force in 1956, Ashcroft said he didn't know where to go. He didn't want to return to a job in carpentry, which he said he didn't like. Instead he sought the opportunity to attend college and eventually found a passion for teaching while working in the Logan School District from 1961 to 1992.
"I think he is an amazing human being altogether," Jason Ashcroft said. "I was asking him if he's nervous, and he's just like, 'No I've been through everything, of course I'm not nervous.'"
Garrick said that in her time spent with her grandfather, he has taught her that people are never too old to pursue their dreams.
Upon landing, Ashcroft said he had enjoyed the jump and would be excited to go again.
×
Photos
Most recent Utah stories