Estimated read time: 3-4 minutes
This archived news story is available only for your personal, non-commercial use. Information in the story may be outdated or superseded by additional information. Reading or replaying the story in its archived form does not constitute a republication of the story.
SALT LAKE CITY — What started as a visit to the veterinarian for a chipped tooth ended in retirement for a Duchesne County Sheriff's Office K-9.
Q, one of two K-9s with the sheriff's office, was medically retired when she was diagnosed with "a fast-acting, very aggressive form" of terminal cancer, according to her handler, Duchesne County Sheriff's Cpl. Morant Harrison.
"There's no real treatment for it," Harrison said in a statement Friday. "She's not going to make it more than a month or so before we're going to have to put her down."
Harrison took his K-9 partner to the veterinarian earlier in the summer for a chipped tooth. During the visit, the vet noticed the 2-year-old German shepherd's right eye looked swollen.
Q's condition continued to worsen, even after the vet gave Harrison a treatment plan for the eye. The vet referred Q to visit a specialist.
"They thought maybe a foreign substance had gotten into her eye," Harrison said. "I thought this would be something we could fix."
The specialist found that Q's eye needed to be removed immediately. Additional testing on tissue samples collected during the surgery showed that Q had an aggressive, terminal form of cancer.
Harrison was first partnered with Q about a year ago after receiving her from Oquirrhberg Kennels. The Tooele-based kennel imported Q from Germany, and she arrived with a name too long for Harrison to say.
"I couldn't remember that when I was giving her commands, so I just shortened it to Q," Harrison said. "We've basically lived together for the past year."
Q's retirement leaves Kimber, handled by Sgt. Jared Harrison, as the lone K-9 working at the sheriff's office.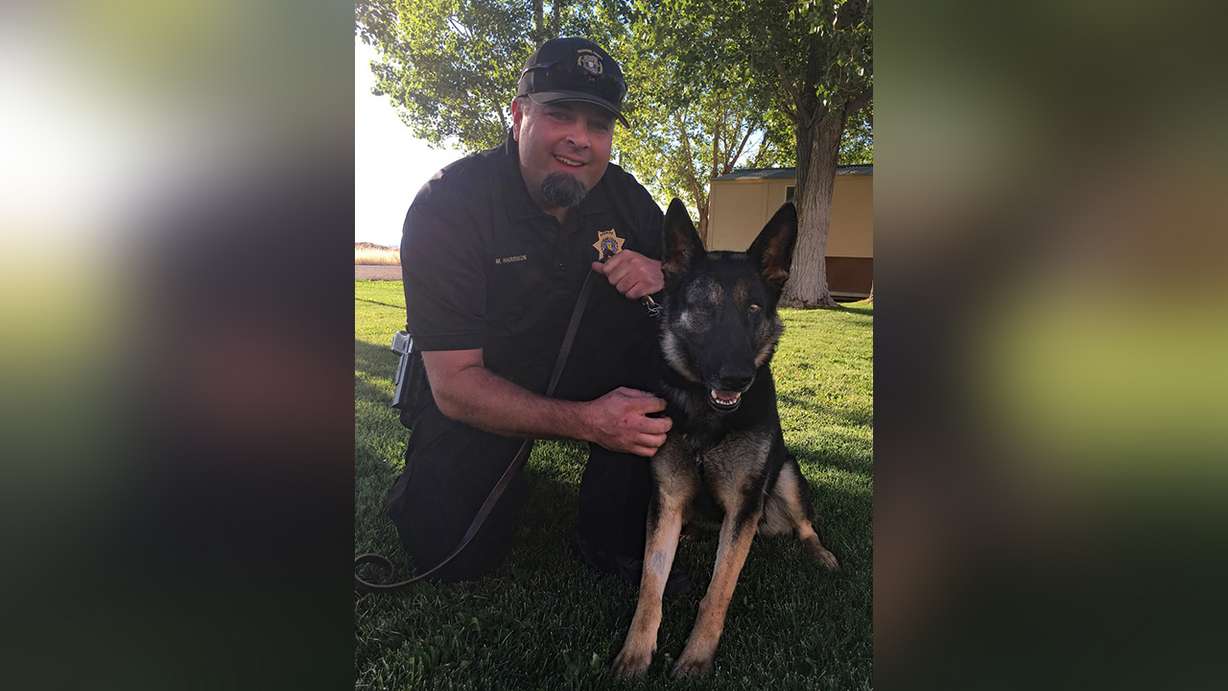 Q was recently certified as a dual purpose K-9, trained in narcotics detection as well as patrol functions, like tracking and apprehending suspects.
She excelled at finding drugs, Harrison said, and was well-known throughout the K-9 community for having a great nose.
"I like knowing that if I send her on a car and there's dope in there, she's going to find it," Harrison said. "To me, she is the best narcotics dog in the area."
Q is a very social dog, he said, unlike some police K-9. She was never muzzled when Harrison took her to area schools, he said. Whenever Q's off-duty, Harrison's four children enjoy playing with her.
"She's never shown any aggression unless I've given her a command," Harrison said. "She's made it very easy to be a handler."
A new K-9 can cost up to $10,000, not including equipment and training costs for the handler, according to the sheriff's office.
When the cancer returns, Harrison has a list of signs and symptoms from the vet to help him identify when Q's in pain. When that happens, the dog will be euthanized and buried with police honors on Harrison's farm.
"My wife and kids are very sad right now," Harrison said. "And I'm not taking it too well, as you can imagine."
Q's medical retirement comes in the same month that two police K-9s in Utah have died.
On July 6, Dingo, a 7-year-old Belgian Malinois with the Unified Police Department, was shot and killed while helping the U.S. Marshals Service take a violent fugitive into custody.
Three days earlier, Endy, an 8-year-old Belgian Malinois with the Cache County Sheriff's Office, died from heat exhaustion after investigators say his handler left him in the back of a patrol vehicle in direct sunlight for nearly 12 hours. Email: astilson@deseretnews.com
×
Photos
Related stories
Most recent Utah stories