Estimated read time: 4-5 minutes
This archived news story is available only for your personal, non-commercial use. Information in the story may be outdated or superseded by additional information. Reading or replaying the story in its archived form does not constitute a republication of the story.
SALT LAKE CITY — Campers and outdoor enthusiasts are embracing a unique way to sleep under the stars while in the mountains or at the beach — dangling between trees on hybrid hammock-tents that get them off the ground and into portable treehouses that soothe their inner child.
Some of the gravity-defying devices were on display this week at the Outdoor Retailer show, which brings thousands of people to Salt Lake City for a business-to-business expo that allows retail store owners to meet with companies and manufacturers that display products.
The so-called tree tents are still too small of an industry segment to track sales separately. But retailers report they are generating growing demand from customers, said Matt Powell, sports industry analyst with market research firm NPD Group.
"The millennial camper is looking for products that are going to keep them dry and comfortable, which is one thing these do," Powell said. "Millennials are also attracted to versatile items that have more than one purpose, as these do."
The hammock-tents, which can be broken down stored in bags like normal tents, are designed to be used anywhere a person can find trees, boulders or rock crevices sturdy enough to anchor them.
Tentsile's colorful polyester hammocks and tents that stretch between three trees are the creation of an English treehouse architect who started the company four years ago with another designer based on his childhood dream of creating something resembling the Ewoks' tree villages from the "Star Wars" movies.
The company's flagship model is the Stingray tent that holds at least three adults up to 880 pounds, selling for $650. It has a front entrance as well as hole in the middle you can climb through. The company sells five other models that range in size and design, and sell from $150 to $550. They are tied around trees using straps and ratchets.
"You're in the trees so you're shaded, and it's nice and cool. It also keeps you off the ground from snakes and spiders and all that creepy stuff," said Melissa Benjamin, a company representative.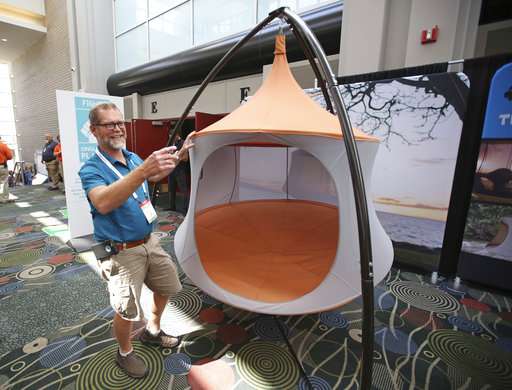 Sales have skyrocketed from 10 in 2013 to about 10,000 last year, Tentsile spokeswoman Kirstie Grego said.
Treepod makes teardrop-shaped hanging treehouses with a large open entrance that allow people to lounge or sleep in them while they swing from side to side. The Boulder, Colorado-based company formed in 2015 after company President Ricardo Bottome's brother challenged him to make the fun idea come to life.
They sell three types ranging from 4 to 6 feet and selling for $200 to $300. The canvas treehouses hook onto trees by throwing a rope over a branch and through a steel quick link hooked to the top of the tent. They can be used at the beach, the mountains or a backyard or porch.
They hit retail stores for the first time in 2016, with the company doing about $1 million in sales, Bottome said. They are on pace to double that this year, he said.
"Picture yourself in this one: You're at a beach. You're getting the breeze. You can see out, and you have a shade," he said. "It's like paradise."
Related
Michelle Ennis, owner of a paddle board rental company in southern Utah, stopped at the Treepod display because she and her husband are considering buying some to rent to customers by the hour. Ennis, her husband and two sons lounged in the largest of the swinging treehouses as her sons begged their mother to get them one for the backyard.
"I love how easy they are to set up. I love their comfort," Ennis said.
While Treepod and Tentsile are new, Canadian industrial engineer Tom Hennessy has been selling his hammocks since 1999. His company, Hennessy Hammocks, has developed 24 different models that range from $79 to $350, he said. They allow a camper to get inside and zip up inside a mesh cover that is covered by a rain tarp.
The company's slogan is: "It's a tent … It's a hammock ... It's a chair ... It's a lounger ... It's a supershelter!"
Hennessy, who said he grew up sleeping in hammocks, said what sets his apart are an asymmetrical diamond design with a ridgeline that doesn't change shape to give people a comfortable sleep. He said his customers are diverse, including backpackers, soldiers, Boy Scouts, motorcyclists and long-distance hikers.
Powell said he expects to see other companies come out with their own tree tents in the coming years.
"When a good idea comes along, the industry responds by trying to make it better or less expensive," the NPD Group analyst said.
×
Photos
Related stories
Most recent Outdoors stories