Estimated read time: 5-6 minutes
This archived news story is available only for your personal, non-commercial use. Information in the story may be outdated or superseded by additional information. Reading or replaying the story in its archived form does not constitute a republication of the story.
SALT LAKE CITY — The Outdoor Retailer Show kicked off Wednesday with all sorts of gear and gadgets perfect for outdoors and recreation.
However, Wednesday was also the debut for many new products destined to find shelves or online markets in the coming year.
The products vary from water bottles with newer technology to portable solar gear and everything in between.
Here are some of the best new items that debuted at the show this week.
Vestergaard LifeStraw: Play, Universal and Flex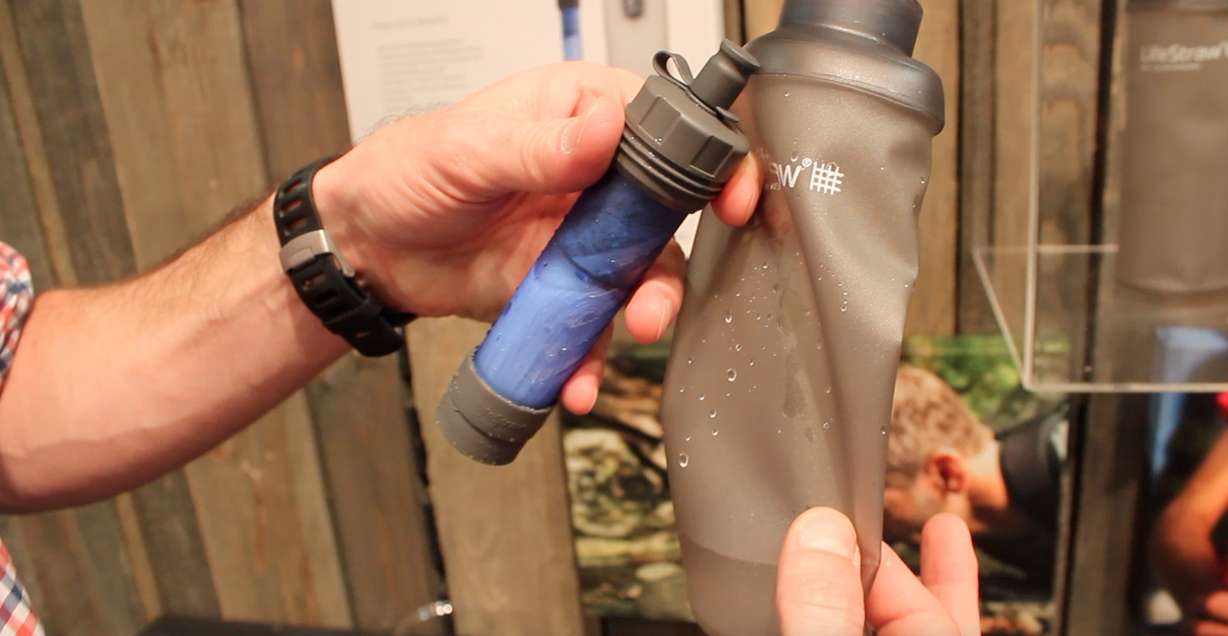 Price: $34.95-39.95
Availability: Will be available by October online and in retail stores
Quick water filtering systems are all the rage, and LifeStraw has made it its mission to make clean water accessible all over the world. By developing a filtering system in the 1990s and early 2000s, the company was able to cut cases of contamination of certain larvae in impoverished countries from 2.5 million to six cases, said Bryan Kimbell, head of cause marketing for Vestergaard, the parent company for LifeStraw.
Recently the company has ventured into the outdoor market with straws that hikers can use to drink from any source of water. The biological filter takes out bacteria from water, while a carbon filter eliminates things such as cyanotoxins, which are found in algal blooms. Both filters must be replaced but have a good lifespan. The biological filter is good for 1,056 gallons and the carbon filter is good for 26 gallons.
Now the company is stepping up its game. It recently launched the perfect 10-ounce child's water bottle called Play, which has a filter in it. The product is dishwasher safe except for the filter, and even comes with customizable animal stickers on the top of the bottle.
The Universal is a kit that essentially turns any water bottle into one with a filter because Kimbell said it is compatible with almost all major water bottle brands. The Flex is a collapsible container for easy storage when the bottle is not filled and the filter can be used on its own to drink from any natural water source. While it only has a portion the size of the other biological filters, the carbon filter is able to filter out toxins like lead.
Solar Camp: Solar Camp and Dinghui
Price: $89
Availability:Online only
Solar Camp is a relatively new startup company based out of San Diego, and is making its Outdoor Retailer debut with the 2017 summer show. It sells anything from outdoor backpacks with solar exterior and USB ports to charge devices to patio umbrellas with the same technology.
Its newest device in the works in a portable, lightweight solar charger that can be taken anywhere with the ability to charge a phone from zero percent battery to 100 percent in about two hours. It is waterproof, flexible, can fold easily for storage, works in overcast weather and will still work even if a panel is punctured, unlike glass panels.
As a new company, Solar Camp is still working to get to retail, which is expected to be within the next year, according to Lexis Fonnsbeck, a representative of the company.
IceMule: The Boss
Price: $299.95
Availability: Item is available for pre-orders online and ships out in September
IceMule has built itself into a brand of portable water coolers, which are perfect while out hiking. Its newest creation, the Boss, takes this idea to the next level. The 11-by-24-by-17-inch backpack has a capacity of 30 liters. It also has three convenient outside zipper pockets that can also be used as miniature coolers.
The neat feature about this, however, is that it keeps products cool for several days, which makes it perfect for weekend trips away from refrigeration.
"The problem with a lot of coolers is cold air can escape from the top where it's not insulated," said James Collie, president and CEO of the company. However, he said The Boss has multiple layers of material to keep the cooler well-insulated. "This is the top of the food chain for us. We launched this at this show and it's going insane."
While the product is online only right now, it is expected to be available at chains like REI and Dick's at a later time.
Choice Value: Smart Helmet
Price: $150
Availability:Online in Korea now; online by October in U.S.
Parents wishing their children would keep their helmets on while riding their bicycles will enjoy this product. The Smart Helmet is two devices: one is a sensor placed on the chin strap of the helmet and the other is a lock placed at the center of the bike. The bike remains locked until the sensor on the helmet touches the chin. Once it is no longer touching the chin, the pedals will lock within about 25 seconds and cannot be used until the strap is on the chin again.
The company also created a Smart Helmet for construction safety. That helmet is similar in nature but alerts construction managers when employees do not have their helmet safely fastened. The company's CEO Hoon Sung Choi said an American sales website should be up and running in the next few months.
Yabul Cook: Self-Heating Container
Price: $50
Availability:Online in Korea; online in U.S. within the next year
Microwaves are a great invention but what happens when you don't have one available when you're out in the wilderness? That's where this product comes into play. It's a fairly simple design in which the user pours a small amount of water into a flexible plastic container, places the heating pad and in a minute or two, the container is heated.
The container heats up to 97 degrees Celsius (207 degrees Fahrenheit) and the heat lasts about 15 minutes. Even better, the lightweight, flexible container rolls up neatly and stores easily.
×
Most recent Utah stories