Estimated read time: 6-7 minutes
This archived news story is available only for your personal, non-commercial use. Information in the story may be outdated or superseded by additional information. Reading or replaying the story in its archived form does not constitute a republication of the story.
PROVO — Kelly Mills knows the Provo Missionary Training Center is not intended as the ultimate destination for the tens of thousands of Mormon missionaries who pass through it each year.
But Mills, the director overseeing the Provo center and others like it worldwide for The Church of Jesus Christ of Latter-day Saints, said he believes a sense of place is important for those missionaries, even if they're only there for a few months, or in some cases a few weeks.
That's why every aspect of two new six-story facilities, on display to the public for the first time Wednesday, is geared toward "getting them thinking about what they're about to go into."
The new buildings, dedicated completely to classroom and training space, are a clear departure from the much more cramped rooms used in the older portion of the MTC, and give a sense of "a little less claustrophobia," Mills said.
"We knew we could design them in a way that would be a much better experience for missionaries," he said.
Classrooms are roughly twice as big as before and more easily connected to video, often for the purpose of language training. The ceilings are also higher, and from most places inside the building, it's easy to look outside and "see the creations of God," Mills said. The abundance of windows is also meant to maximize the use of natural light.
The view on the south side of one building extends all the way to Santaquin, more than 20 miles away.
Outside the new buildings is a large expansion of outdoor spaces where missionaries can choose to conduct personal study during the day if the nice weather is persuasive enough, Mills said. Tables dot the landscape and can also be found on the rooftop patio of the lower portion of one of the structures.
To accommodate that sprawling space, building planners constructed an underground parking garage with 300 stalls.
"We didn't want this to be asphalt and cars," Mills said. "We wanted missionaries to have an open space where they can go."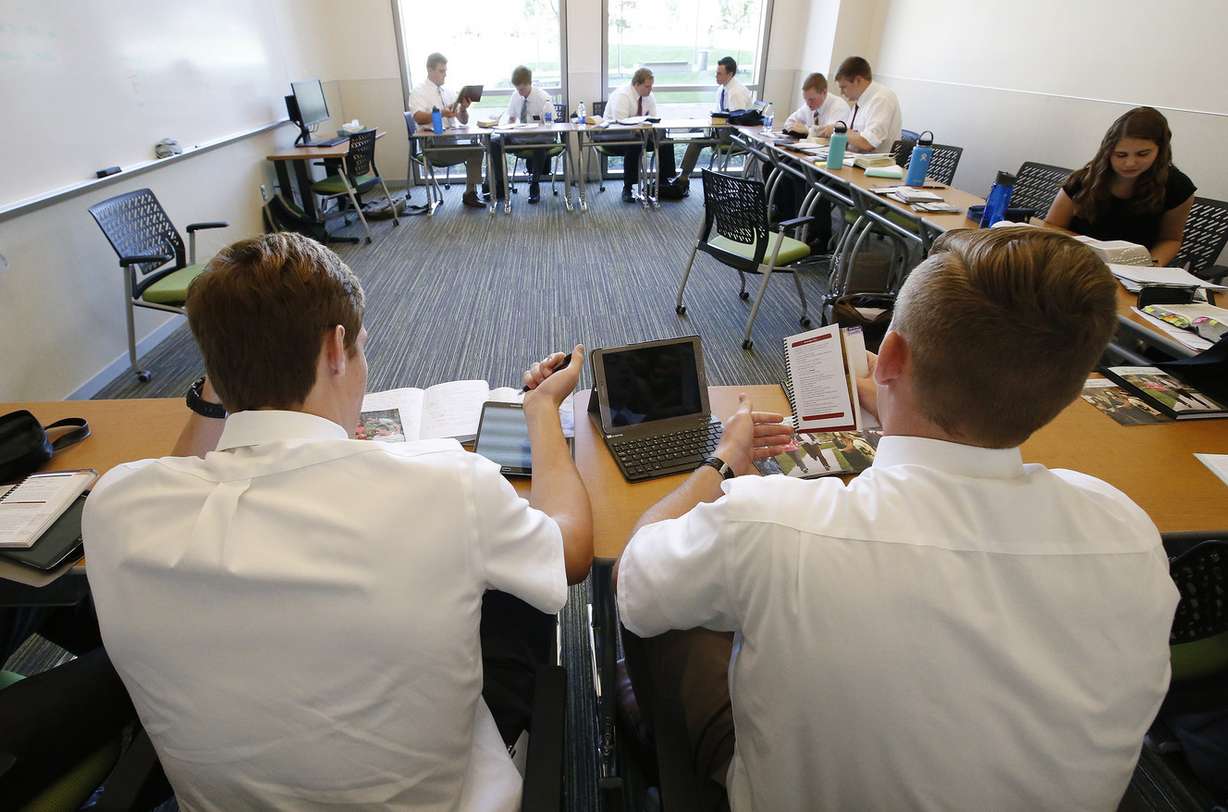 In addition to about 60 new large classrooms, larger conference rooms were constructed in the new buildings, including one with a capacity for hundreds of people, used for a meeting with missionaries arriving for their first day.
"Just later today, 714 missionaries will be in this space," Mills said.
About 2 miles of hallways connect the various classrooms, and the new facilities also house the new Teaching Resource Center, where volunteers roleplay as interested church investigators for missionaries to practice teaching.
Everything about the new architecture — from murals depicting Bible and Book of Mormon scenes taking up a whole wall, to symbolic light fixtures and letter art with scriptural admonitions — is designed to keep missionaries spiritually refreshed and deeply focused on their purpose for serving, Mills said.
The LDS Church initially proposed constructing a nine-story building north of the site in early 2012, but that drew opposition from surrounding residents who worried it would change the feel of their neighborhood.
Later in 2012, the church scrapped plans for the 160-foot high structure, citing a number of "complexities and concerns," but maintaining that the MTC expansion was still necessary.
The reversal came less than a week after LDS Church President Thomas S. Monson announced a lowering in the age of service to qualify for full-time missionaries to 19 for women and 18 for men.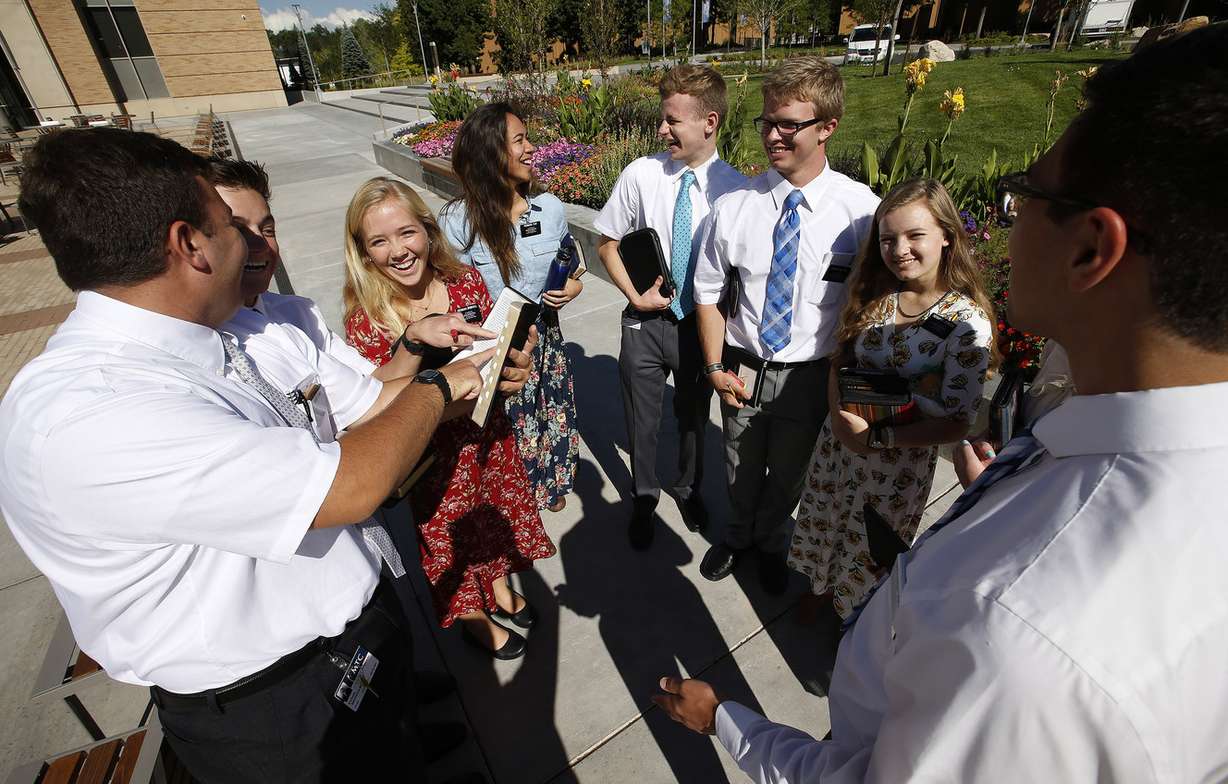 Meantime, the LDS Church continued to explore options to enlarge the bulging MTC campus, eventually deciding in November 2013 to expand to the south, where the BYU laundry and auxiliary maintenance buildings were located. It also went through a zoning process with Provo to restrict the height of any new buildings to 125 feet, including mechanical equipment on the roof.
To accommodate what would be a deluge of new missionaries after the age change, the church in 2013 temporarily acquired the nearby Raintree Commons apartments and sections of the BYU-owned Wyview Park apartments, which are no longer in use by the MTC. None of the expansion completed this summer included new residential space, though existing residence halls have been renovated with significant upgrades in the past few years, according to Mills.
The doors of the new buildings were first opened to missionaries about six weeks ago. The facilities will be open to a public open house for three weeks beginning July 31.
Mills said he's pleased with the LDS Church's ability to sort through concerns and find a way to expand the Provo MTC campus while still heeding neighbors' concerns about a nine-story building. The move slightly south and the concession of not building up to nine stories ended up working out as well as church officials could have hoped, he said, and church leaders are fully satisfied with the new campus.
"We decided we would find a different space. … In the end, building these where they are was better for us, better for the missionaries and better for the neighborhood," Mills said.
His greatest satisfaction, he said, has been seeing the missionaries experience the new buildings for the first time and take advantage of their features.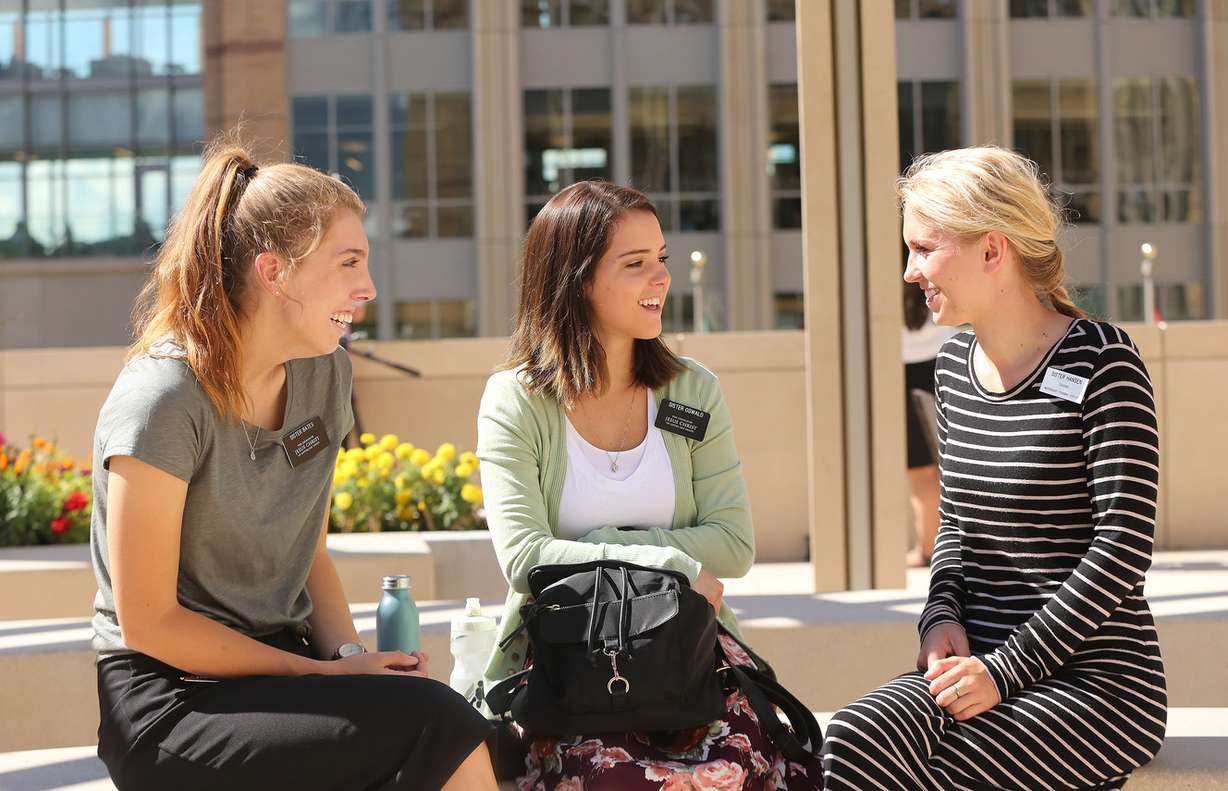 Gary Crittenden, managing director of the LDS Church's Missionary Department, said the buildings were needed because teaching and training space had become inadequate over the years.
"We had real capacity pressure," Crittenden said.
The new classrooms, as well as the architecture of the buildings, "represent a nice evolution in our ability to teach missionaries," he said. "It's a beautiful facility. I don't think we could be happier with how it came out."
Crittenden said the MTC will continue to undergo changes, though he didn't provide specific timelines for any future projects.
"We anticipate the older buildings will come down with time, and that will open more space," he said.
There is "plenty enough bed space" now because the number of missionaries has again stabilized, which is why residence areas weren't included in the expansion, said David C. Martino, president of the Provo MTC.
Some dormitory rooms in recent years have been modified to make room for six beds rather than four during busy periods. The MTC can serve up to 3,700 missionaries at one time.
Missionaries deserve all the support they can get, Martino said, including buildings with inviting atmospheres, because of the hard work they are committing to. Their religious service, which requires the sacrifice of dating, time with family and friends, and the delaying of education for 18 months for young women and senior couples, and two years for young men, "is not normal in the world today," he said.
Martino also said he is grateful all sides could iron out questions surrounding campus expansion in recent years.
"We are totally pleased with the church leaders, government leaders, community leaders, for working together. … We feel it's a benefit to everyone in the neighborhood," he said.
Sister Bonnie L. Oscarson, president of the LDS Church's Young Women organization and a member of the church's Missionary Executive Council, said she was pleased with the design and believes it will help missionaries better focus on their daily studies.
"If you can have a comfortable, bright, pleasant atmosphere, it has tremendous influence on (your) ability to learn," she said.
Currently, nearly 71,000 Mormon missionaries are serving in 422 missions worldwide.
Contributing: Dennis Romboy
×
Photos
Most recent Utah stories