Estimated read time: 4-5 minutes
This archived news story is available only for your personal, non-commercial use. Information in the story may be outdated or superseded by additional information. Reading or replaying the story in its archived form does not constitute a republication of the story.
PARK CITY — At moments solemn and at others celebratory, a memorial motorcycle ride and concert Sunday recognized Utah's fallen officers and raised scholarship money for children in law enforcement families.
An estimated 1,000 motorcycles, including a number of police escorts, wound their way from Salt Lake City to Deer Valley's Snow Park Lodge in Park City during the Utah 1033 Foundation's inaugural memorial ride, which culminated with a concert and remarks from the widow of Draper Police Sgt. Derek Johnson.
As Shante Johnson took the stage to share memories of her husband, the crowd of leather-clad bikers shot to their feet, offering a standing ovation Johnson said she will never forget.
"It always blows me away, the respect people give to my family," Johnson said afterward. "When everyone did a standing ovation, it just floored me, the respect that they have for the people who serve them."
Derek Johnson was killed in September 2013 when, minutes from finishing his graveyard shift, he came upon an apparent crash near the Draper police station and stopped to help. The driver, Timothy Troy Walker, shot Johnson as he approached the car, then shot his own girlfriend inside the vehicle and turned the gun on himself. Walker and the woman both survived, and he was later sentenced to life in prison without parole.
Sunday's event raised funds to support Utah's 1033 Foundation, which reaches out to families of fallen officers in the first 24 hours, offering $25,000 in immediate support. The organization also establishes a $25,000 scholarship in each officer's name, awarded annually to children of fallen and active law enforcement.
Since her husband's death, Shante Johnson said she has joined in supporting the 1033 Foundation, which came to her aid in a moment of crisis, adding that she hopes to see future events like Sunday's ride and concert.
"My heart is just so full for everyone who cares, and cares about people they don't even know," Johnson said. "I will be back every year, I do see this being a very successful annual event."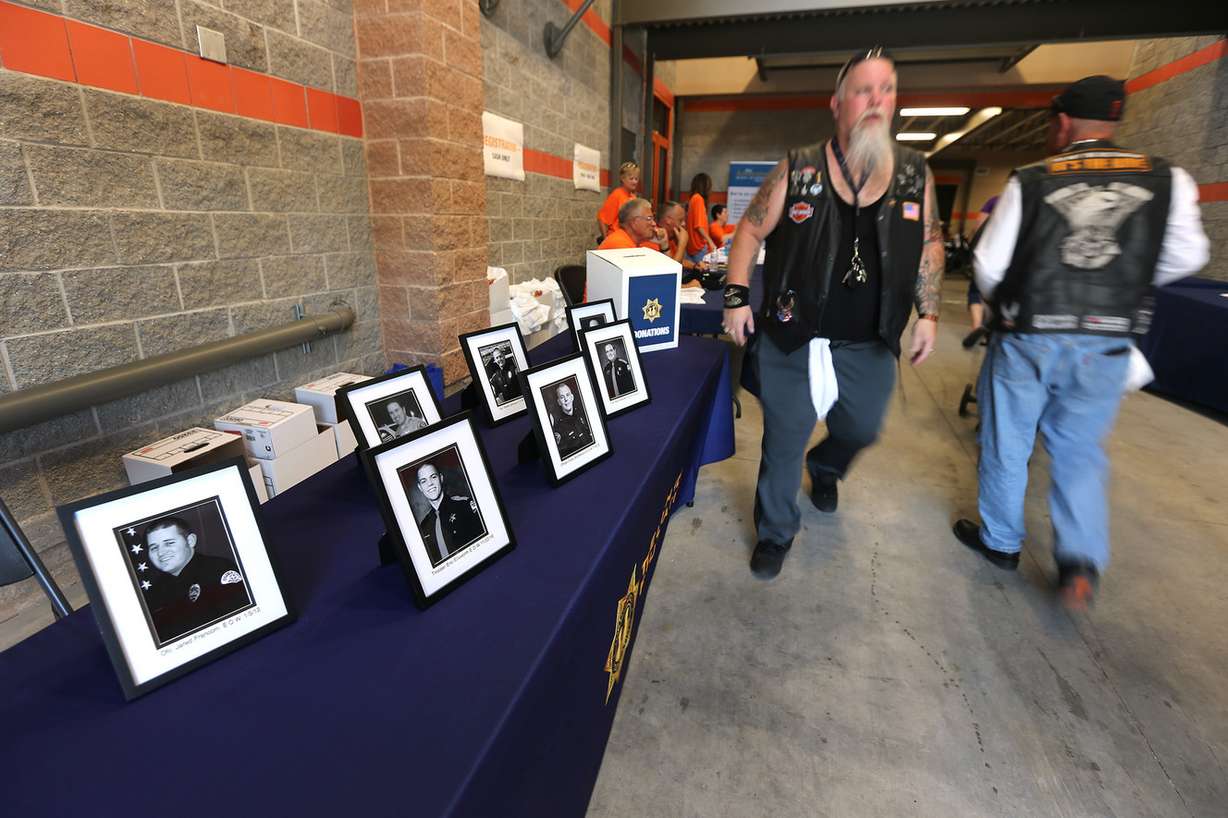 Park City resident Tore Steen — who established the 1033 Foundation seven years ago with his wife, Mona — said that as the organization has grown, they have looked for ideas for an annual event that would raise money and keep fallen officers in the public's mind.
"We hadn't found the right one yet, until this one came up," Steen said, estimating that at least $20,000 was raised and sharing his hope that even more people will participate in the future.
For Steen, the most memorable moment of the day was seeing Johnson take the stage.
"Every time Shante Johnson gets up to speak, she's such a wonderful person and a wonderful representative of this whole community, I always choke up a little," Steen said.
Johnson's remarks were followed by a 21-gun salute, and a flock of doves was released in a display that Steen said "hits you right in the heartstrings."
---
It's overwhelming, it brings me to tears to look out and see this. Seeing all these people is very moving. And this is the first year; I predict that, in a few years, you're going to see thousands of people here.
–Utah Attorney General Sean Reyes
---
As the birds took flight, Summit County sheriff's deputy Jared Vernon played "Amazing Grace" on the bagpipes. An officer of 13 years, Vernon said he learned to play the bagpipes a decade ago so that he would be able to offer tributes to his fellow officers.
"I think it's really important for any event that honors fallen officers to have an actual officer play the bagpipes," Vernon said. "It's something I enjoy doing, and I always know I did a great job when people start tearing up."
Steve Bills, of Stansbury Park, participated in the ride as part of the Immortal Knights of Public Safety Motorcycle Club. On his vest, Bills wore a string of patches with the names of Utah's fallen officers, including Johnson.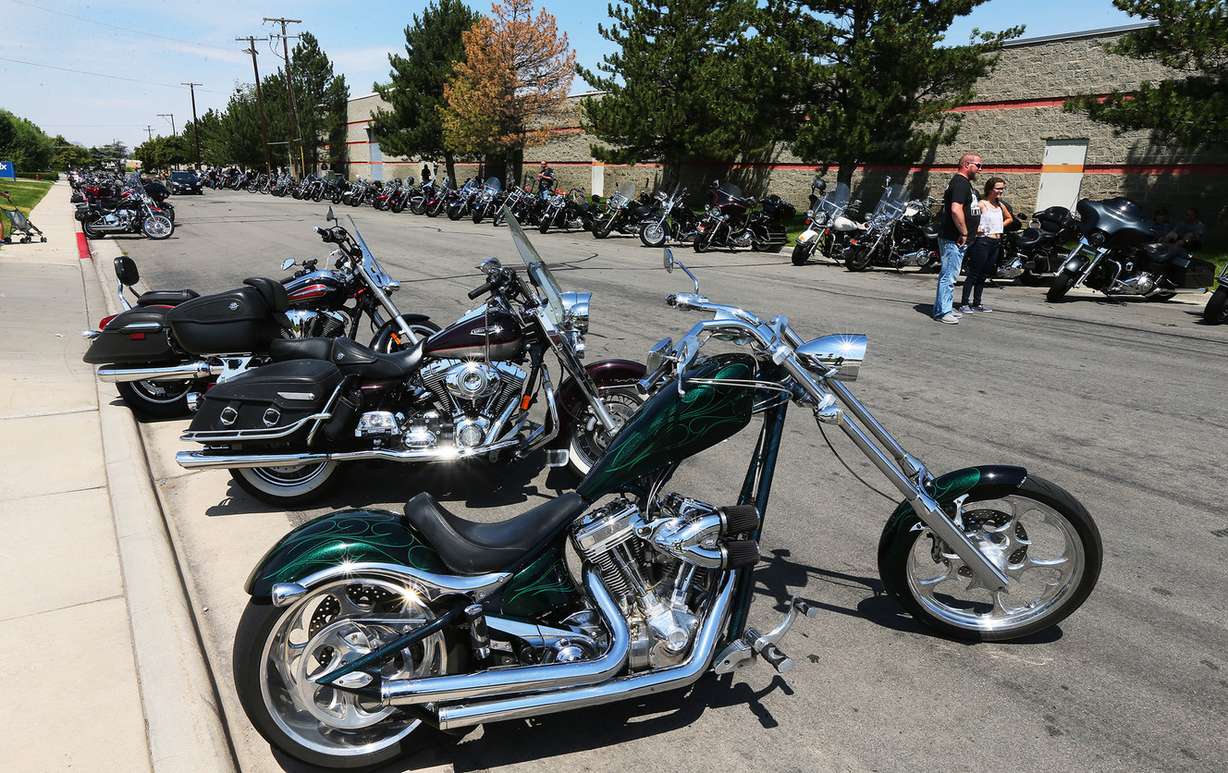 "Everything about our club represents something, and it's so that their legacy will live on forever," Bills said. "We ride with them each time we put on our vests."
Following the ride, Bills said he appreciated the chance to applaud Shante Johnson and to hear from Utah Attorney General Sean Reyes. In his remarks, Reyes spoke of traditions for honoring heroes in different cultures, the need for unity across community barriers, and that public demonstrations of support like Sunday's ride can help officers' families heal following a tragedy.
"It's overwhelming, it brings me to tears to look out and see this," Reyes said afterward, gesturing to the crowd taking in the concert on the hillside. "Seeing all these people is very moving. And this is the first year; I predict that, in a few years, you're going to see thousands of people here."
×
Photos
Related stories
Most recent Utah stories