Estimated read time: 6-7 minutes
This archived news story is available only for your personal, non-commercial use. Information in the story may be outdated or superseded by additional information. Reading or replaying the story in its archived form does not constitute a republication of the story.
SALT LAKE CITY — A digital assistant like Amazon Echo and Google Home can make life so much easier.
You can ask for the weather. You can check your calendar. They'll read your emails out loud. You can order a pizza or an Uber ride. You can ask just how far is Walla Walla, Washington (588 miles from Salt Lake City by car, according to Google Home), and you can even request to hear the "Beer Barrel Polka."
But does all this luxurious convenience come a little too easy?
"When you put one of these in your house, you've essentially bugged yourself," said cyber security expert Sean Lawson.
Lawson said for the Echo and Home to do their job well, their microphones always have to be listening.
"You want to be able to say, 'Hey Alexa, order flowers, or Hey Alexa, make a dinner reservation, and for the Alexa or Google Home to be able to do that, it has to be always listening."
We asked two families to try out one of these voice assistants to see if they were creeped out by all this listening.
Kimi Sycamore and her kids, Emmy and Porter, put the Amazon Echo through its paces. Sycamore downloaded the app onto her phone, and setup took only minutes. Good thing, too. Porter had numerous and urgent requests for kids songs. With a little work, it finally played, "The Itsy Bitsy Spider," but Porter seemed to be hoping for something a little more modern. He got his wish when he asked Alexa to play a track from the Trolls soundtrack.
Setup of the Google Home went just as fast for Paige and Chris Shaw and their daughter, Taygen. Within minutes, it was open mic night.
"Okay Google," Taygen said, "Tell me a joke."
"Why do cows have bells?" responded the device. "Because their horns don't work."
Bad jokes and kids' songs aside, KSL asked the Shaw and Sycamore families to keep their voice assistants busy over a long weekend.
We wanted them to build a history, so we could see how much those devices would remember. So when we came back, we showed the Shaws the Google Home's list of recordings on their smartphone and played a few. Everything they had asked it over the weekend was there.
"For the machine to know you're talking to it, it has to be taking that voice information that it's recording and sending it back and processing," said Lawson. "The technology is really cool, especially if you grew up watching 'The Jetsons' or 'Star Trek.' The problem is, I also know how they work and the privacy implications. The costs versus the benefits of what this device will do for me is just not worth paying in terms of the privacy you give up. But everyone needs to make that decision for themselves."
Paige Shaw told us it was disconcerting to her to have Google Home keep track of every request, keep track of every time they turned the lights on and every time they turned the TV on and off.
"Seeing the activity come up on the phone and I don't know," she said. "At first, I started thinking, 'Oh yeah, it's pretty cool.' Now, thoughts are going through my mind, 'Oh, maybe it's not so cool.'"
Her husband, Chris, was more willing to accept the privacy trade-off.
"I know some people are afraid Google is listening to you constantly and stuff, and in a way it is," Chris Shaw said. "But it's listening for keywords like, 'OK' and 'Google', not just everyday conversation."
But Chris was a little concerned about the voice requests being stored on company servers.
"It's a little scary that it's out there and it's kept out there," Chris Shaw elaborated. "And I'm sure I can access this anywhere in the world that I get internet. At that point, it's a little creepy that it's out there."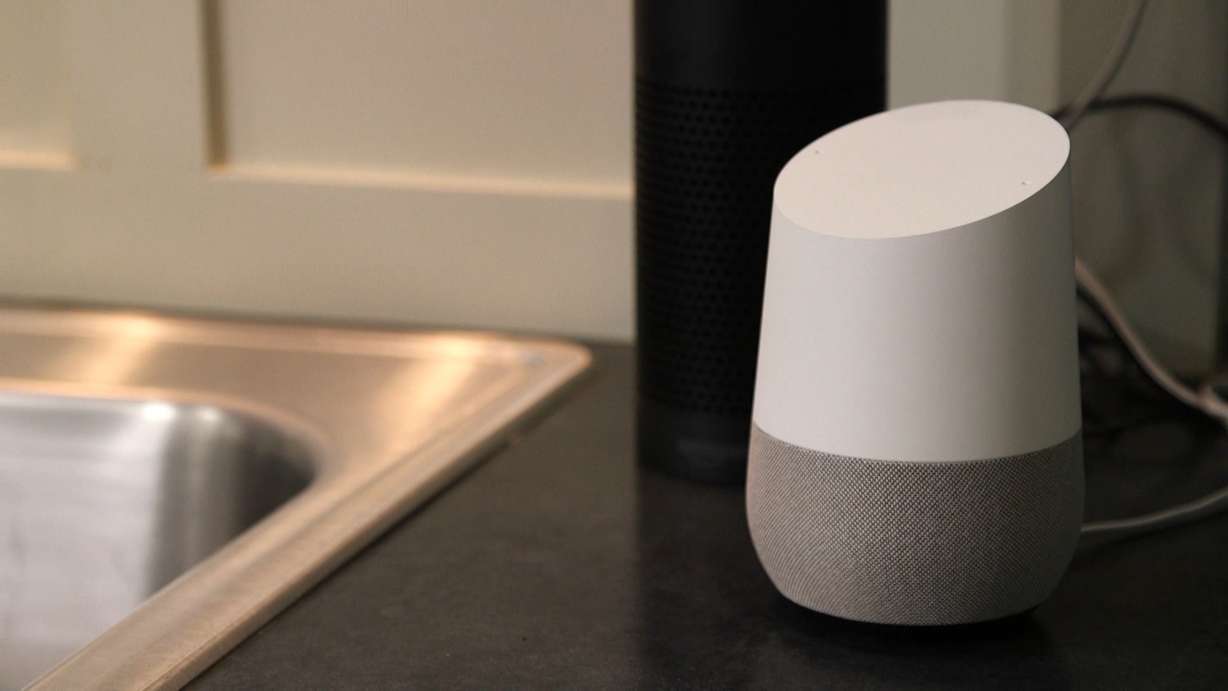 We also scrolled through Echo's list of recordings with Kimi Sycamore and we found every request her family made. We could see they asked a timer, what music they listened to and how loud and much more.
Kimi Sycamore told us she wasn't too worried about her requests having valuable information. But having them stored on Amazon's servers did make her a little nervous.
"Anytime you think someone can breach your privacy it makes you nervous," she said. "But because it's not a super private type of thing, I'm not super worried about it. You have to trust those types of sources (Amazon and Google) in all aspects of the cloud or the things you're storing. And it's like, what things should you trust?"
"Are their servers secure enough?" asked Lawson. "Are they potentially a target for hackers that might try to get in and steal that information? If it's not encrypted or not encrypted properly, it (your request) could be intercepted by a bad actor and they could be pulling that data out of the air, decrypting it and listening to you and your home."
Lawson says that information is incredibly valuable.
"The data that's collected about you is an incredibly valuable asset for the companies that collect this information," he said. "And they turn around and use it, or sell it in various ways to monetize that information."
Lawson cautioned if you're going to have an Echo or Home in your home, make sure you do your part in securing your information.
His suggestions include:
Making sure your WiFi is encrypted and secured with a strong password.
Keeping both your digital assistant and your WiFi router's firmware updated.
Consider using a separate home network for your digital assistant and other "Internet of Things" devices. This way, if the device is compromised, hackers wouldn't be able to get to the private information on your smartphone, tablet or computer because they'll be secured on a separate network.
Consider using a dummy account for your Google Home, one that's not tied to your email and other Google accounts that could have private information. The drawback is you could lose some personalization.
Also, check through your Echo's or Home's history. Both devices will allow you to delete your requests in their apps. And they'll also be wiped from the servers.
Both devices will let you mute and unmute the mics with the press of a single button, and both have settings that will allow you to manage your privacy to some extent.
Both Amazon and Google say nothing gets sent to their servers until their devices hear wake words. "OK Google" for the Home, "Alexa" for the Echo. And you can even customize those wake words if you want to.
Privacy concerns aside, the market is only expected to get hotter. Apple will soon join it in December when it rolls out its digital home assistant, the HomePod.
×
Photos
Most recent Utah stories