Estimated read time: 5-6 minutes
This archived news story is available only for your personal, non-commercial use. Information in the story may be outdated or superseded by additional information. Reading or replaying the story in its archived form does not constitute a republication of the story.
SALT LAKE CITY — Claudia Peterson lived an idyllic childhood.
Raised on a small farm in Cedar City, she and her siblings were nourished with homegrown food, fresh meat and the sweet taste of raw milk. They spent their afternoons swimming in the local pond and playing out in the fresh air.
It wasn't until years later — after Peterson had lost loved ones to unprecedented bouts of cancerous disease — that she realized her childhood was far from the picturesque world she had grown to love. A victim of lies and cover-up, Peterson watched as nuclear fallout and contamination slowly killed friends and family around her, until she was left kneeling by a hospital bed as her daughter succumbed to leukemia one month after her sister.
"We're not so naive to think that people don't get sick. They get sick," Peterson said. "But not in the numbers, not (at the level of) what's happened. … I didn't have an aunt, an uncle, a cousin or anyone with cancer at the time. And now my whole family … is obliterated. But we were swimming in the pond, we were drinking raw milk, we were eating out of the garden, raised our own cattle, ate the beef. It was all contaminated."
In 1951, the U.S. government began testing nuclear weapons in a remote area of the Nevada desert known as the Nevada Test Site. The nuclear bombs produced characteristic mushroom clouds that moved downwind and dispersed radioactive materials over the surrounding areas, including Arizona, Nevada and, especially, southern Utah.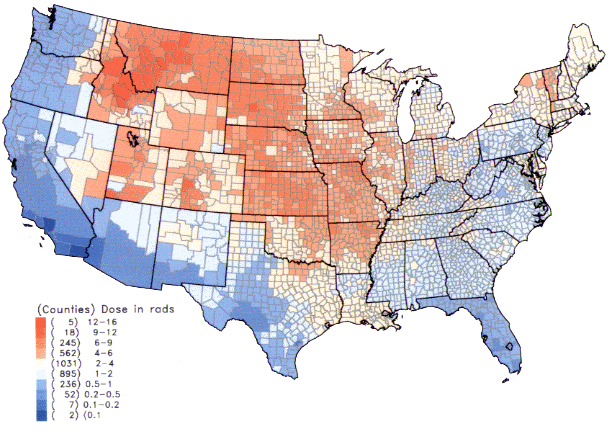 Those in the area were told they were safe, there was nothing to worry about — though the government was well aware of the dangers, Peterson said.
The fallout from these tests has since caused many of those that were in the area to lose their property, health and even life. They are known as the "downwinders."
"Most people who call themselves downwinders were living downwind of the nuclear blasts," said Justin Sorensen, a geospatial information systems specialist at the University of Utah. "(But) really we were all downwinders, 'cause there wasn't a portion of the nation that wasn't affected."
Sorensen, appalled at how little Utahns knew about this period of the state's history, began a passion project with the university's library about three years ago in an effort to preserve the history and stories of those affected by nuclear testing. The "Downwinders of Utah Archive" includes a timeline of the testing, as well as information on each atmospheric nuclear test and fallout statistics in Utah.
"We (initially) were looking to map out the fallout from the Nevada Test Site and see how it impacted different areas throughout Utah," Sorensen said. "We were able to to get a lot of good information from the National Cancer Institute …. (but) it expanded into a much larger project learning about the people it actually impacted — the downwinders — and how this nuclear fallout impacted their lives."
Sorensen recently led a team down to southern Utah in mid-June to collect first-person accounts of individuals and families affected by the fallout. Those who wished to share their stories were invited to meet the team at libraries in St. George, Cedar City and Kanab.
It was people like Peterson who gathered to recount what they had experienced, with stories of government secrecy or heartbreaking loss.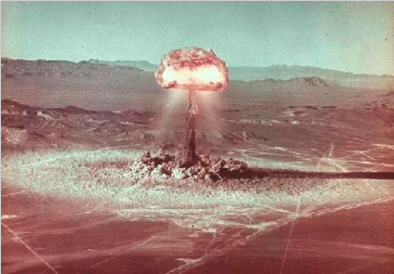 "They brought propaganda movies to school," Peterson said, "They would come show us movies and show us what the bombs would do to us. It was basically what the Russians were going to do to us (they said), and that's why we were building the bomb and we should be really proud to be a part of the testing area."
"They started testing and people's sheep died, thousands of sheep died. The community started questioning. They came in with propaganda things. It was just a sterile, ugly, blatant lie, and we were the guinea pigs."
While it may seem such drastic mistakes could not be made again, nuclear weaponry is not just a part of history, but also of the present, Peterson emphasized.
"We keep coming back to the idea that we want to create a new generation of nuclear weapons, and I cannot imagine a new set of nuclear weapons without wanting to test it," said former Congressman Jim Matheson to the University of Utah team. "And that's why I'm always concerned in a potential resumption in a nuclear weapons test."
Sorensen hopes the archive will encourage others to learn more about the downwinders and believes including this period of Utah's history in early educational curriculum is key to making a change in Utah's cultural mentality and awareness.
"I just think it's important that the stories be told," Peterson said. "It's amazing what people don't know, even in the community here. … They think, if they don't talk about it, then it won't happen to them, but it does! I've seen it. Case after case after case. You wouldn't wish this on anybody."
The team ultimately collected 22 video interviews to add to their collection of oral histories and those who shared may see their stories online sometime in July. Sorensen also encourages others to continue sharing their stories by contacting the team via the website or emailing him directly at justin.sorensen@utah.edu.
×
Most recent Utah stories