This archived news story is available only for your personal, non-commercial use. Information in the story may be outdated or superseded by additional information. Reading or replaying the story in its archived form does not constitute a republication of the story.
PANGUITCH — In the never-ending feud over public lands in Utah, cowboys and ranchers are usually on the other side of the fence from environmentalists. Words of compromise and agreement are often drowned out by the noise of political gunfights.
So it might come as a surprise to hear that a pretty little flower in southern Utah — an endangered species — has brought the warring parties together. Even cattle, typically maligned by environmentalists, have joined the effort to save one of the rarest species on Earth.
In spite of its name, the autumn buttercup is blooming right now in early summer. The modest little wildflower seems to have lots of friends because it's so vulnerable.
"It's only found in this one site in the world," Sheila Murray said as she headed out into a field near Panguitch.
Murray carried a watering can to give the flowers a little extra moisture.
As a research botanist with the Arboretum at Flagstaff, Murray is part of a broad 30-year partnership of government and private entities, dozens of volunteers — and, yes, even cows — that seem to be rescuing the autumn buttercup from oblivion.
"I think perhaps they would be extinct by this time if nothing had been done," she said.
An essential part of the rescue plan is to capture seeds from healthy plants and then give them a head start of the environment by first growing them for a while in greenhouses. A team of volunteers recently planted dozens of the young plants in a meadow near the Sevier River.
"They are grown in captivity and then released back into the wild," Murray said with a chuckle.
Experts believe the autumn buttercup was never very widespread. As human and bovine activity increased over the past century or so, the Sevier River valley became the species' last holdout on Earth.
Thirty years ago, The Nature Conservancy bought the property near Panguitch, and as one might expect for an environmental organization, the new owner got rid of the cows.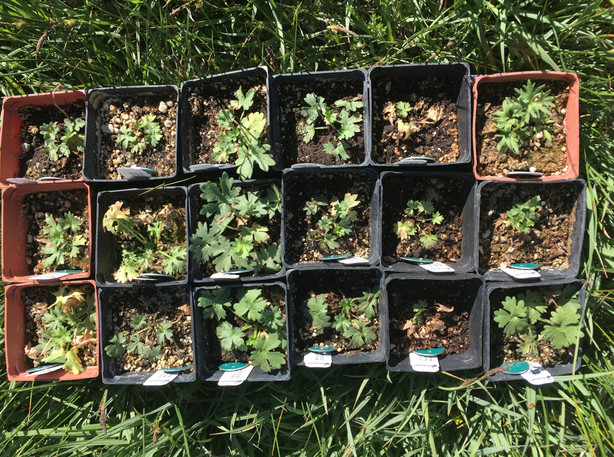 "Yeah, they kicked the cows off to protect this little guy," Murray said, pointing at a buttercup's golden blossom.
But after the cows were gone, the buttercups continued to struggle.
"And so over time, we did controlled burns" and other management strategies, said Linda Whitham of The Nature Conservancy's Moab office. "We kept the cows out. And nothing really was working."
And then a few years ago, the friends of the buttercup noticed an area on nearby land where cows grazed part time and yet the buttercups were thriving.
"It was a robust population, and we thought, 'Well, wait a minute,'" Whitham said. "Maybe the cows aren't the problem. Maybe they're actually the solution."
Several years ago, The Nature Conservancy began allowing Panguitch rancher Jason Excell to bring his cows onto the protected land so they could graze — in carefully limited doses at certain times of the year.
"And lo and behold, so far it's been pretty amazing what we've seen," Whitham said. "So yay for cows!"
---
Maybe the cows aren't the problem. Maybe they're actually the solution.
–Linda Whitham, The Nature Conservancy's Moab office
---
Excell said he believes cows have a future in the same fields as the recovering buttercups.
"I think they're coming back, and I think that they will come back," he said.
At this point, it's not entirely clear what advantages there are to having cows eating from a grassy dinner table that includes autumn buttercups. There are two main theories, and experts say it's likely that both are true.
For one thing, when the cows were gone, grasses grew higher. That seemed to create the perfect habitat for tiny mouse-like rodents called voles.
"And so what we found was that the little vole was running amok through this landscape and devouring our autumn buttercup," Murray said.
Theory No. 2 has to do with the soggy ground in an often very wet meadow. At certain times of the year, the soil is so loaded with water that a person can stand on it and bounce up and down several inches without ever leaving the ground.
When cows are grazing, their hooves punch into the muddy soil and create little mounds called "hummocks" that seem to be a good place for a buttercup seed to get started.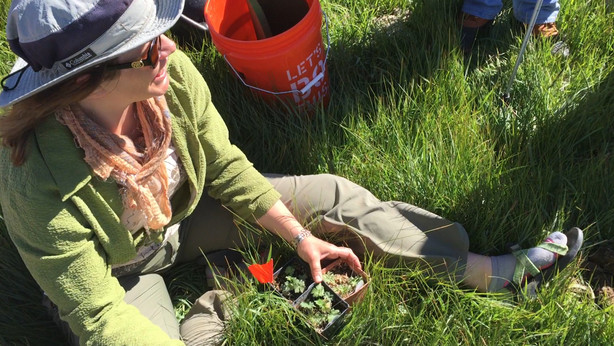 The seed "seems to like to be out of the water but around the water," said Clint Wirick, a biologist for the U.S. Fish and Wildlife Service — one of the partners in the buttercup rescue.
"These hummocks here, that's what's providing those little micro-habitats," Wirick said, pointing to a small ridge of dirt.
According to Whitham, the hummock theory also gets a thumbs-up from a researcher who studied buttercups back in the 1990s.
"His observation was that they do like being near the hummocks," she said. "We'll see. The jury's still out."
For a rancher, it's nice to be on the same side of the fence with environmentalists, Excell said.
"I think we can work together. It's just the knowledge of knowing when to graze and how to graze, how much to graze, or how little to graze," he said.
There are still many unanswered questions and no guarantee of long-term success, but for now it's a happy story for the autumn buttercups — thanks to a little help from their friends.
×
Photos