This archived news story is available only for your personal, non-commercial use. Information in the story may be outdated or superseded by additional information. Reading or replaying the story in its archived form does not constitute a republication of the story.
SALT LAKE CITY — Food packaging is high-value real estate as advertisers attempt to capture our attention in an ever-expanding landscape of communication channels within both digital and non-digital media.
Yet physical products, including foods and beverages, still rely heavily on packaging to communicate information about value, benefits and other important product details aimed to influence consumer decisions.
Food packaging matters
Research supports the idea that packaging does influence consumer behavior at the time of purchase. While food marketing is "big business," required food labeling provides specific facts about a food and its nutritional value. For this reason, nutrition information available on food packaging can support consumers in sorting through "fact" vs. "fiction" regarding what's in foods or beverages they purchase and consume.
Food labels are required on most foods and must use a standardized format defined by the Food and Drug Administration. While many people are somewhat familiar with food labeling, such as the Nutrition Facts panel, it may still be challenging for some to pick out the most important information quickly (especially given the many distractions of daily life).
The main features of the Nutrition Facts panel include: serving size and number of servings per package; amount per serving of nutrients such as fat, carbohydrates and protein; and percent daily value to help consumers understand how much one serving of the food contributes to recommended amounts in a general healthy diet.
Other than the Nutrition Facts panel, standardized food labeling may also include food label terms such as "low-sodium" or "low-fat." Having common definitions for these terms may help consumers feel confident and more easily identify products that meet their specific health needs or food preferences.
Lastly, the Ingredient List for a product is also a key feature of food labeling that provides significant information to help consumers make healthier food purchases and eating choices.
Most people use food labels
According to research, most consumers — 70 percent or more — use food labels at least some of the time. The study also supports that Nutrition Facts labels do help individuals make healthier food choices. Yet consumers have many influences on their food decisions.
Another study found that we significantly underestimate the number of food-related decisions we make on a daily basis. Therefore many food decisions are less informed than we may like them to be.
One area where consumers might be more influenced by cues from their environment and less aware of their eating choices is food serving sizes. For example, when foods are packaged in larger containers, this may contribute to individuals eating significantly more of the food, or making incorrect estimates about its nutrient content.
One of the ways to make smarter food decisions is to become a detective when it comes to what's in a food or beverage. The best way to find this out is by reading food labels, including the Nutrition Facts panel and product ingredient lists. Make it fun and involve children or other family members.
Getting more value, nutrition and beyond
Recently, legislation was passed to update specific sections of the Nutrition Facts panel to make it even easier for consumers to select healthier foods. While the timeline for compliance with label changes has been extended by the FDA, it's expected that food and beverage manufacturers will still begin to adopt the updated food labeling standards.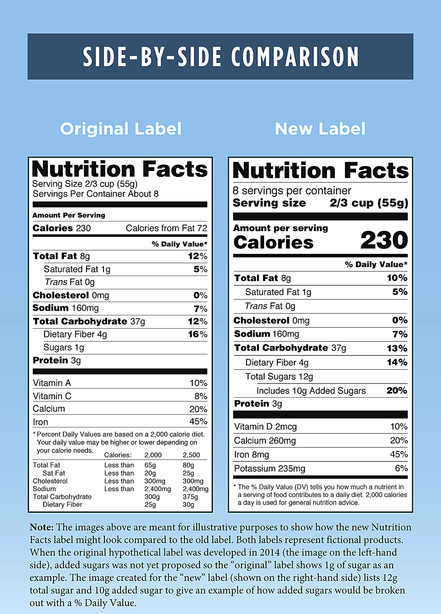 The new labels will include changes such as easier-to-read calories, more realistic serving sizes based on amounts typically eaten, added sugars with a percentage of daily value in addition to the total sugars already listed, and specific amounts of nutrients such as vitamin D and potassium.
These updates are considered the first substantial changes to these sections of the food label in about 20 years. These changes to the Nutrition Facts panel will also help consumers make food choices more consistent with the current 2015-2020 Dietary Guidelines for Americans.
What the labels on our food say can positively affect what we eat from a nutritional and financial perspective.
For example, food labels help with accurately determining how many servings are in a container (and thereby cost per serving of the food). Bulk foods like dried beans will often have a large number of servings per container, making the cost per serving low.
Lastly, quick and easy "convenience" foods tend to be higher in ingredients that are less healthy such as higher fat, sodium and sugars, as well as cost. Food labels can help consumers get the products that best meets their health needs and therefore increase the value that consumers get.
One of the best ways to get more food value, however, is eating fresh foods — those typically without a package or food label. Ultimately, however, given the benefit that packaged foods offer, such as budget and convenience, it's also possible to strike a balance with nutrition by using the food label as a guide.
---
---
Editor's Note: Anything in this article is for informational purposes only. The content is not intended, nor should it be interpreted, to (a) be a substitute for professional medical advice, diagnosis, or treatment. Always seek the advice of your physician or other qualified health provider with any questions you may have regarding a medical condition; (b) create, and receipt of any information does not constitute, a lawyer-client relationship. You should NOT rely upon any legal information or opinions provided herein. You should not act upon this information without seeking professional legal counsel; and (c) create any kind of investment advisor or financial advisor relationship. You should NOT rely upon the financial and investment information or opinions provided herein. Any opinions, statements, services, offers, or other information or content expressed or made available are those of the respective author(s) or distributor(s) and not of KSL. KSL does not endorse nor is it responsible for the accuracy or reliability of any opinion, information, or statement made in this article. KSL expressly disclaims all liability in respect to actions taken or not taken based on the content of this article.
×
Related Stories