Estimated read time: 2-3 minutes
This archived news story is available only for your personal, non-commercial use. Information in the story may be outdated or superseded by additional information. Reading or replaying the story in its archived form does not constitute a republication of the story.
SANDY — Two adults and one juvenile were killed in a shooting on a street a few blocks away from an elementary school Tuesday afternoon, police said.
Two other juveniles were injured, one critically, in the shooting.
Police responded to a report of a shooting near 2200 E. Alta Canyon Drive (8600 South) at about 3:45 p.m., according to Sandy Police Sgt. Jason Nielsen.
Someone Nielsen described as a "good Samaritan" pulled their vehicle over to help an adult woman and two juveniles who were in the street. A man then rammed his vehicle into the good Samaritan's, exited his vehicle and began shooting.
The woman, a boy and the gunman died as a result of the shooting.
Another boy was taken to an area hospital in critical condition and a girl was also transported. Both were in stable condition, according to police.
The good Samaritan was not among the deceased, Nielsen said, but would not confirm whether or not that individual was injured in the shooting.
Nielsen did not provide ages or additional identifying information of any of the individuals.
As of early Tuesday evening, police did not release information regarding a possible motive, or the relationship between those involved in the shooting.
Between 20 and 30 officers responded to the shooting that occurred blocks from Brookwood Elementary School. Many students who were walking home from school found shelter in nearby businesses and homes. Officials from Canyons School District later requested that those students to be returned to the school where their parents could pick them up.
District officials let families know that crisis counselors would be available at the school Tuesday night and throughout the day Wednesday for those affected by the shooting.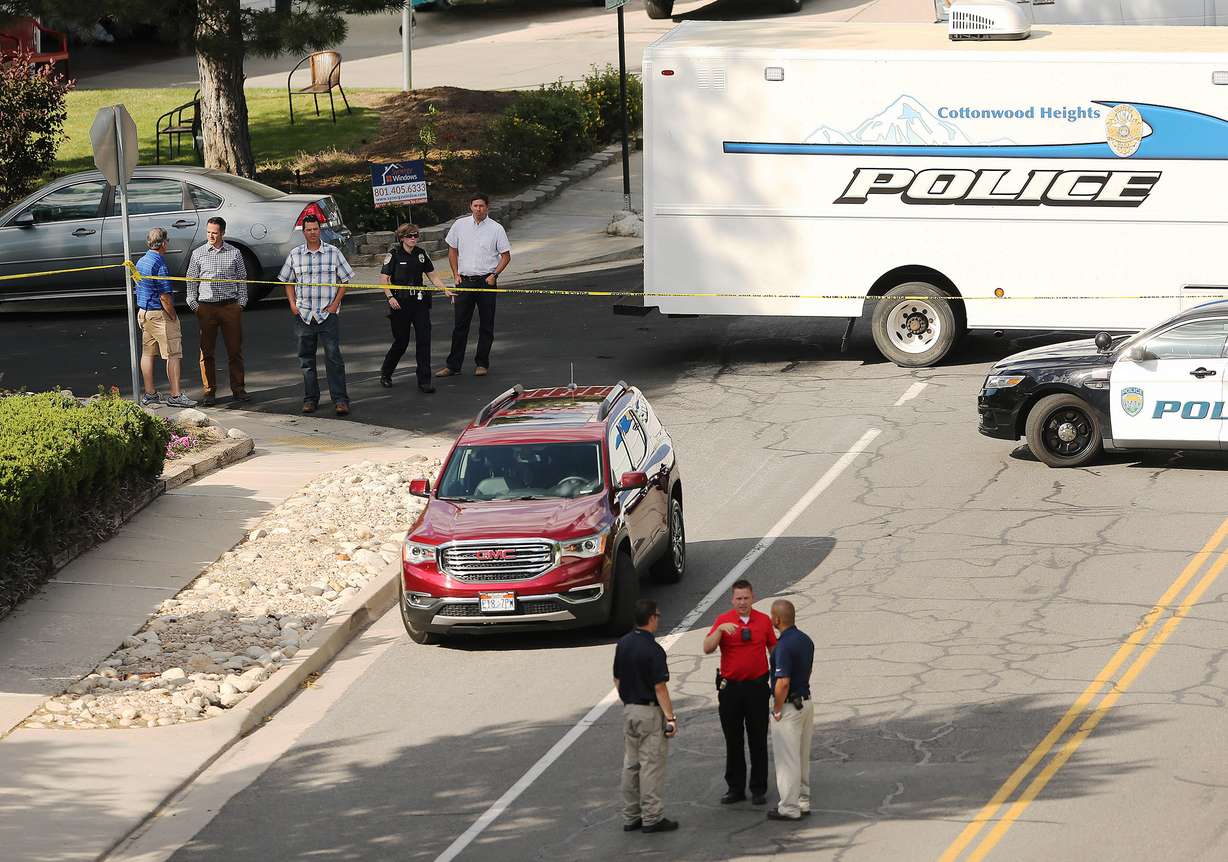 Police were interviewing multiple witnesses Tuesday, Nielsen said.
Colby Corbett, who lives close to where the shooting occurred, said he heard the commotion as it unfolded. His 8-year-old son Anthony was arriving home from school as it happened.
"I was in the backyard and I heard the car wreck and then I just heard boom, boom, boom, boom — I heard a bunch of gunshots," he said. "(My son) was walking home from school at the time, so my first instinct was him."
Corbett said he was thankful that none of the many children who walk home from school were injured in the gunfire.
"There are hundreds of kids (that) walk up and down the street at that time coming home from school," he said. "If he was going to be an animal, he could have done a lot worse."
Contributing: Brianna Bodily, Nicole Vowell
×
Photos
Most recent Utah stories