Estimated read time: 4-5 minutes
This archived news story is available only for your personal, non-commercial use. Information in the story may be outdated or superseded by additional information. Reading or replaying the story in its archived form does not constitute a republication of the story.
PROVO — BYU center Eric Mika walked through the doors of the Marriott Center Annex, took a phone call, and disappeared into a side hallway of the Cougars' brand-new practice facility.
He's still new to the walls of a building that opened in October. But already, his future with the facility — and the Cougars — could be in question.
Mika declared for the 2017 NBA draft Wednesday without hiring an agent, the school announced. The distinction is an important one, as it takes advantage of a recent NCAA ruling that allows a player to participate in multiple pre-draft workouts, such as the annual NBA Draft Combine in May, without sacrificing the remainder of a player's collegiate eligibility.
But make no mistake; Mika is serious about becoming a professional basketball player.
"It's not just a process of exploring; I wouldn't have entered my name in the draft if that wasn't my intention, to be drafted by a team," Mika told reporters after making the announcement. "I just need to keep doing what I am doing and have good workouts.
"I hope to do as well as I think I can, but there's still a lot to be done and a lot to be analyzed."
Mika had a standout sophomore season, averaging 20.3 points and 9.2 rebounds en route to all-West Coast Conference first-team honors and District VIII player of the year honors by the U.S. Basketball Writers Association.
Just a few months removed from a two-year mission for the LDS Church in Italy, Mika's rapid growth and improvement surprised even him — and helped lead to Wednesday's announcement.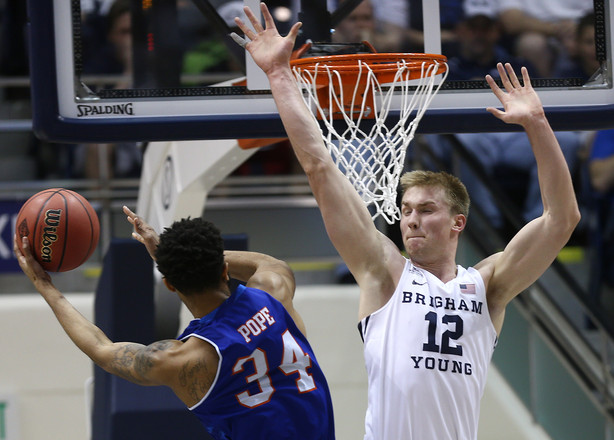 "I wouldn't be making a big deal about this if I wasn't expecting to do well and to get drafted," he said. "Coming into this year I did not expect to do what I did individually. As the season went on, I continued to progress."
Mika and any other player, like the previously committed Kyle Kuzma from Utah, have until May 24 to return to school without losing any eligibility. It's a nice option to maintain; Utah State's Jalen Moore did the same thing a year ago, when the new NCAA ruling was in its infancy.
The 6-foot-10, 230-pound former Lone Peak star has the full support of the coaching staff to do what he needs to do — even if that means leaving BYU after two seasons.
"We support Eric and will do whatever we can to help him through this process," BYU coach Dave Rose said in a statement. "Eric had an outstanding year for us. He worked incredibly hard coming off his mission to be ready for this past season and I expect he'll demonstrate that same work ethic throughout this process."
His teammates also supported Mika in the announcement. At 22 years old, they know the next-level power forward likely has a limited window to attract NBA offers and impress NBA scouts. It's a common dilemma for LDS athletes like BYU players who seek to furlough two years of basketball in favor of church missions, and Mika thought about that, too.
"They are positive, supportive and happy, and I know that is 100 percent genuine," Mika said of teammates Nick Emery and TJ Haws. "But it's hard to think that what we thought of and had envisioned from so long ago wasn't going to be.
"It was tough for them. But those guys love me and I love them; we're like brothers.
If Mika leaves early, it would leave a hole in BYU's roster that would be difficult to replace. BYU lost just two seniors, point guard L.J. Rose and forward Kyle Davis, to graduation, and center Corbin Kaufusi's spot on the roster could be in question as he returns to the football team.
But Mika has contemplated a future in pro basketball since his senior year in high school, and he has to take the chance to look into it more.
"I think toward the end of my senior year of high school, I found out I like this and people think I am good at it," he said. "I would love to play it and commit to it."
Draft Express calls the 6-foot-10, 230-pound Mika "one of the top players to monitor in the WCC," and the No. 49 overall pick in the 2018 draft in the website's latest mock draft. For reference, Kuzma is projected as the No. 52 pick in the 2017 draft by the same service, which lists Washington's Markelle Fultz, UCLA's Lonzo Ball and Kansas' Josh Jackson as the top targets this summer.
And while he may never be a spot-up shooting guard, Mika believes he has plenty to offer to an NBA team — many of which have already scouted him as he put up all-West Coast Conference first-team numbers.
"I know that NBA teams are watching, and I've turned heads this year," he said. "That's a good base to build on. But what sets me apart is what I've been doing all year, but now they will get a closer look at it. That's an advantage for me."
×