This archived news story is available only for your personal, non-commercial use. Information in the story may be outdated or superseded by additional information. Reading or replaying the story in its archived form does not constitute a republication of the story.
SPANISH FORK — Friends and family continued the search for 39-year-old Steven Reed Terry on Thursday.
Steven Terry went missing from his home near Spanish Fork on April 26, the Utah County Sheriff's said in a prepared statement. His ex-wife, Alicia Terry, told investigators she had received a text message from him that led her to believe he might harm himself.
"He was not in the right place when he sent me the text," Alicia Terry said. "It was pretty much a goodbye text and how much he loved me and his daughter and that kind of stuff and what to do with his things. Not what you want to hear."
Volunteers were searching for Steven Terry near the Spanish Oaks Reservoir on foot and from the air, thanks to drones. Drone pilots spent hours flying above the trees around the reservoir, hoping for a glimpse of Steven Terry. Many other volunteers spent time reviewing drone video that was shot earlier in the day to make sure nothing was missed.
"I just need to bring him home for closure, make sure he's OK," Alicia Terry said. "I always have hope, but no matter what, I just want to have him home. I can't leave him up here... I will be up in this mountain until we find him."
Alicia Terry said more volunteers would continue searching the mountains on Friday if Steven Terry was still missing.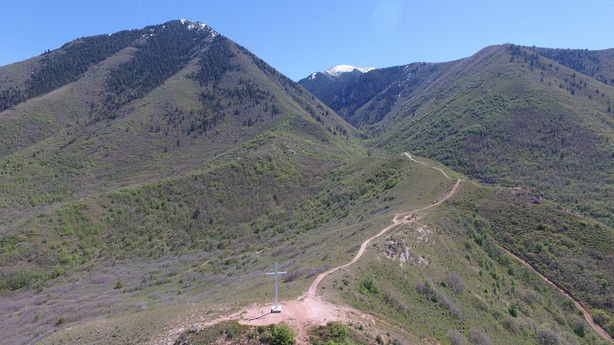 Drone uses from public agencies
Drones are becoming more common in search and rescue operations, both from actual county search crews as well as normal drone pilots who volunteer their time.
That was the case last fall when Kris Krie happened to drive by an active search and rescue operation for James Wade, 17, and offered to fly his drone to help out.
"They briefed me on where they suspected he was. Because the family was with him prior to them separating, they knew where he was going," Krie said.
With those instructions from searchers, he said it took about three minutes to locate the missing teen. Krie's drone was able to project images real-time onto his phone, which helped searchers better assess the situation before going in themselves. However, Wade did not survive a fall from a steep cliff.
The Grand Canyon National Park made use of its drone fleet for the first time last month while searching for two missing hikers. The Grand Canyon is the only national park with its own fleet of unmanned aircraft for locating people who have gotten lost, stranded, injured or killed. Under a program that began last fall, it has five drones and four certified operators. One hiker, Jackson Standefer, 14, was found last week. LouAnne Merrell, 62, is still missing.
Box Elder County Sheriff's Office has plans to deploy its drone in the next few months. They began looking to launching a drone program for search and rescue operations back in 2014 but ran into regulation issues. The sheriff's office now hopes to start using a drone in the next few months and have several officers preparing to take an exam through the Federal Aviation Administration to become certified to use them. Sheriff Kevin Potter said they hope to use the drone when working in an area with steep cliffs and difficult terrain to assign other crews on the ground when searching for a missing or injured hiker.
Unified Police have used unmanned aircraft in the past to reconstruct scenes after car crashes and is working to get funding to purchase a drone for search and rescue operations later this year, detective Ken Hansen said. He encouraged any drone pilots that wanted to help with a search to speak with an incident commander before launching a drone in case a helicopter is also in the area.
The Utah Highway Patrol also uses a drone for accident diagramming. Trooper Jared Cornia said the drone helps to diagram a crash scene quicker than traditional methods and allows troopers to open a closed freeway faster. The agency is looking into implementing drones into search and rescue operations in the near future, Cornia said.
The Utah Department of Transportation is using remote-controlled aircraft for surveying and bridge inspection. UDOT spokesman John Gleason said the technology helps with efficiency while also keeping crews safe by not having to send people to inspect below bridges. UDOT is also using drones to showcase upcoming construction projects and give the public a bird's eye view of what to expect.
Contributing: Sam Penrod
×
Photos
Related Stories