Estimated read time: 3-4 minutes
This archived news story is available only for your personal, non-commercial use. Information in the story may be outdated or superseded by additional information. Reading or replaying the story in its archived form does not constitute a republication of the story.
Amanda Butterfield ReportingTwenty-one-year old Marine Corporal Adam Galvez was killed in Iraq's volatile Anbar Province, along with another Marine and a Navy Corpsman Sunday.
It just so happens, Amanda Butterfield was in California when Adam officially became a Marine. Now, 20-months later, she met with the Valdez family again.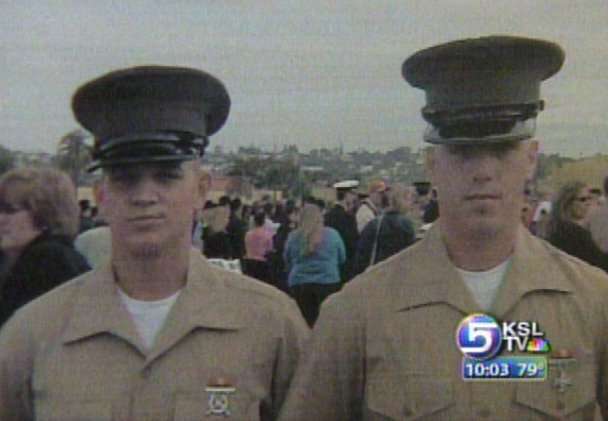 When Adam Galvez became a United States Marine, it was the proudest moment of his family's life. But when two Marines came knocking on the their door this Sunday, it was one of the worst.
Amy Galvez, Mother: "Well you know what it is, no question what it is."
Amy Galvez was hoping there was some kind of mix-up when two men in uniform were at her door, telling her Adam Galvez, her 21-year old son, was killed in battle.
Amy Galvez: "I had just talked to him the day before, so you hope there' s a mistake, but of course there's not."
Adam was riding in an armored vehicle when it triggered an explosive buried in the ground.
Tony Galvez, Father: "He took the brunt of the explosion. The explosion killed him, another marine and a navy corpman."
It was less then two years ago Adam became a Marine. He didn't do it alone, he did it with his best friend, Robert Clark.
Adam Galvez, U.S. Marine Corps, January 2005: "We've played baseball since we were young, went to school, did everything together."
Robert Clark, U.S. Marine Corps, January 2005: "We were really lonely when we first got here, and it was nice to have someone who cared and who could get you through everything.
With his proud family watching, Adam and Robert were pinned with the eagle, globe and anchor, the sign of the Marine Corps.
Amy Galvez: "He's a marine now, trained, capable. I have a lot of confidence in him, he's a wonderful young man."
And that's how he will be remembered.
Tony Galvez: "As a patriot, hero, marine."
As for Robert, or Robbie as the family knows him, he's stationed at Camp Pendleton, and he will escort Adam's body back to Salt Lake City.
Tony Galvez: "They went in together, and Robbie's bringing him home."
Adam's body is expected back home later this week with funeral services sometime the beginning of next week.
On August tenth- Galvez attended funeral services for four marines in his battalion. Galvez's family says a truck with bombs exploded next to his quarters. The building collapsed on Galvez and buried him alive. He got free and tried to dig out his friends, but it was too late.
Galvez was hurt but insisted on staying on regular duty.
When Amy Galvez heard of her son's death, she was emailing information about a "Support the Troops" rally while President Bush is here.
With anti-war activists planning to protest during the Bush visit, Amy Galvez says the most important thing she wants to come of her son's death is for people to go out and support the troops.
Amy Galvez: "I don't want Cindy Sheehan and Rocky Anderson to be the only voices people hear."
Tony Galvez: "You can't say you support the troops but don't support the war."
That rally will be at Liberty Park when the president arrives.
×
Most recent Utah stories