Estimated read time: 5-6 minutes
This archived news story is available only for your personal, non-commercial use. Information in the story may be outdated or superseded by additional information. Reading or replaying the story in its archived form does not constitute a republication of the story.
SALT LAKE CITY — Smiling and holding her mother's hand, 14-year-old Deserae Turner spoke Thursday of gratitude, faith and joy as she was released from Primary Children's Hospital two months after police say she was shot in the head and left to die.
"I am so thankful to be here today, to be alive," she told members of the media in her first appearance since the shooting. "I told my dad that I am tougher than a bullet. It is still with me today."
Deserae has been hospitalized since she was found in a dry canal in extremely critical condition shortly after midnight on Feb 17. Police say she was shot from behind by two 16-year-old boys intent on killing her, leaving her in a medically induced coma and with the remains of the bullet forever lodged in her skull.
But as she read a statement and took questions, Deserae spoke only of her appreciation for the hometown that has supported her, the doctors who have cared for her and the countless strangers who have prayed for her.
"People all over the world have been praying for me. Some of them I know and some I have never met, and they have never met me, but they cared for me, and they care for you," Deserae said. "I would like others to know that people are kind and they do care about us and are concerned about us, even when we may think no one is there."
She even picked a special shirt to wear as she returned to her home in the small town of Amalga, in Cache County. On the front of the white T-shirt, the word "Happy" was written in flowing cursive. The back read, "There are so many beautiful reasons to be happy."
"It says happy on it, and I'm happy to go home," Deserae said.
Deserae said she was most excited to return home and see her animals, especially her horses.
Deserae also thanked those who "helped take care for my family, especially my mom and dad, while I have been in the hospital."
Deserae's parents, Matt and April Turner, celebrated their daughter's release and praised her strength Thursday.
"What a great day. Because of the love and care of so many, we are taking our beautiful, courageous daughter home today," Matt Turner said. "Nine weeks ago we did not know if this was possible."
The family made no reference to the criminal case that is ongoing following the shooting, focusing instead on the joy of having Deserae released from the hospital, and asking that the girl not be questioned about the attack.
Prosecutors say two 16-year-old boys put together a premeditated murder plot targeting Deserae after one of the teens grew tired of her frequent Snapchat messages.
Together they lured Deserae to join them after school on Feb. 16 under the guise of buying a knife, then shot her once in the back of the head at close range, stole her belongings and left her in a dry section of the dirty canal in Smithfield, according to charging documents.
Deserae was found hours later by friends who were searching for her. She spent some time in a medically induced coma, and after awaking, she spoke to police about what little she remembers from that day, including naming the two boys she said she met at the canal.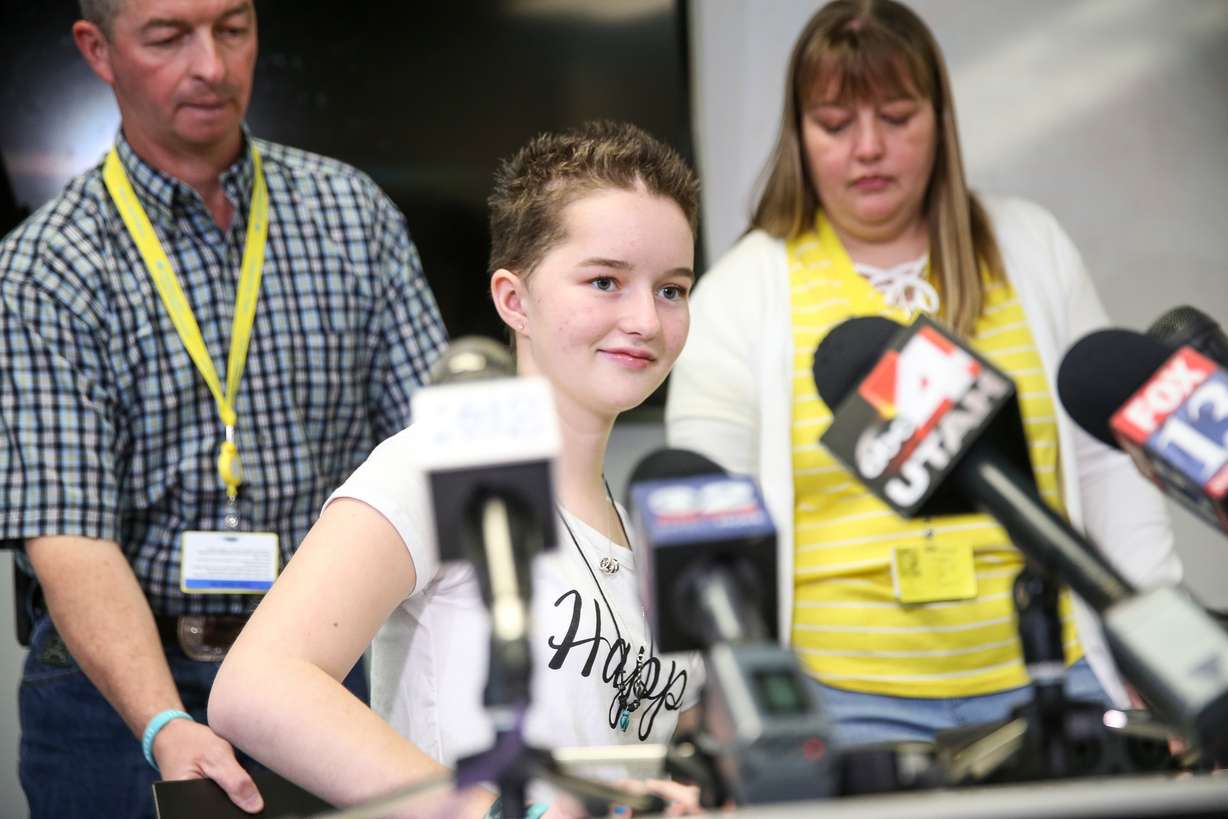 The two teenage boys are both charged as juveniles with attempted aggravated murder, a first-degree felony; aggravated robbery, a first-degree felony; and four counts of obstruction of justice, a second-degree felony.
KSL has chosen not to identify the two teens at this time.
In separate preliminary hearings last month, 1st District Juvenile Judge Angela Fonnesbeck ordered both teens to stand trial on the charges. The boys now face individual hearings in May, when defense attorneys will argue to retain their cases in the juvenile system while prosecutors push for them to face the charges as adults.
The family declined to answer questions about Deserae's specific injuries and the recovery that awaits her.
"I have been working really hard and still have a lot of work to do," Deserae said simply.
Matt Turner said his daughter has "battled for her life" and the ability to do daily tasks — and always will — but the family maintains hope for continued improvement.
Deserae was brought into the press conference in a wheelchair. Helped by her parents, she stood up and took careful steps to a table and chairs that had been set up for them. Her long, curly hair has been cut short, revealing thin surgical scars across her head.
If her hair grows back curly, Deserae said she would like to have it long again. If it is straight, she will keep the short style.
Matt Turner also echoed Deserae's amazement at the prayers and faith offered to his family.
"We have seen and felt the very best of humanity touch our family's life over the past several weeks. We know our Heavenly Father has heard your prayers and those heard around the world," he said.
Deserae echoed her father's feelings that she has been blessed through her recovery.
"I have felt that my Heavenly Father is with me and has helped me get this far, and I'm so grateful for that," she said.
×
Photos
Related Stories