Estimated read time: 2-3 minutes
This archived news story is available only for your personal, non-commercial use. Information in the story may be outdated or superseded by additional information. Reading or replaying the story in its archived form does not constitute a republication of the story.
Utah's newest major sports venue now has a major corporate sponsor whose name will go on that stadium.
Mining giant Rio Tinto joined Real Salt Lake at its soon-to-be-opened Sandy stadium this morning. A lot of Utahns maybe don't know Rio Tinto, which is the parent company of Kennecott Utah Copper, but the company said it made the multi-million dollar investment, in part, to change that.
With workers putting the finishing touches on its 20,000-seat stadium and the massive Kennecott Copper mine as the backdrop, Real Salt Lake announced the name for its new home.
At a press conference no details were announced, though a source confirmed the deal is in the range of $1.5 million for 15 years.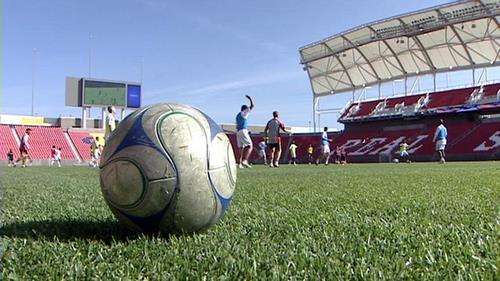 Leaders of global mining conglomerate Rio Tinto, which will have educational displays at the stadium, said that investment was a way to reach out to a community which already knows Kennecott well.
Andrew Harding, president of Kennecott Utah Copper, said, "Our sponsorship of the Rio Tinto Stadium is one way we're giving back to the community in which we work and in which we live."
CEO of Rio Tinto Copper Bret Clayton said, "We look to run, especially the Utah copper mine, for 30, 40 years more. We want people to know who we are, how we do business, as we go through processes, of working with communities, we're going to have to go through permitting. We want to make sure people know who we are."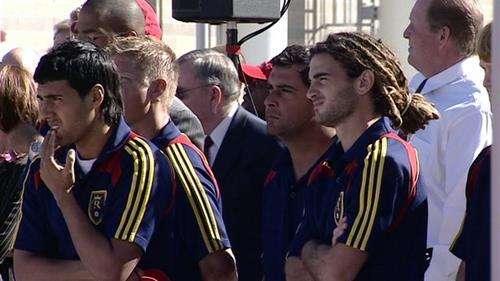 Real Salt Lake's owner Dave Checketts said the agreement was a major milestone financially. He said despite a slumping economy, he was confident fans would spend money to watch soccer.
"I think everybody's worried about the economy, and if you're not, you should worry. There are some surprisingly strong indicators. There has never been a circumstance like this, at least not in my lifetime; however, sports seem to be surprisingly strong in many areas. People still want to go out, and they still want to see competitive teams play," he said.
Meanwhile, RSL management said luring a deep-pocketed corporate sponsor like Rio Tinto showed the staying power of soccer in America. Bill Manning, president of Real Salt Lake, said, "Our sport always is challenged with credibility in terms of being one of the major sports in this country. And to have a world-class company like Rio Tinto, a multi-billion dollar company, decide to spread its message to Real Salt Lake and its stadium is flattering to us and something we take very seriously."
RSL says ticket sales have been strong for the last two games of the regular season, which will be the first two at Rio Tinto Stadium.
The team's spokesman said they've got about 1,500 tickets remaining for the opening game here Oct. 9.
E-mail: jdaley@ksl.com
E-mail: aadams@ksl.com
×
Related links
Most recent Utah stories