Estimated read time: 3-4 minutes
This archived news story is available only for your personal, non-commercial use. Information in the story may be outdated or superseded by additional information. Reading or replaying the story in its archived form does not constitute a republication of the story.
SALT LAKE CITY — A pair of Utah lawmakers noted their own family history as immigrants fleeing hostile societies at a ceremony to emphasize the state's affirmation of civil liberties for all.
More than 70 religious and community leaders gathered Monday as Gov. Gary Herbert conducted a ceremonial presentation and signing of SCR6 in the Gold Room of the Capitol. The resolution passed during the recent legislative session touts Utah's focus on preserving civil liberties and promoting good will within "pluralistic" communities.
The Bulbuli Children's Choir, a part of the Islamic Society of Bosniaks, sang a traditional Bosnian song as lawmakers and community leaders expressed support for the protection of civil liberties for immigrants.
"The contributions of refugees that come to our state, what they have given back certainly exceeds whatever support we have given to them," Herbert said.
Herbert expressed hope that the resolution will help change the tone of political conversations for the better. He said Utah has been a good example of cultural diversity and that it has been a part of what has made Utah successful as a state.
"I do believe that today, because of the good work of you and many others, that Utah is the best place in America to live and to raise a family and to do business," he said.
The sponsor of the resolution, Sen. Brian Shiozawa, R-Cottonwood Heights, shared the story of his grandfather, who came to America to work on the railroads.
"Four of his sons fought in World War II, and his youngest son never came back," Shiozawa said, noting that his grandfather became a U.S. citizen 10 years after that war.
"The proudest day, my grandfather said, in his life, was the day he became an American citizen," Shiozawa said.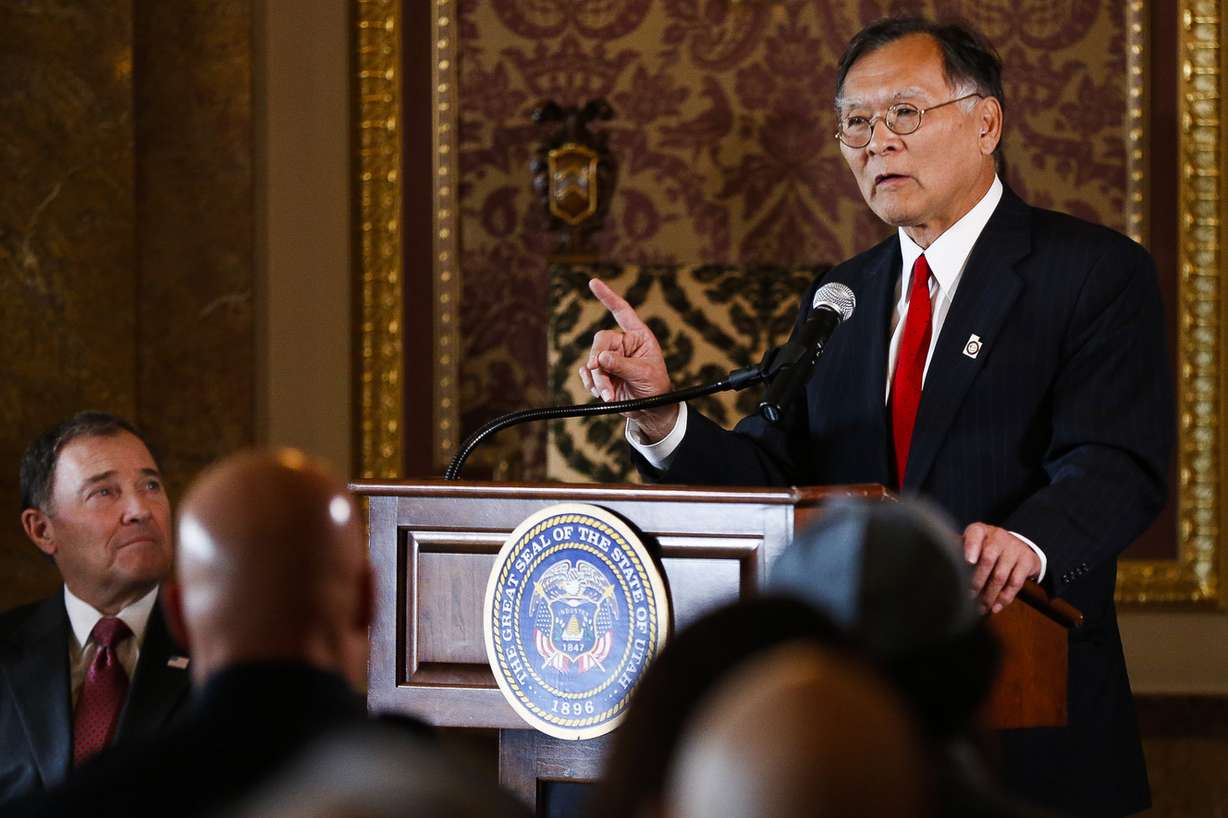 Shiozawa also shared the history of his wife's ancestors, who came to Utah as Mormon immigrants seeking a religious sanctuary.
Rep. Patrice Arent, D-Millcreek, the House sponsor of the bill, spoke about her grandparents, who immigrated to America from Eastern Europe, as well as other relatives who perished in concentration camps during World War II.
Arent noted her growing concerns of modern religious persecution.
"In the past few months, while this resolution was being considered, and even as recently as last week, there have been over 150 threats made against Jewish communities and institutions in the United States and in Canada," Arent said.
She noted that the threats, including bomb threats and vandalism, have affected many religious groups.
"An attack on one part of our community is an attack on all of us," she added.
She said the resolution is part of an effort to confront "hateful acts" and bring more tolerance to the community.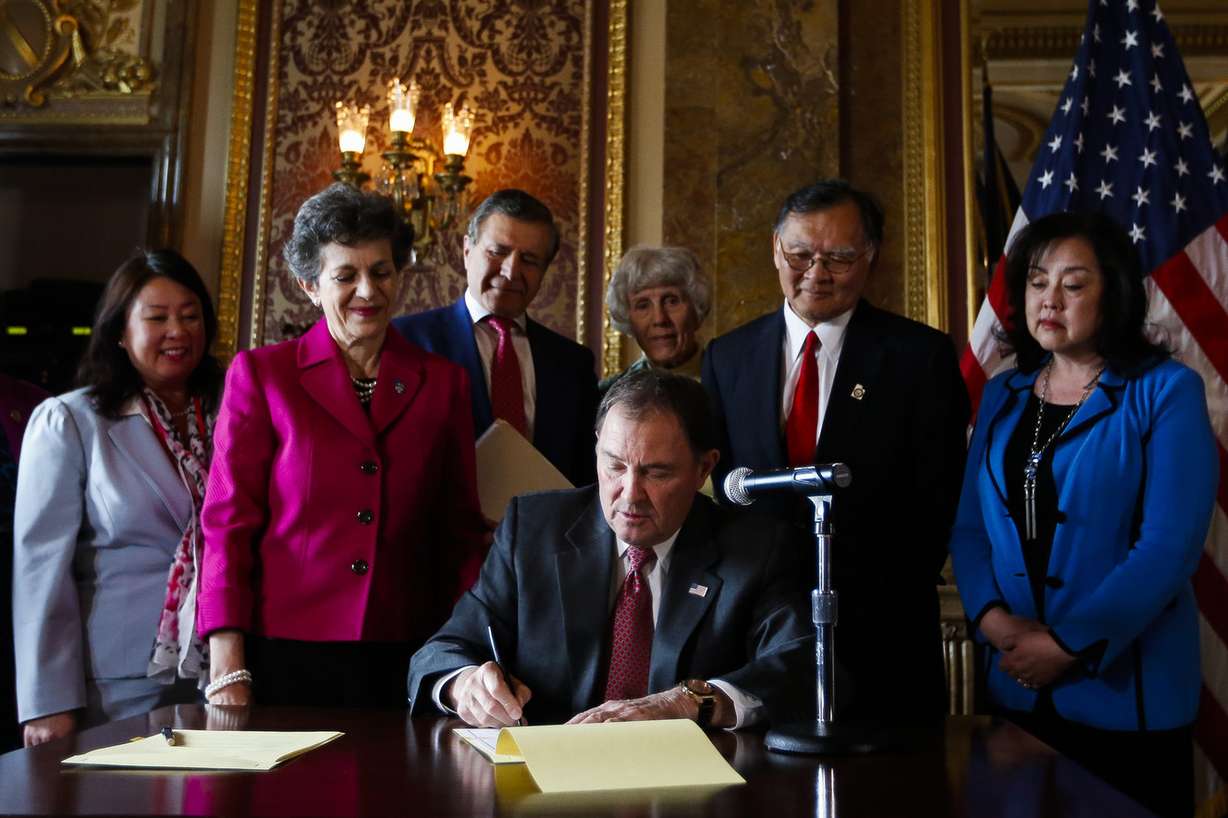 "Today our challenges describing religious liberty are no less than it was during Thomas Jefferson's time," Khosrow Semnani, an Iranian-American philanthropist said.
Semnani noted the challenges of the founders and praised the constitutional protections to religious liberty.
"Everybody, regardless of religion, they have a right to become citizens of this country," Semnani said.
The resolution notes in its early lines that the United States has been a refuge for people of oppressed religious, ethnic and political backgrounds, and notes calls for civil liberties throughout the nation's founding documents.
Herbert concluded the event with the ceremonial signing, though he officially signed the bill on March 22. The resolution will be sent to President Donald Trump, Senate Majority Leader Mitch McConnell, House Speaker Paul Ryan and to the members of Utah's congressional delegation. Email: rmorgan@deseretnews.com
×
Photos
Related Stories