Estimated read time: 5-6 minutes
This archived news story is available only for your personal, non-commercial use. Information in the story may be outdated or superseded by additional information. Reading or replaying the story in its archived form does not constitute a republication of the story.
OGDEN — Carolyn Aleman wants Utahns to know that her family, friends and employees are an important part of the community.
And so she shut her doors.
The daughter of Mexican immigrants, Aleman has owned Beto's Mexican restaurant in Ogden for nearly 20 years, growing her business to include three restaurants in northern Utah and seven more in Idaho.
Countering the argument that immigrants take American jobs, Aleman says that instead, she creates them. Like her parents, many of the employees who helped grow her business were immigrants from Latin American countries — some legally, some not. All of them, she said, are here to work.
Aleman's restaurants were closed Thursday while immigrants across the country pledged not to report to work or school for a day, demonstrating what the country would be like without them.
"I want to support my Latino community, I want to show them that they're not alone, we're together on this," Aleman said Thursday afternoon.
Aleman gathered with her employees outside the Beto's restaurant on Washington Boulevard Thursday, where two painted pickup trucks blocked entrances to the drive-thru and parking lot. The trucks were marked with both Mexican and American flags and bore messages including "Our voice matters" and "No more hate."
When Aleman approached her employees about participating in the nationwide demonstration, she was surprised to find them eager to give up a day's wages in order to make a statement.
Arturo Roque, who works in the restaurant, said he hopes the gesture sends a message in the tense political climate that immigrants across the country simply want to work and be with their families.
"We all deserve respect and rights, no matter our race," Roque said. "We have our children, we want to be close to them, and it's unjust that families are being separated."
Aleman said there is no reason she and her employees should not have the same opportunities to live, work and raise their families as others do.
"We need to be treated equally. Just because I'm Hispanic or we're Hispanic doesn't mean we're criminals. We're here to work, you know? We want to make a living. We're not here to hurt anybody. We're good people."
The closure was announced on the restaurant's Facebook page, drawing the attention of hundreds who commented in a sometimes heated debate. Aleman said she appreciated all the supportive comments, and that she respects the rights of those who criticized the decision.
While other businesses in Utah — like a tire store down the street and the Ranch Markets grocery chain — joined Beto's in closing down for the day, many remained open while immigrants who feared losing their jobs chose to still report to work.
On 900 West in Salt Lake City, Karla Martinez and her father, Martin Martinez, locked the door on Taqueria El Rey de Oros, the restaurant they have run for 22 years, but watched out the window as nearby Latino-owned businesses went about their day.
"I wish that every business out here would have closed so that they would see the impact it would be in the United States without the immigrants," Karla Martinez said, her voice echoing in the restaurant's empty dining room. "I wish that every single immigrant would have missed today, everywhere. The impact would have been huge."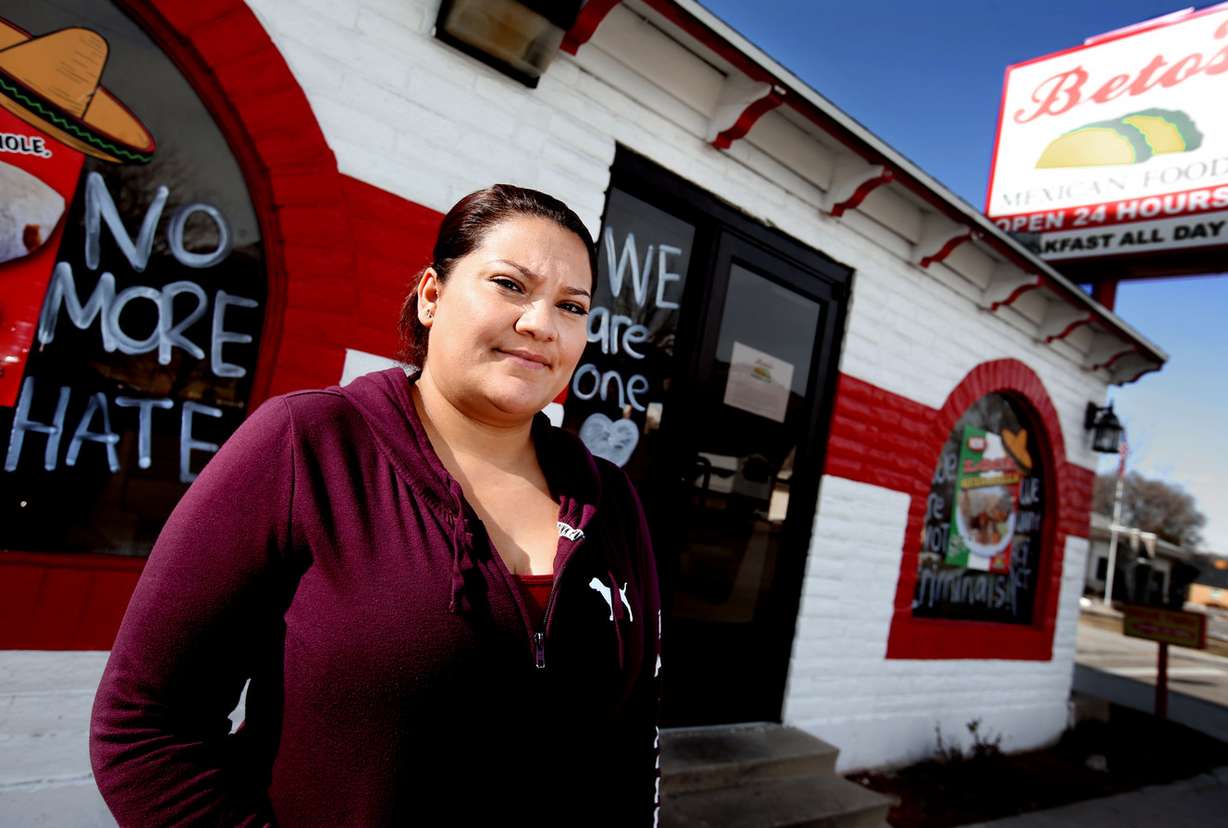 The family also closed its West Jordan location, and praised their neighbors at la Diana market for doing the same. As the date approached, Martinez said a delivery company that serves a number of the area businesses kept her apprised of who would be staying open and who would be closed.
Martinez also wonders how many hotels, department stores, restaurants and other businesses in the area found themselves shorthanded Thursday as their immigrant employees didn't show up, though their companies weren't part of the demonstration.
While Martinez's school-age children stayed home for the day so that their empty desks could share a message to their classmates, her adult children didn't dare risk their employment.
Martinez's parents came to the U.S. from Mexico, started their family in California, then moved their children to Utah. Describing her first few years in the state, Martinez emphasized how happy she and her family have been in the Salt Lake area.
"When we got here from California, the economy wasn't as good as it is now, and I think that's because of the immigrants," she said with a smile. "We open businesses, we like to spend money, we like to go out and shop, so I think we have done a lot for Utah and everywhere in the United States."
In Park City, the Bill White Restaurant Group closed two of its nine restaurants Thursday — Ghidotti's Italian restaurant and the Wahso Asian grill — in order to allow employees to participate in the demonstration without consequences to their employment. Customers still looking for a place to eat were encouraged on social media to check out some of the company's other businesses.
"We are in support of our immigrant customers, community and employees who stand in solidarity of the nationwide movement," the group posted on its social media pages. "We thank you for your support and patience on this important day for our dynamic family of employees."
Beth Rossi, marketing director for the restaurant group, said the social media announcement was met primarily with praise, especially on the company's Instagram account.
"We weren't sure how people would take it, but it was pretty unanimously in support of us taking that stand. Every comment has been positive," Rossi said.
The decision to close the two restaurants wasn't necessarily meant as a commentary on the ongoing debate nationwide about immigration policy, but rather hoped it would be a respectful solution for employees that didn't alienate anyone who disagreed with the demonstration, Rossi said.
"Everybody is kind of in this in-between state," Rossi said. "The hope is that people can understand and respect that so that we can respect them in return without having to make a political statement."
×
Photos