Estimated read time: 3-4 minutes
This archived news story is available only for your personal, non-commercial use. Information in the story may be outdated or superseded by additional information. Reading or replaying the story in its archived form does not constitute a republication of the story.
SALT LAKE CITY — Domo arigato, Mr. Roboto.
One of Utah's largest tech companies, Domo ("thanks" in Japanese) hosted its third-annual "Domopalooza" conference at the Grand America Hotel in Salt Lake City Wednesday and Thursday and announced several new software and product upgrades, one of which they've named Mr. Roboto.
Based in American Fork, Domo specializes in business intelligence tools and data visualization and is the largest data analytics platform in "the cloud." The upgrades on the cloud-based software now seek to turn data into collaborative documents.
Plastered with the message, "You are the revolution," the Grand America welcomed over 3,000 Domo users, as well as other "revolutionaries," including Theo Epstein, operations president of the Chicago Cubs, and Ed Catmull, president of Pixar Animation and Walt Disney Animation Studios.
"Business intelligence and data analytics are the last frontier of cloud computing," Domo Chief Executive Officer Josh James said Wednesday morning during the first keynote address. "And you are the revolution."
Much like Google docs allow users to collaborate on projects from anywhere in the world, Domo wants to allow businesses to have conversations in real time over data that allow owners and executives to make quick decisions.
Mr. Roboto is Domo's AI engine that operates as the foundation for the different products that Domo announced during the conference.
"We could have called it something like "Teacher" or "Sensei," but the problem there is that then you're kind of limited," James said. "And the cool thing about machine learning and AI is that it gets smarter and smarter and smarter. So we though Mr. Roboto was pretty appropriate."
In the past, Domo users have criticized the inability to extract and interact with data while working with Domo's software, but it appears Domo has sought to rectify those issues with two new products announced during the conference, both powered by Mr. Roboto.
The first, Domo Everywhere, offers users the ability to make business data from Domo more easily "accessible, interactive and consumable" with its own customers and partners.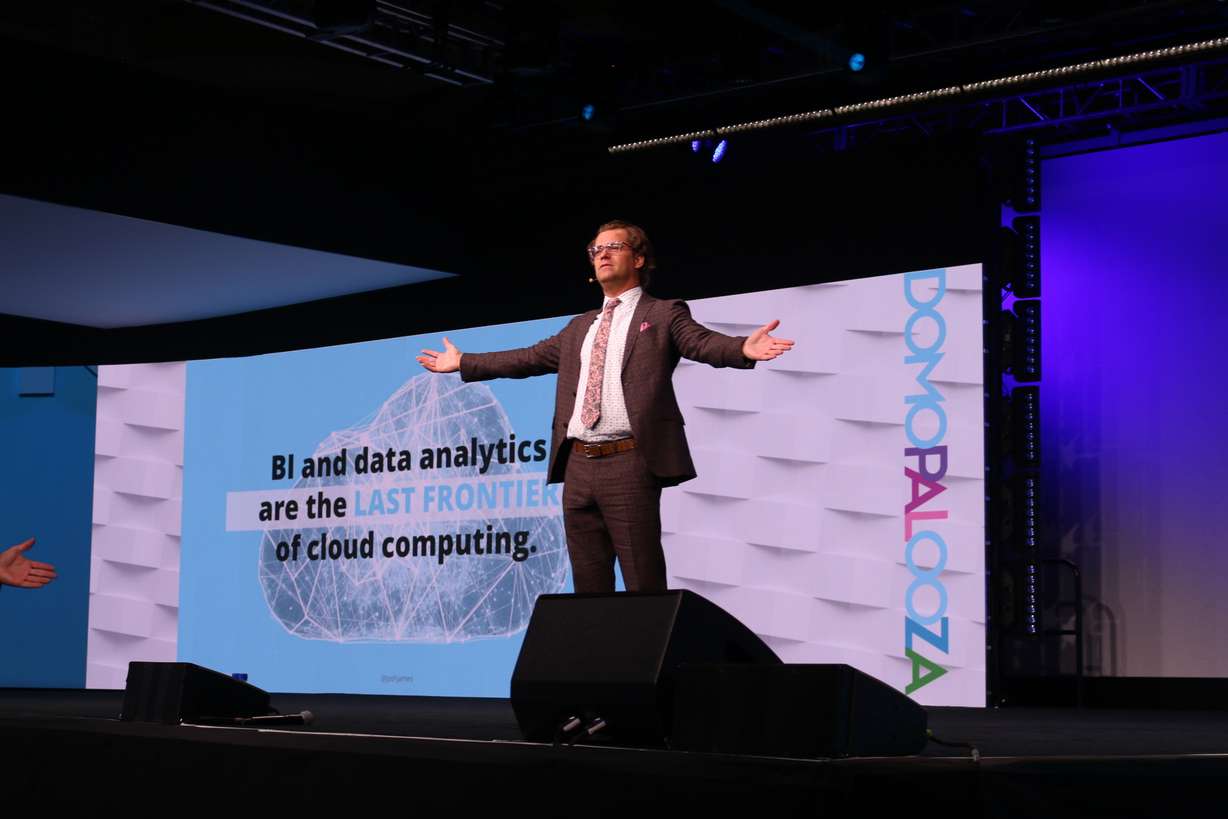 "Domo makes data available for everyone and now our customers can make it available everywhere," James said. "The significant emphasis we've had on building a very powerful integrated stack, plus our maniacal focus on the user experience, allows Domo to be shared everywhere in a very secure, seamless and scalable way."
The second product, Business-in-a-Box, has been in the works for six years, according to James, and is an app with a set of dashboards for every business function, offering data for everyone from the CEO to the marketing executive.
The two products allow business executives to look at quickly aggregated data and make informed decisions while having a conversation with others within their organization in real time.
Conferencegoers were excited to see these changes and upgrades, applauding during the demonstrations and whispering about how they planned to use the upgrades.
"The data revolution inside companies often starts small — on a team or in one department — but rapidly spreads once people catch the vision of how being data-driven organization transforms the way business is managed," James said.
×
Photos