Estimated read time: 3-4 minutes
This archived news story is available only for your personal, non-commercial use. Information in the story may be outdated or superseded by additional information. Reading or replaying the story in its archived form does not constitute a republication of the story.
SALT LAKE CITY — As Utah's economy continues to rank among the strongest in the nation with unemployment near record lows, an existing state program is being overhauled to help provide the workforce necessary to maintain its current pace years into the future.
Gov. Gary Herbert Tuesday announced the creation of Talent Ready Utah — a grant program focused on developing and enhancing job-training programs to meet current industry needs for more qualified workers. Formerly known as the Utah Cluster Acceleration Partnership, Talent Ready Utah will distribute more than $2.1 million in grants for education and training, Herbert told an audience gathered in the Capitol rotunda.
"The Talent Ready Utah grant program unveiled today is a collaborative effort to improve both our education system and workforce in Utah," Herbert said. "The program seeks to align our efforts to provide a pipeline of future talent and meet the needs of Utah businesses."
According to the Governor's Office of Economic Development, there are thousands of unfilled positions currently available statewide, and this program is the first step in working toward a goal of connecting candidates with those job openings.
"The goal here is to fill 40,000 high-skill, high-paying jobs over the next four years, which will benefit the state significantly, the companies significantly and it will help the individuals who fill those jobs and their families," said GOED executive director Val Hale. "As this program continues to grow, it will spread out across the state into rural Utah as well as areas along the Wasatch Front."
Money for the grant program comes from the Department of Workforce Services' job growth fund, which is dedicated by the Legislature for the purpose of investing in the workforce, said Melisa Stark, DWS employer initiatives manager. Grants from the program have helped develop or expand more than 170 training programs, creating capacity for more than 5,800 individuals to receive industry-recognized credentials, she added.
"Our public education institutions are eligible for the grants, whether you're K through 12, an individual school district, public higher education or applied technology colleges," she explained. Industry associations are also eligible for funding.
The program hopes to develop a pipeline for jobs that are open now and will be available in the future, she said. Many programs targeting young students offer hands-on educational training in aerospace, life sciences, diesel tech and composites, she noted.
"We look to industry to tell us what they need to fill that (talent) demand," Stark said. "We looking at how to engage the students and what marketing strategy would be effective."
Openings are also accessible to individuals who may be older and looking to retrain for a new career, she noted.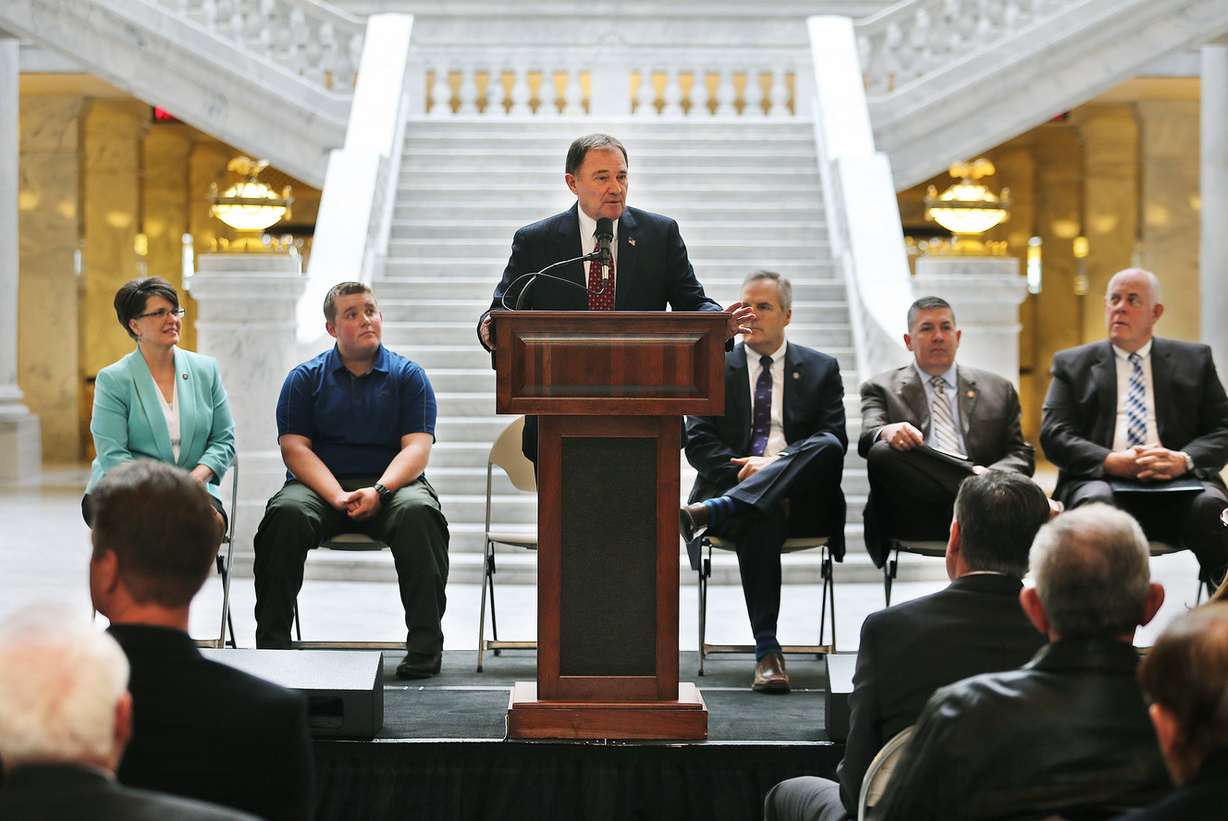 "Through these grants everyone wins," said Jon Pierpont, executive director of the Department of Workforce Services. "Students get hands-on experience, which prepares them for employment. Education receives support from local industry to build programs. Businesses are able to help students obtain the training necessary to fulfill their needs."
For West Jordan resident Nathan Rose, 22, traditional classroom learning was always a challenge. After struggling in public school for a time, his parents moved him into a small, private school where he could be in a more attentive learning environment.
He said the one-on-one teaching and hands-on approach was much more conducive to his learning style. By high school, he developed an affinity for aerospace technology — the industry his father worked in — and aspired to follow in his footsteps.
After graduation, he eventually enrolled in the state's aerospace career pathway program and found it fit his learning style well.
"I like building things with me hands," he explained. "I like working hard and seeing the success from what I do."
Upon completion of the program, Rose wants to work in the advanced manufacturing industry making composite aircraft parts.
"I hope this provides a career for my future family," he said. "I want to be able to have a career, not just a job."
For more information about Talent Ready Utah and applying for the grants, visit talentreadyutah.com.
×
Photos
Most recent Utah stories