Estimated read time: 5-6 minutes
This archived news story is available only for your personal, non-commercial use. Information in the story may be outdated or superseded by additional information. Reading or replaying the story in its archived form does not constitute a republication of the story.
SOUTH SALT LAKE — Amid public controversy over the five proposed options in South Salt Lake and West Valley City for a homeless resource center, a sixth site — and perhaps a seventh — have been added to the list.
But rather than expand options to other cities, both of the new sites are in South Salt Lake — though Salt Lake County Mayor Ben McAdams says only one has been secured under a real estate contract as a firm option.
The move didn't sit well with South Salt Lake's mayor, who learned of the new sites at a meeting with McAdams on Monday.
"We were shocked," Mayor Cherie Wood said. "We came to have a conversation about two sites and we walked out of that meeting knowing we had four."
The sites — 3380 S. 1000 West and 3350 S. 900 West — could change the odds between West Valley City and South Salt Lake, where Salt Lake County is looking to locate the third homeless resource center it plans to build, in addition to two planned in Salt Lake City.
While South Salt Lake started out with two sites and West Valley City three, South Salt Lake now has, potentially, four.
The new sites are both less than a half-mile away from another South Salt Lake site option, at 1144 W. 3300 South, near the Jordan River. The other site in South Salt Lake is 3091 S. Main.
In West Valley City, the possible sites are 1820 W. Printers Row (2300 South), 2411 S. Winston St. (1070 West), and 2249 South Winston St. (1070 West).
County officials announced the 3380 S. 1000 West option by posting it on its website, homelessfacilitysite.org, Tuesday after an option-to-buy agreement was finalized.
Shortly after the site was posted, Wood held a news conference before Tuesday's open house at West Valley's Utah Cultural Celebration Center — attended by more than 500 residents — to voice her displeasure with the county decisions.
Wood said she's disappointed the new sites weren't chosen in another city, noting that South Salt Lake already hosts an array of tax-exempt social service facilities, such as the Oxbow and Metro jails, despite being the second-least populated city in the county with 24,000 residents.
"We are a small city, but we stand together proudly and defiantly to say we can no longer be the city that gets all the unwanted government facilities," Wood said. "We deserve more and we will fight for more."
She said the additional sites add to complaints she and West Valley Mayor Ron Bigelow have had about the county's process — which is required by the state to have a recommendation to the Utah Homeless Coordinating Committee by March 30.
Wood said the additional sites, announced just a day before the last opportunity for public input, "emphasizes the fact that Salt Lake County's site selection process is less than fair, less than transparent and less than honest."
"The fact that more sites are being brought to the table point out this is a rushed and flawed process," Wood said. "If people are bringing more sites forward, maybe there's still more out there."
But McAdams said the county is working hard within the limited time allowed by the state to be "open and transparent" by fielding suggestions from the public — which is how the county came to learn about the additional South Salt Lake sites.
"What we're trying to do is find a good site," McAdams said, noting that the county has evaluated more than 20 sites to arrive at the options currently on the table.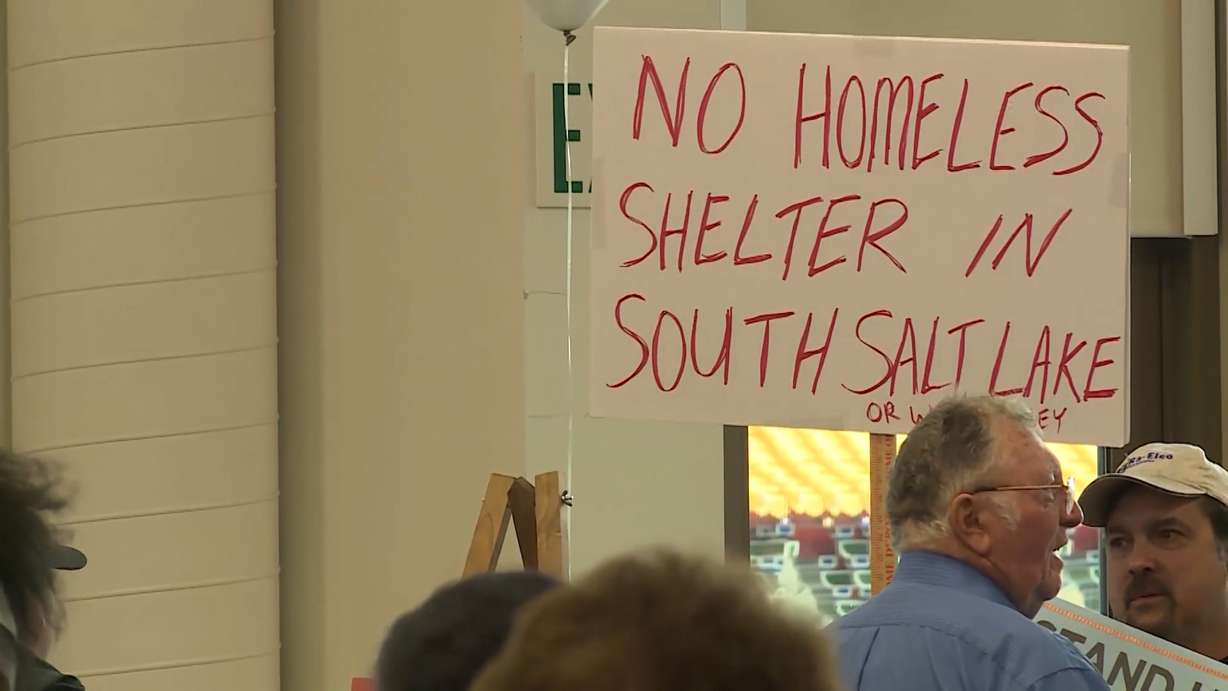 The mayor said the second additional South Salt Lake site hasn't been secured with a real estate agreement, but if negotiations pan out, a new public hearing would have to be scheduled to consider that site as an option.
McAdams said the new site that's under a purchase agreement "has promise and should be considered along with the others." The mayor added county officials also continue to evaluate "numerous locations" and aren't ruling out possibilities of new recommendations.
But the clock is ticking for the county. Wednesday, the county's site evaluation committee will convene at 6 p.m. at the Utah Capitol Senate Building to take more public input. Then on March 28, the committee will meet to rank the sites to make a recommendation to the state.
Addressing complaints from South Salt Lake and West Valley that the process has been too "rushed," McAdams said the county has had a "robust" public process, hosting so far three open houses to solicit public input.
"All that input will help inform our decision. I think we'll be able to make a well-informed decision by the time the recommendation is due," he said, noting there is "no preference" yet on any of the sites.
McAdams added that he believes it's "encouraging" the county found a new site in South Salt Lake, to maybe provide a different option rather than some of the other sites residents have complained about.
Leaders from both South Salt Lake and West Valley City have fought against any new homeless shelter in their cities, arguing their communities already do their fair share of affordable housing or homeless services, and that a new facility with up to 300 beds would drain and strain their already stretched police and fire departments.
West Valley City officials said Monday they "reject" the county's process and threatened litigation if their city is chosen. Wood said her city is also considering all options to fight a homeless resource center, including litigation.
"It's disappointing that West Valley has chosen not to engage in the process, but we still welcome their input," McAdams said. "I understand why both cities are upset. We hope they can see the bigger vision of what we're trying to accomplish here and that we're going to work with them."
×
Photos
Related stories
Most recent Utah stories