Estimated read time: 4-5 minutes
This archived news story is available only for your personal, non-commercial use. Information in the story may be outdated or superseded by additional information. Reading or replaying the story in its archived form does not constitute a republication of the story.
SALT LAKE CITY — For many, tattoos are often thought of as a way to express yourself — marking your body with permanent reminders.
Chelsey Poulson has a lot of experience with this. She doesn't even grimace while she's sitting in a padded chair while a tattoo needle runs over the skin on her leg.
This will be her 11th tattoo. While many young people have gone to great lengths to hide them from their parents, Poulson's experiences have been a bit different from most.
"My mom took me on my 18th birthday to get my tattoo," she said. "She's super cool."
Poulson's mom always had an affinity for tattoos, something she passed along to her daughter. But that isn't the only thing Poulson inherited.
"My mom had depression as well," she said. "It just runs in our family."
When trying to explain what that means, Poulson struggles to find the right words. "Just kind of like blank, empty, black cloud following you around," she said.
"Sometimes you have to just force yourself to get out of bed and do things."
Which cuts to the heart of why Poulson's mom suggested tattoos.
"I think she thought this would help me as well, with my self-harm issues," she said. Poulson has a number of small scars on her legs, near where she's getting her tattoo. "I think afterwards, it's like, … 'What did I just do?'"
Poulson says it's not really about wanting to take her own life — to her, it's more complicated.
"For me, it was just cutting," she said. "To feel something other than the emotional pain I was feeling. Sometimes, I guess, I feel in a way like I deserve it or something, or I'm like punishing myself for something stupid I did. And then afterwards, I'm like, 'Dang, I just did another stupid thing,' so it kind of contradicts itself a little bit."
She's hoping to put an end to that — which is part of why she came to Resolute Tattoo in Salt Lake City.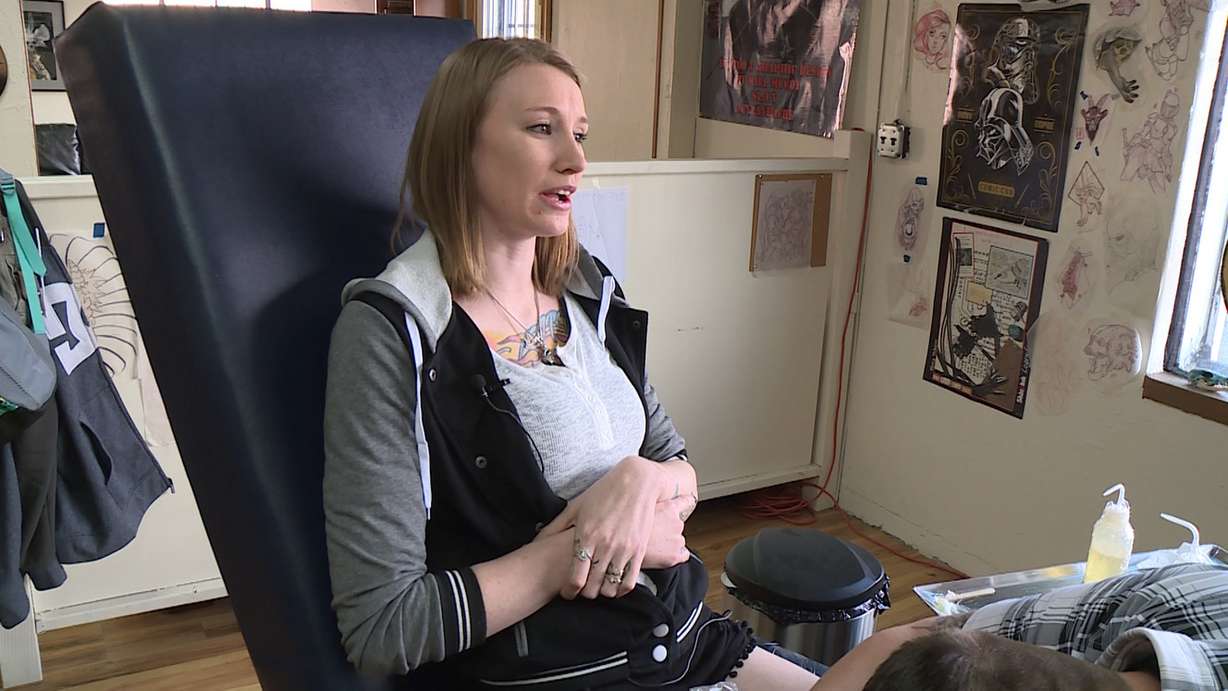 "Not everybody has a few hundred dollars to get a tattoo to basically avoid that," said Will McCoy, Poluson's tattoo artist. He's offering special tattoos to customers like Poulson for about a third of the normal cost.
McCoy has had experience with clients who want to use tattoos to cover up scars, but he wanted to do more. One day, a client of his passed along an idea.
"She had told me about how her therapist tells her to draw on her skin instead of cutting herself," he said. "And she was saying, 'Why not do just tattoo outlines?'"
McCoy won't color in Poulson's tattoo. It won't be shaded. The idea is for her to periodically use markers to color it in herself.
"Hopefully by the time you've gotten your way through it, it'll have curbed the feeling to hurt yourself," McCoy said. "Just so you've had the time to calm down, and think about what you want to do."
Poulson says she's optimistic about her latest tattoo's ability to help. She's determined to beat her urges — not just for herself, but for her mom, who died by suicide just three weeks before her daughter sat down in McCoy's chair.
"This is kind of a challenging thing for me to get over," she said. "So this is kind of for my mom and my family, and so when I color this and stuff, you know, I'll think of more positive things."
For Poulson, she's not just getting a tattoo to cope — she's also getting a tattoo to remember. The design on her leg is of the character Stitch, from the Disney movie "Lilo & Stitch." Written above is the Hawaiian word 'ohana.'"
"Ohana means family," Poulson said. "My mom was just super into family as well, she was super loyal, so this is going to help me through the emotional times, and be able to just, you know, escape that way."
Poulson believes her mom wouldn't just be proud of her resolve to face off against her challenges, but that she inherited an understanding of what's truly important.
"I think she would really like this, just because that's what ohana means is family," Poulson said. "So I think she'd be super happy."
For individuals or families dealing with a mental health crisis, help is available 24 hours a day at the National Suicide Prevention Lifeline, 1-800-273-TALK.
×
Photos
Most recent Utah stories