This archived news story is available only for your personal, non-commercial use. Information in the story may be outdated or superseded by additional information. Reading or replaying the story in its archived form does not constitute a republication of the story.
HOUSTON — Three thoughts on the Jazz's 115-108 win over the Houston Rockets from KSL.com's Utah Jazz beat writer, Andy Larsen.
1. Without George Hill and Derrick Favors, new Jazz lineup excels
George Hill was ruled out of this one thanks to his toe injury, and Derrick Favors sat again because of his knee. That meant that the Jazz started Dante Exum, Rodney Hood, Gordon Hayward, Joe Johnson, and Rudy Gobert against the Rockets, and it worked very well.
Time and time again to begin the game, the Jazz exploited pick and rolls, dribble handoffs, and staying spaced around the floor to get easy looks around the rim and from behind the 3-point arc.
Jazz have five guys outside of the arc to get this early Joe Johnson 3: pic.twitter.com/nv18spFGzC — Andy Larsen (@andyblarsen) March 9, 2017
So in order to deal with that, the Rockets started switching on screens, leaving Hood, Ingles, and Hayward isolated on Clint Capela. That's a matchup they can exploit, especially with space given. I really like how the Jazz didn't necessarily count on the matchup advantaged player to score the points, but used attacking that to create good shots for teammates, especially without Capela in the middle to protect the rim.
Then, when Rockets decide to handle that with switching, Jazz still get good look at the rim because Capela's guarding the perimeter. pic.twitter.com/67D8bB2lBk — Andy Larsen (@andyblarsen) March 9, 2017
Because that didn't work, so then the Rockets trapped the pick and rolls up high late in the game, trying to come back. This definitely didn't work: Hayward and Hood are too good of jump passers for the Jazz to get too flustered with that when they have everyone standing outside of the arc, spacing the floor.
See how I mentioned spacing on all of the Rockets' defensive strategies? That's because it's legitimately the difference between successful offense and a very clogged one. With Favors at the four, Quin Snyder's offense has to manually generate spacing through player movement. Movement and cutting forces teams to defend closer to the players involved, but that means that the timing has to be very good. It can be, and the Jazz have been successful with those looks.
But with Johnson playing PF, it all is a little bit easier. Gobert has lots of space to rumble to the basket for rolls and rebounds. The Jazz's wings can penetrate and kick. It all just flows about 20 percent better, and the Jazz's 125 offensive rating tonight is a great example.
Maybe the most interesting quotes given postgame were from Quin Snyder about Johnson playing the four.
Defensively, he can guard bigger guys. He's just so strong. He'll take a challenge defensively. That makes him even more capable of playing that position, not just situationally but as an everyday guy. He's unique not just in his ability to shoot, but his ability to play make at that position. You can find a guy that can make a shot, but for him, he can make plays for other players.
The key there: that Johnson can play power forward "as an everyday guy." I think it's clear that it's the future for the Jazz. Here's a prediction: no matter who the Jazz get matched up with, Johnson will play more than Favors does in the playoffs.
2. Raul Neto and Jeff Withey great in surprise roles
This point is a little bit silly, because Raul Neto and Jeff Withey were something like the Jazz's eighth and ninth best players tonight out of ten guys who saw the floor. But they still played very well in their prescribed roles, and helped the Jazz keep an advantage even as the best players were on the bench.
Withey is just a very good rim protector. He's not all that good at anything else, but he's not outright terrible at everything else, either. He moves okay, he finishes around the rim okay, he screens okay, and he rebounds okay. It probably sounds like I'm attacking Withey here, but I'm not: he adds one skill without taking a whole lot off the table. That's valuable, and it was notable that he played over Trey Lyles tonight with Favors out.
Neto played 21 minutes to Dante Exum's nine, given the latter's foul trouble. In that time, he only had five points and two assists, nothing special at all. But I'm just impressed with how consistently he does the right thing.
First, there were the two blocks: one a beauty where he just mirrored Lou Williams' movements, and another where he timed a Montrezl Harrell layup just as he put the ball behind his head. Neto's size is limited, but he's just so solid with his positioning.
On offense, his inability to shoot or finish at the rim means he's not a threat. But his movement and very good passing skills mean he can set up things for teammates even when opponents lay off of him.
Thanks to his smarts and his hustle, he's made himself an unlikely NBA career. If he can become a solid shooter, he could have an actual rotation role, but even without it, he's a nice piece to have on a roster.
After the game tonight, Snyder complimented their attitudes throughout the season, even as they've racked up the DNPs. "When you have the right spirit, the game rewards you," Snyder said.
3. Rockets' shot selection
Since the All-Star break, coming into tonight, the Rockets had taken 55 percent of their shots from behind the 3-point arc. They're shooting more 3s than 2s!
That wasn't quite the case tonight: 32 3-point attempts, 47 2-point attempts. And maybe more impressive, only three of those 47 2-point attempts were outside of six feet: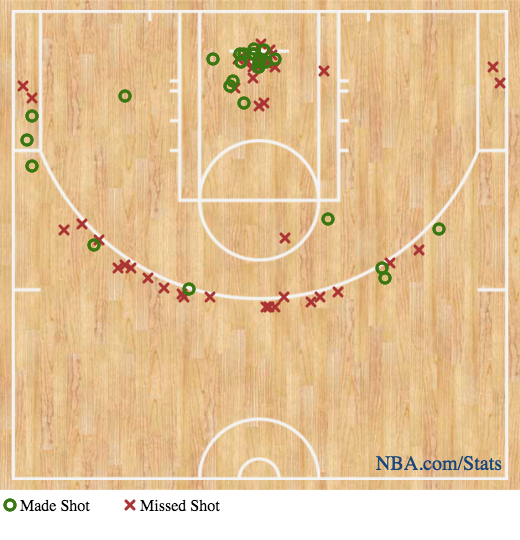 That's crazy, and even in that post-All-Star stretch, they'd averaged 5.8 shots per game between 8-24 feet. Tonight, just three.
We've actually seen the Jazz be a little bit susceptible to good mid-range shooting teams because they're so willing to give away that part of the floor. The Rockets weren't taking that bargain, though, and I wonder if it led to their poor shooting from outside.
×