This archived news story is available only for your personal, non-commercial use. Information in the story may be outdated or superseded by additional information. Reading or replaying the story in its archived form does not constitute a republication of the story.
PRESTON, Idaho — Twenty-year-old Kacey Hebdon is recovering from spending nearly 24 hours in below-freezing temperatures.
The Preston resident said he was with a group of friends near Liberty Creek when they got separated.
"When I called for help, I was explaining that I was in the wrong place," Hebdon said.
Franklin County Sheriff David Fryar said Hebdon was reported missing Sunday afternoon. Fryar said Hebdon was able to get cell service to call his family, letting them know he was lost. Crews pinged the cell tower to locate Hebdon's cellphone location and created a radius from that.
As the night wore on, Hebdon knew he needed to find warmth.
"I just flipped my sled over and lit it up," he said. "I had to do something to stay warm. I'd wake up and hoped it was light every time."
Fryar said 15 to 20 search units looked for Hebdon until 2 a.m. Due to whiteout conditions, the search was temporarily suspended and resumed at 6 a.m.
Hebdon said there was a point about an hour before search and rescue crews reached him, when he truly thought he wouldn't be found. But before 5 p.m. Monday, after nearly 24 hours, searchers found him in a makeshift cave and transported him to the hospital.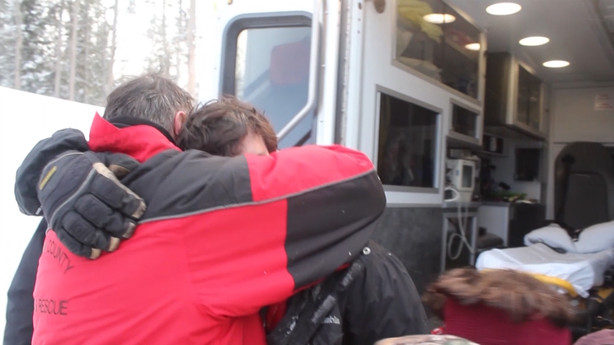 As doctors at Franklin County Medical Center examined Hebdon, he was surrounded by friends and family — loved ones who, just hours before, weren't sure if they'd ever see him again.
Hebdon is now dealing with the consequences of his night in the cold: possible frostbite.
"I might lose some toes, or a toe, or some toenails; but it's not too bad … could be worse," he said.
Hebdon is advising others be prepared when playing in the outdoors, because an emergency situation is never out of the possibility.
"Definitely be more prepared, because I had no supplies. All I had was a lighter; I had no food, no drinks, nothing," he said.
Hebdon was released from the hospital Monday night and is recovering at home. He'll meet with doctors on Tuesday to see if he needs to get one of his toes amputated.
×
Photos